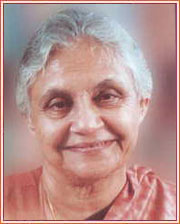 Sheila Dikshit, dubbed as a rank outsider in Delhi by her political rivals proved all her detractors wrong by coming back to power as the Delhi Chief Minister for a third successive term. Lt. Governor Tejendra Khanna administered oath of secrecy and post to Sheila Dikshit and her cabinet of ministers in a grand ceremony in Raj Bhavan on December 17, 2008.
Sheila Dikshit first came to limelight when her administrative skills were acknowledged by none other than Shrimati Indira Gandhi (Former Prime Minister of India) for doing a good supportive work for her father-in-law Sh. Uma Shankar Dikshit who was a veteran freedom fighter and one of the close aides of Indira Gandhi. Sheila Dikshit was nominated by Indira Gandhi to the Indian delegation of the UN Commission on status of women. Thus began a journey for Sheila Dikshit in active politics and there has been no looking back ever since.
The popularity of Sheila Dikshit has largely been credited to all the developmental work that has gone into shaping the present Delhi. Some of the finest development works like the addition of Delhi Metro on to the Public Transport system have been widely acknowledged and the prime factors responsible for a vote of confidence to Sheila Dikshit by the people of Delhi. Presented below is a profile of Sheila Dikshit which would present insightful information on the much talked about and popular Chief Minister of Delhi.
Personal Profile (Personal Biography)
Full Name:
Sheila Dikshit
Date of Birth (Birthday):
March 31, 1938
Zodiac Sign:
Aries
Birth Place:
Kapurthala, Punjab
Religion:
Hindu
Marital Status:
Widowed
Languages:
Hindi, English
Family Background
Father-in-law:
Late Uma Shankar Dikshit (Freedom Fighter)
Husband's Name:
Late Vinod Dikshit (Former IAS)
Son's Name:
Sandeep Dikshit (Present Member of Parliament)
Daughter's Name:
Latika Syed
Education
M.A. (History). Sheila received here education from Convent of Jesus and Mary School and Miranda College (Delhi University)
Political Career
- Member of Parliamanet from Kannauj, Uttar Pradesh. Also served on the 'Estimates Committee' of the Lok Sabha.
- 1984-1989- Represented India at the UN Commission on Status of Woman
- 1986-1989- Union Minister
- 1998- Led party to victory in the Delhi Assembly Elections
- Chief Minister of Delhi: Since 1998
Awards
2008
- Best Chief Minister chosen by the Journalist Association of India
2009
- Politician of the year award by NDTV