Redefine Scooters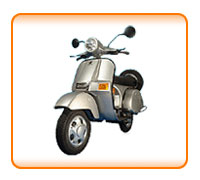 Here comes the taller, bigger and wider Kinetic Blaze scooter to catch your attention. Blaze sets a new trend in scooter riding experience with wider wheelbase, stable handling, innovative and futuristic styling, electric start with automatic transmission, an advanced fuel-efficient 165 cc engine, roomy sitting comfort. Member of the family of Italiano series scooters Kinetic Blaze has won so many laurels since its launch.
Have a look at this new offering from Kinetic Engineering- Kinetic Blaze. Kinetic Blaze is a part of Kinetic's Italino series of scooters. Kinetic Blaze scooter is launched with a complete range from classic, futuristic, sporty, radical to vintage retro designs and engine specifications ranging from 50cc all the way up to 250cc. It is said that Blaze will create a new segment of its own.
The innovatie design and great looks is associated with a powerful 165cc, 4 valve engine that pumps out 11.6 bhp, coupled with automatic transmission.
Striking Features
Kinetic has developed Kinetic Blaze as most powerful scooter. It has used 4-valve engine technology. Apart from these two, the company has put other features that are the best. Check out here the striking features of Kinetic Blaze.
Powerful 165cc engine that pumps 11.6 bhp of power.
Superior 4-valve engine technology.
Advanced suspension to give maximum comfort.
Fuel efficiency of 45kmpl.
Large wheels with fat rubber (12" tyres).
Protective Aero-euro visor (front shield): high on style and lets wind pass through.
CDI Ignition with dual mode for power & economy.
Car-dashboard like instrument console with speedometer and digital clock.
Large underseat storage space to store helmet, assorted belongings, plus glove box.
Front telescopic suspension.
Twin rear suspension for extra stability.
Roomy, large seats for high seating comfort.
Automatic gear transmission for riding convenience.
Push button electric start for starting convenience. Kick start also available.
Step up euro-seat design with backrest - even at top speeds translates into maximum seating and riding comfort.
Pop-up split open seat unlocking.
Cool Ferrari-like fins on front.
Sophisticated Cut-in body cues.
Ultra bright twin head lamps each 35 / 35 W for more illumination.
Linear power delivery for uninterrupted acceleration (no pause of gearshifting).
Incredible handling.
130mm brake drum front and rear for immediate braking (disc brake option available).
Wide wheelbase for extraordinary stability.
Advanced 4 valve engine technology for long engine life.
Seat lock-cable operated through ignition lock key.
Smooth engine for noiseless and hassle free ride.
Tailfin grabrail: styling + utility + safety with a slit for you to hold.
Company fitted number plate and grabrail.
The scooter has already been launched in Pune, Goa and Bangalore. Soon, other cities like Mumbai, Delhi and Chennai will also have it. The company is expecting a Rs. 180 crore revenues a year from Blaze.
Color Variants
At the entry-level of the model, Kinetic has launched only three colors of the Blaze. These colors are the best in scooters. Its dashy as well as soothing. Check them out here.
Godfather Grey
Roaring Red
Blazing Blue
BMW Black
Award & Accolades
Top honor at Overdrive awards 2007
Business Standard Motoring's "Scooter of The Year" 2007
Kinetic Blaze wins the prestigious "Best Two wheeler Design" award
Technical Specifications
Kinetic Blaze is one of the best scooter in the country. Check out the technical specifications of the scooter here in this table. Check out the dimensions and dry mass, engine, brakes, suspension and electrical details.
Dimensions And Dry Mass
Overall length - 1990 mm
Overall width - 700 mm
Overall height - 950 mm
Wheelbase - 1495 mm
Ground clearance - 160 mm
Seat Height - Front : 765 mm, Rear : 910 mm
Kerb Weight - 136 Kg
Fuel Tank Capacity - 6 Lit.
Tyre Size Front - 120/70 -12" - 51L (Tube Type)
Tyre Size Rear - 130/70 -12" - 56L (Tube Type)
Engine
Type - 4 Stroke, 4 valve
Displacement - 165 cm3 (cc)
Max. Power @ rpm - 11,6 hp @ 7500
Max. Torque Nm @ rpm - 12 Nm @ 5000
Fuel efficiency (Idc) - 45 kmpl
Brakes
Front - Drum (130mm) / Disc (220mm)
Rear - Drum (130mm)
Suspension
Front - Telescopic
Rear ( 2 Nos) - Telescopic Shock Absorber With damping (Adjustable)
Electricals
Head Lamp - Twin lamps each 35 / 35 W in a single housing.
Front Position Lamp - 12V, 5W
Battery - 12 V , 9 Ah
Indicators - 21 W x 4
Tail Lamp/Brake Lamp - 5 / 21 W
Scooter Models in India