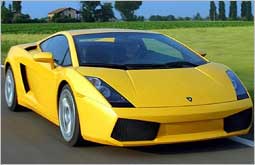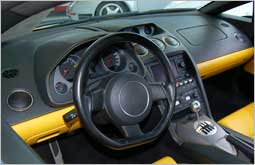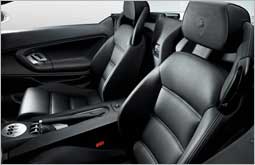 Technical Specifications
Dimensions & Weight
Length (mm)
4300
Width (mm)
1900
Height (mm)
1165
Kerb weight [kg]
1430
Engine
Type
Petrol
Cylinders
10
Displacement
4961
Maximum Power (kW / bhp @ rpm)
560 Ps @7800 rpm
Maximum Torque (Nm @ rpm)
510 Nm @ 4500 rpm
Transmission
Type
6 speed Manual
Brakes
Brake Front
Ventilated Disc
Brake Rear
Ventilated Disc
Price
Rs. 15500000 Approx.
(Please Note: The price range is ex-showroom and based on the close approximation. Please check the latest prices and variant specifications with your dealer)
The all new Lamborghini Gallardo LP560-4 is soon going to be on Indian Roads . The Italian car maker has always been successful in delivering one of the best sports cars and the new model is expected to take it to new heights . The enlarged cooling intake meets the demand to give a roaring power to the vehicle.
The Lamborghini Gallardo LP560-4 is created with proper dynamics to give the car the extra edge over the rest it has a light body but a stiff structure . The two seater sports car can set the road on fire by reaching 0 to 100 in just 3.7 seconds . The powerful engine creates 8,000 rpm that can say it loud the kind of engine the car has .
Striking Features
Bi-Xenon lamps
Pedestrian protection system
110 litre front trunk
Multifunctional display
Aluminium alloy
Car Models Comparison
More Super Luxury Cars in India