| | | |
| --- | --- | --- |
| Company | Segment | USP |
| Tata Motors Ltd. | Multi-Utility Vehicle (MUV) | Eye catching design |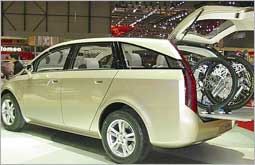 Launch and Price
The Tata Indicruz in India will be available around August, 2009 with a 2.2 litre DICOR diesel engine. Tata Indicruz is expected to be priced around Rs. 10 lakh.
(Please Note: The price range is based on a close approximation. Please check the latest prices and variant specifications with your nearest Tata dealer)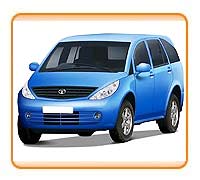 Tata Motors is soon coming up with Tata Indicruz a Multi-Utility-Vehicle (MPV) to give strong competition to the market rulers Mahindra Xylo and Toyota Innova in this segment. Expected around the end of 2009 and at a competitive price tag of Rs 10 lakh, the Indicruz with all its striking features is set to be another winner from Tata Motors.
It can be said without a doubt that Tata Motors are growing big both at the domestic and the world stage. With many exciting launches planned ahead Tata Motors is definitely playing it right. Tata Motors is coming up with an exciting new launch close on the heels of the huge publicity it has managed by launching the Tata Nano. Tata Indicruz is the new Multi Purpose Vehicle (MPV) which will add glitter to the already impressive portfolio of Tata Motors. The launch of the Tata Indicruz which is expected around the end of 2009 will spice up competition against the existing players in the MPV space like the popular Toyota Innova and Mahindra Xylo. Tata Indicruz is said to be based on the platform of the popular Tata Safari and will sport the 2.2 litre Dicor Engine. Tata Motors will have to aggressively market this MPV to win over competition from Toyota and Mahindra in the MPV segment.
Striking Features
2.2 L Dicor Engine
Stylish Exteriors
Spacious and Attractive Interiors
Big Front Grill
ABS
Appearance
Tata Indicruz sports a big front grill which gives the MPV an impressive look. The exteriors of the Tata Indicruz are well designed giving the MPV a sleek and elegant look from the outside.
Comfort
Indicruz from Tata Motors has kept key points into consideration when it comes to comfort. The roof space is high and designed keeping the comfort of the passengers in mind. The Tata Indicruz can comfortable seat around 7 passengers and provides ample luggage space as well.
Safety
Safety is always a key element and a major attracting point when it comes to the purchase of a vehicle. Auto buyers do not want to compromise over safety and this element is always a top priority for Auto makers. Tata Motors has included important safety features like the Anti-lock Breaking System (ABS) and Airbags.
Other Tata Models
Car Models Comparison
More Multi Utility Vehicles (MUV) in India