Company
Segment
Maximum Power
Car Comparison
Volkswagen (VW) India
Luxury
240PS@4000rpm(Diesel)
450PS@6050rpm(Petrol)
Compare Luxury Cars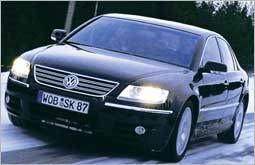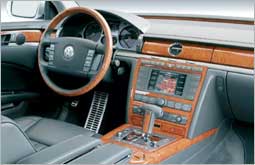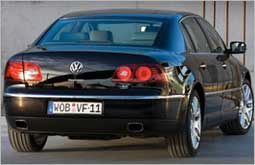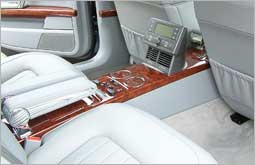 Technical Specifications
Engine
Engine type
3.0L, V6 TDI (Diesel)
6.0L, W12 petrol engine
Displacement
2996cc (Diesel)
Max. Power (Ps at rpm)
240PS@4000rpm(Diesel)
450PS@6050rpm(Petrol)
Max. Torque (Nm at rpm)
500Nm@1500rpm. (Diesel)
560Nm@2750rpm (petrol),
Transmission
Transmission
6 speed Automatic Transmission (Diesel)
5 speed Automatic Transmission (Petrol)
Braking System
Anti-Lock Breaking System (ABS) Brake
Brake Front
Ventilated discs Brake
Brake Rear
Drum Break
Steering System
Power Steering
Body
Body
Body Luxury Sedan
Outside Dimensions
Length [mm]
5,175
Width [mm]
1,903
Height [mm]
1,450
Wheelbase [mm]
3,001
Weights
Kerb weight [kg]
1180
Price
The luxury from Volkswagen Phaeto is expected to cost between Rs. Rs 76,29,128 .
(Please Note: The price range is based on a close approximation. Please check the latest prices and variant specifications with your nearest Volkswagen dealer)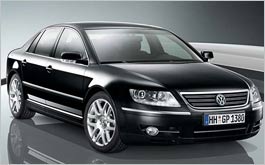 Luxury car heavy weight Volkswagen has announced to launch its royal sedan variant Volkswagen Phaeton in India. The luxury sedan will will be build on the same platform which is used to build Audi A8. Volkswagen Phaeton will be launched in both petrol & diesel variants with an excellent combination of designing and technology.
Both the variants of Volkswagen Phaeton will have automatic transmission option. The diesel variant is loaded with 3.0L, V6 TDI diesel engine with six speed manual transmission gearbox producing 240PS of maximum power. The petrol variant will be equipped with 6.0L, W12 petrol engine with five speed automatic transmission gearbox that produces 450PS of maximum power.
Striking Features
High Power
Quick Acceleration
Luxury Features
Automatic Transmission
Appearance
Volkswagen Phaeton is a powerful luxury sedan offering exclusive class and aggressive styling. Body-colored door mirrors with integrated indicators incorporating LED technology, Electrically heated, adjustable and fold-able door mirrors provide 21st century look to Phaeton. Besides this, stylish front under spoiler, large headlamps and fog lamps impart smart look to the car. Touch of luxury is provided by Chrome trimmed radiator grille, Chrome air inlets, Chrome side window surrounds, Two chrome twin exhaust tailpipes, Alloy Wheels, etc.
Comfort
The luxurious Volkswagen Phaeton is a store house of princely comforts. Features like 4 zone electronic climate control, comfort front seats, 'Classic Style Vienna' leather, comfortable seats, rear screen for operation, parking heater, 120mm additional rear legroom, remote boot lid release and fuel flap unlocking etc. offer touch of luxury in comforts.
Safety
Volkswagen Phaeton has world class safety features making it a complete car. The advanced safety features of Volkswagen Phaeton includes an array of Airbags, ABS (Antilock Brake System) with EBD (Electronic Brake-Force Distribution), Anti-Skid System and many more advanced safety features.
Other Volkswagen Models
Car Models Comparison
More Super Luxury Cars in India