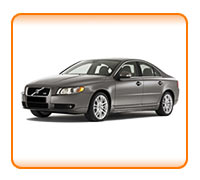 Arrival of S 80 luxury sedan car from Swedish auto major Volvo has sizzled up this segment with state-of-the-art luxury and high-end technology that would pose a tough contest for the other players of this field. Charismatic looks and imposing engineering, that are the key specialities of Volvo brand, makes clear impression on the first sight of S80. Ride on S80 and ride into the magnificent world of luxury, comfort and safety.
Swedish Car company Volvo has come up with S80 luxury sedan car which is all set to change the face of luxury cars. Teamed up with superb luxury features the all new Volvo S80 will offer more appealing looks with highly advanced engines and of course, true Volvo attributes, comfort and safety. The all new Volvo S80 defines true luxury with its consoles like digital climate controls and the Dolby Pro-Logic II/Dynaudio surround sound system. It's stylish headlamps, soft curves and warm tones paired with high quality material will take you to the magnificent world.
Volvo S 80 is armed with state of the art security systems. It's unique feature of adaptive cruise control with Collision Warning and Brake Support has been designed to warn the driver and avert the severity of the collision.
Up for sale in India the Sale of Volvo S 80 will be through three dealers in Delhi, Mumbai and Chandigarh.
The luxury sedan Passat will be imported from VW Germany as CBU (Completely Built Units) and would be available for sale through company's sole dealer in India. Volkswagen Passat, with its price tag of Rs. 25 Lac - 28 Lac, will challenge the luxury car market of BMW and Mercedes.
Striking Features
Full-size luxury sedan.
More appealing looks with comfort and safety.
Digital climate controls and Dolby Pro-Logic II/Dynaudio surround sound system.
Optional navigation system is housed in a pop-up screen.
Excellent pick-up and performance.
6 speed automatic Transmission with manual mode.
Unique feature of Collision Warning and Control.
Model Variants
Volvo S 80 has been launched with a 2.5 litre diesel engine along with 3.2 and 4.4 litre
Price
The Price of Volvo S80 is around Rs. 40 Lacs.
(Please Note: The prices are ex-showroom and based on the close approximation. Please check the latest prices and variant specifications with your dealer)
Quotes-Unquotes
"It is an important step for Volvo Cars to establish a presence on this market at a time when India is showing considerable growth in the passenger car market. Moreover, we believe that the timing is right in comparison with our closest competitors."
Volvo Cars President and CEO Fredrik Arp.
Technical Specifications
Dimensions & Weight
Length (mm)
4780
Width (mm)
1911
Height (mm)
1815
Wheelbase (mm)
2834.64
Kerb Weight (kgs)
2150.00
Seating Capacity
05
Ground Clearance (mm)
210.00
Fuel tank capacity (Litres)
70
Engine
Model Designation
4.4-liter V-8
No. Of Cylinders
06 Nos. 3.2 liter in-line.
Configuration
4 Valves/ Cylinder DOHC
Displacement (cc)
3192
Fuel system
Fuel injection
Transmission
07-Speed Automatic
Top Speed (kmph)
240
Type
Front / Rear Brakes
Disc, ABS and EBD
Tyres
Type
Alloy
Performance
Max. Horsepower (ps/rpm)
238 bhp @ 6200 rpm
Max. Torque (kg m/rpm)
3200 rpm
Steering
Steering Type
Tilt
Other Volvo Models
Car Models Comparison
More Super Luxury Cars in India