Beaches are one of the best places to visit to have a fun and spend memorable time with your friends and family. There are many things to explore, like the lush greenery surrounding the beaches, the pristine and clear waters, and the crash of waves against the shore, which is one of the most soothing sounds. You can even partake in fun activities like surfing, paragliding, trekking, or camping at India's most beautiful beaches. So, if you are in the mood to go to a beach, then this page is for you. Here, you will find India's best beaches to visit in 2022!
1. Digha Beach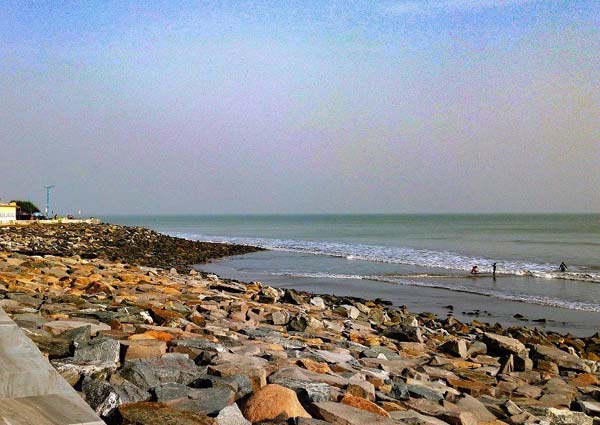 Is one of the most famous beaches located in West Bengal and is an abode to sea snakes, sharks, and rays. The place is widely prevalent among tourists for its beauty and has become an excellent spot for couples on their honeymoon. Apart from swimming, there are various things to do here, like visiting the famous Digha Cashew Garden. After spending some joyful and relaxing time at the beach, you can also visit Amarabati Park and Chandaneswar Shiv Temple around the coast.
Best time to visit – October to March
Things to do – Shopping, snorkeling, parasailing, etc.
2. Radhanagar Beach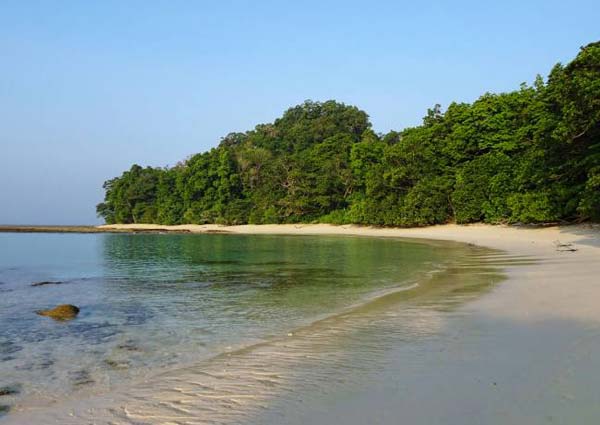 One of the best beaches to visit in summer in India is Radhanagar beach, located in the Andaman Islands. It has white sands and pristine blue waters, and palm trees and forests encircle the beach. If you ever plan on going on an Andaman tour, you must visit this gorgeous beach to cool down during the scorching summers and for relaxation. This place is also a perfect destination for newlyweds for its picturesque view from all around the beaches. Radhanagar beach was also ranked as Asia's best and 7th best globally, so it's undoubtedly one of the most spectacular beaches you can visit during summers.
Best time to visit – October to May
Things to do – Swimming, snorkeling, boat cruise, fishing, etc.
3. Palolem Beach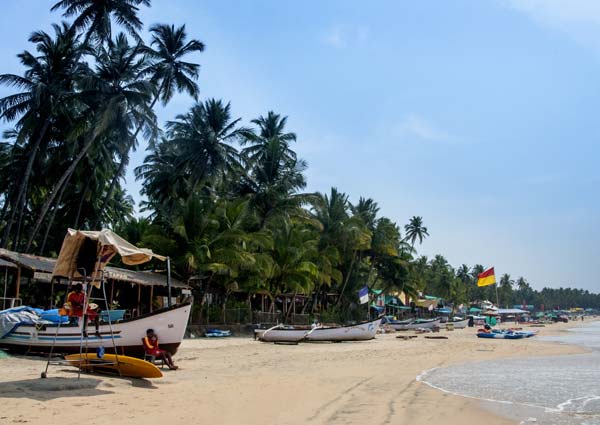 The fascinating Palolem beach is one of the famous tourist places located in Canacona, Goa. You can indulge in several activities on this beach. If you want to have a relaxing time alone or with friends and family, you can stay on the northern side of the beach to enjoy the soothing waves and their sounds. If you and your travel friends want a bit of adventure, you can visit the southern part of the beach, where you can take part in numerous beach sports like boat riding, kayaking, and other fun activities. Goa is one of the most renowned destinations in India, especially for beaches so if you ever have a Goa tour, make sure to go through the best beach resorts to book your stay well in advance.
Best time to visit – October to February
Things to do – Paragliding, water scooter, paddling, kayaking, swimming, etc.
4. Mandvi Beach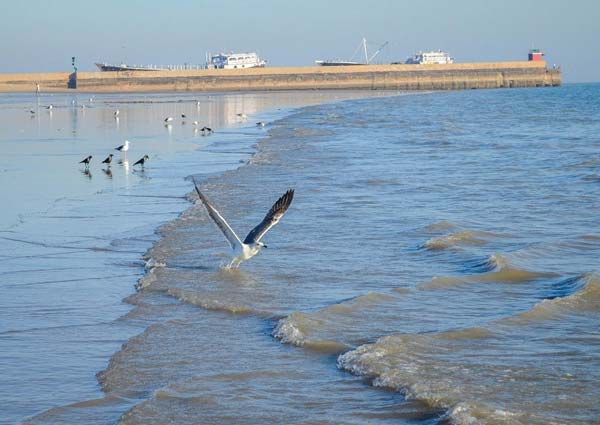 If you ever go on a Kutch trip, do not miss the stunning Mandvi beach. It was a summer retreat spot for the Kutch rulers, so they built the Vijay Vilas Palace near it, one of the popular places to visit today. The weather here is pleasant throughout the year, making any time ideal to visit, but you can enjoy your trip at the Mandvi beach the most if you visit from November to February. Moreover, you can participate in many activities at the beach, from camel riding to water sports, etc. You can also look at the windmills that were first set up on the beach in 1983 as part of the first Windmill project in Asia.
Best time to visit – November to January
Things to do – parasailing, boat riding, camel rides, zorbing, etc.
5. Panambur Beach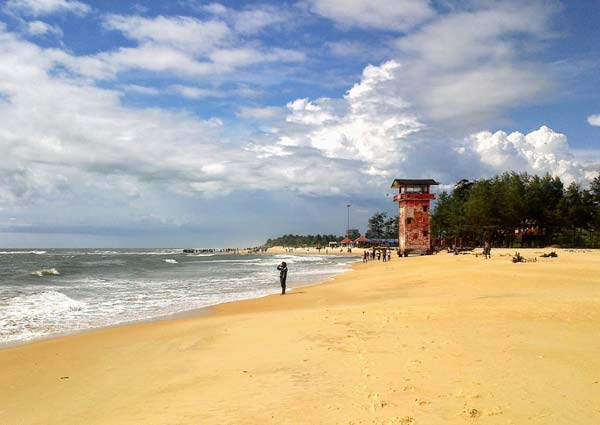 Panambur beach is located in Mangalore, Karnataka. This is one of India's most famous beaches and has been awarded the cleanest beach in the country. It is also the first privately owned beach in the country. People from all over India visit this beach for its variety of activities to take part in and joyful events such as kite flying, sculpture making contests, boat riding contests, and so much more. This is a great beach to visit during summers, and you get so much to explore.
Best time to visit – November to June
Things to do – Camel rides, parasailing, kite flying, banana rides, jet-skiing, buggy rides, horse rides, etc.
6. Half Moon Beach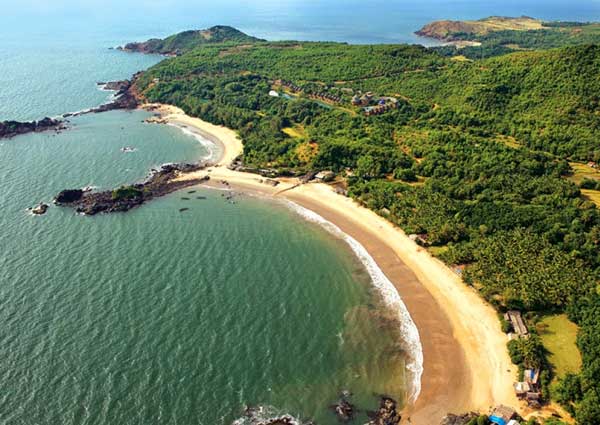 Another famous beach you must visit if you are on a Karnataka tour is Half-moon beach, also known as Paradise beach. This beach is renowned for its blue waters and white sands, making this one of the top places in Karnataka best-suited for those looking for an escape from their daily monotonous work life. From the calming waves to the lush greenery encircling the beach, one cannot help but feel relaxed and forget all their stress. One can also go trekking to visit Om beach, where one can indulge in various water sports.
Best time to visit – October to March
Things to do – Swimming, hiking, water sports, canoeing, paintball, etc.
7. Anjuna Beach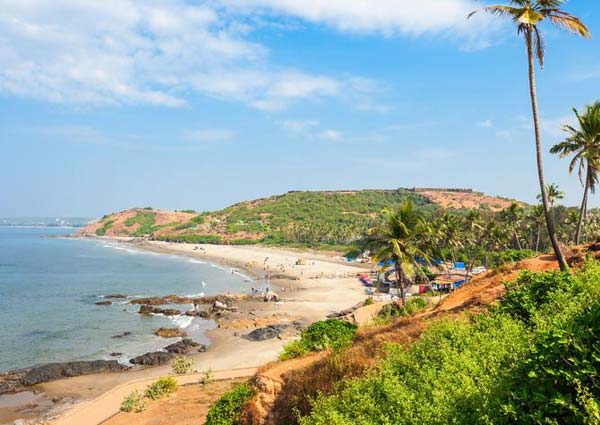 Located in Goa, Anjuna beach is another one of the famous beaches in this state. It is one of the top attractions for its pristine waters and sands. The visitors can enjoy the view of the entire beach from the Chapora Fort nearby. One can also have a delicious meal at the famous Curlies and other restaurants at the beach. Those who seek a place for adventures and relaxation must include this beach in their Goa tour itinerary.
Best time to visit – September to February
Things to do – Paragliding, banana ride, parasailing, jet-skiing, snorkeling, etc.
8. Vijaynagar Beach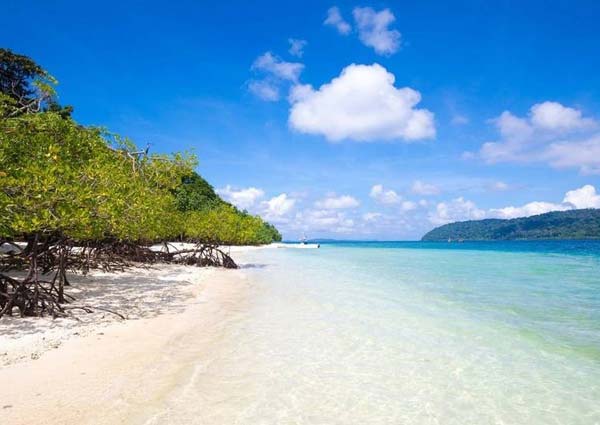 Vijaynagar beach is one of the most famous beaches in India, located on Havelock Island in Andaman. This is the beach for you if you want to go swimming or snorkeling. Along with the diverse aquatic life, you also enjoy the panoramic view of the sands, the waters, and the lush greens around. Tourists who visit this beach are indeed going to have a lifetime of experience.
Best time to visit – January to May
Things to do – Snorkeling, swimming, surfing, sailing, kayaking, beachcombing, etc.
9. Kovalam Beach
The Kovalam or Covelong beach is located on the Coromandel Coast in Kerala. It is known for its black sand and huge waves that are relaxing and fascinating sceneries. Visitors can engage in many fun activities on the beach with their close ones or have a marvelous time on a solo Kerala trip. There are other famous spots to visit if one is heading to the beach, such as various temples, churches, mosques, forts, etc.
Best time to visit – November to March
Things to do – Sunbathing, sailing, windsurfing, diving, etc.
10. Alappuzha Beach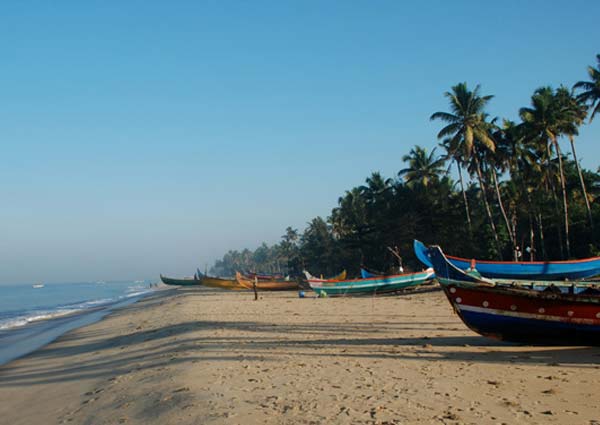 Alappuzha beach is located in Alappuzha or Alleppey, infamously known as the Venice of the East. It is one of the infamous places to visit in Alleppey, and people come here often to have picnics or enjoy some time near the waves. If you are an adventure enthusiast and or new and want to try some water sports activities, then you must come here with your close ones.
Best time to visit – October to February
Things to do – Surfing, sailing, diving, yoga, shopping, etc.
Now that you know India's best and most gorgeous beaches, it's time to plan your trip. So, book hotels and resorts for a beach trip in advance and have a fabulous time on the vacation with your friends and family. Don't forget to click pictures and participate in events that happen on these gorgeous beaches. You will undoubtedly have an unforgettable time at the beach with your close ones!