Many people these days are following Vastu Shastra to design and decorate their homes. The benefits of following Vastu Shashtra the right way can help you change the atmosphere in your house. It can lead to lots of vibrant energy and good luck in your home. Your pooja room is an essential part of your home and should also be decorated according to Vastu to fill the space with a positive aura According to Vastu, before you go looking for pooja room interior designers, have a look below to know the right way to design and place a pooja room.
Pooja Room Vastu Direction
The initial and important step to follow when you design your home according to Vastu Shashtra is to pick the correct location or direction to place the pooja room. Since it's a sacred room, it is essential to place it at an ideal location to maintain the auspicious aura.
1. North East And East Zone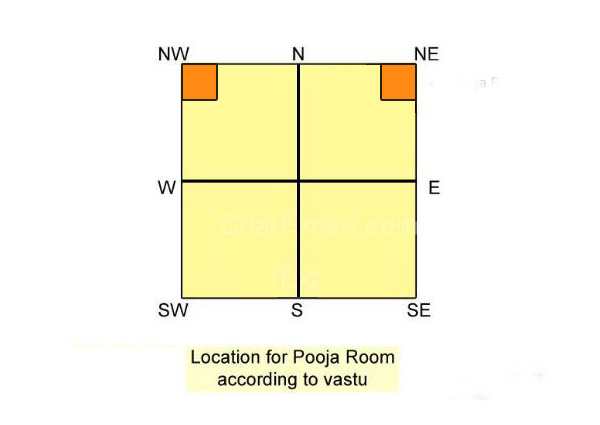 The most suitable location to set up your pooja room is northeast. Other zones can also be considered, such as the east zone,
2. Southeast Zone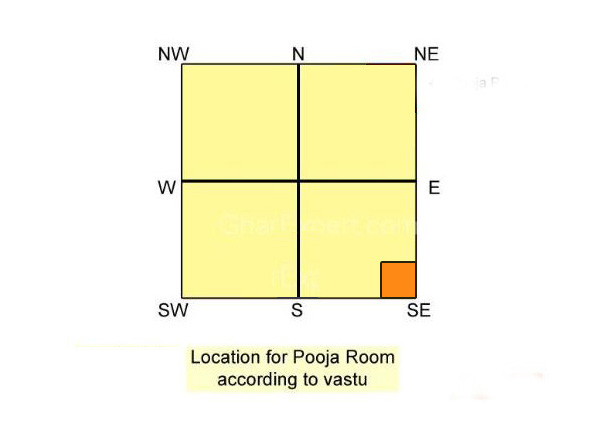 The devotees of Goddess Durga can place their puja room in this zone as it can be very auspicious for them.
3. South Zone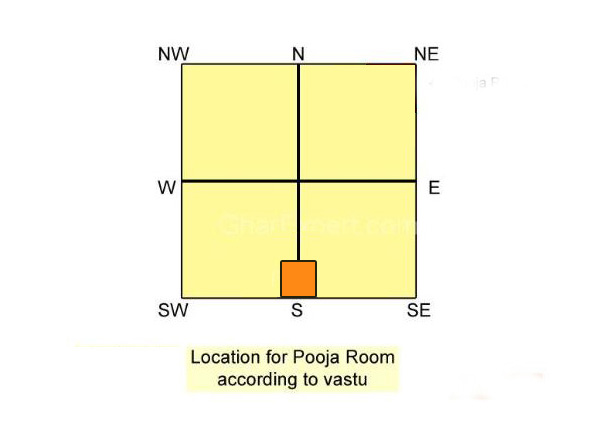 People who practice meditation and are loyal devotees of Goddess Kali can consider locating their pooja room in this direction.
4. West Zone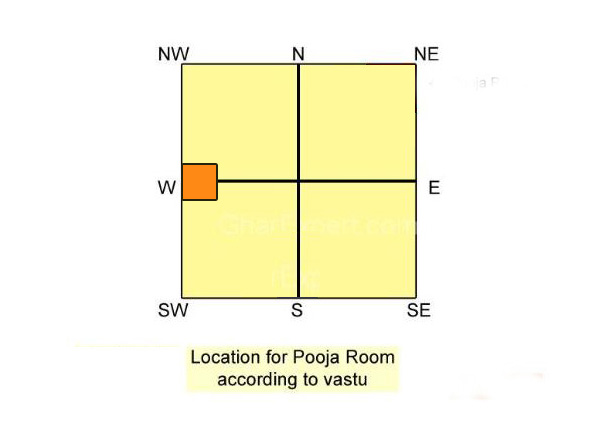 This location is favorable for worship, so you can also consider the west zone to place the pooja room, according to Vastu. It is the best place to worship Sai Baba, Gautam Buddha, Mahavir Jain, and Sikh Gurus.
5. North Zone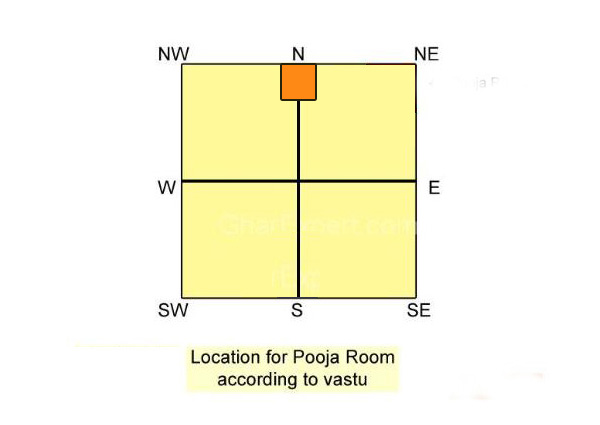 The most befitting zone to worship Lord Ganesha and Goddess Lakshmi is the north zone as this direction as the deities and this direction can benefit one with financial growth.
6. Please Avoid
Keep in mind not to place your pooja room under the staircase, basement, or near the bathroom to avoid any negative energy.
According to Vastu, you should place the idols or photos of the deities a few inches away from the wall, preferably 9 inches or less. The idols should be placed with some space between them to allow proper airflow. Ensure that the feet of the deities are above your chest level. When praying, you should face east or west direction so place the idols according to that.
Pooja Room Vastu Wall and Floor Colors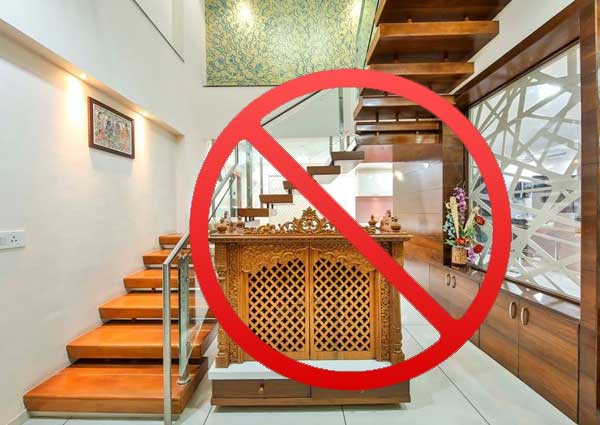 Colors play a very vital role in Vastu Shashtra. To attract good vibrations and prosperity in your home, you must have soft yet serene colors such as light blue, cream, yellow, and other vibrant colors in your pooja room. For the floors, cream and white colors are ideal. The pooja room should be well lit and bright for proper ventilation and comfort. It is best to avoid dark colors such as black, brown, gray, etc. You can also consult interior designers in Nagpur, Ghaziabad, or the area where you live, to find good colors for the room which you hire them for its decoration.
Pooja Room Vastu Door
Pooja room is a sacred place; hence, its doors should be made of wood that is considered very natural. The doorway should also consist of a threshold to avoid bugs in the room. It is important to note that the idols should not face the door.
Pooja Room Storage
Every pooja room requires storage space to keep the sacred books, diyas, holy water, and pooja items. Your pooja storage should be in the southwest direction, according to Vastu. You should not keep the storage items above the deities.
Pooja Room Light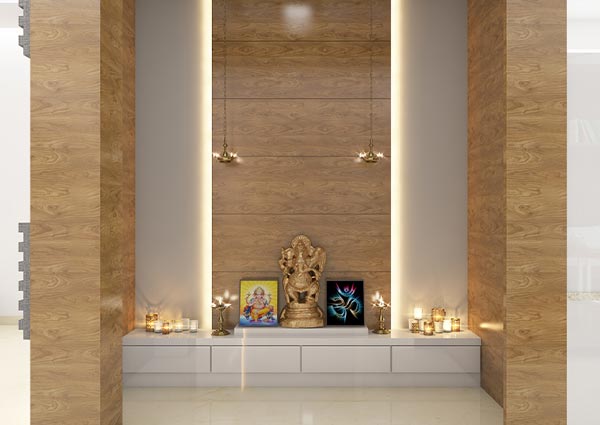 As per Vastu, it is crucial to have a well-lit pooja room and one window. Keeping a window will bring in energy and sunlight, further bringing a cheerful energy room. A dark and dingy space for a puja room is not very favorable.
Frequently Asked Questions: Pooja Room Vastu
1. What is the ideal Pooja room Vastu for east facing home?
The ideal location for a pooja home is in the northeast or east zone.
2. Can we keep the pooja room in the southeast corner?
This location is unfavorable for your pooja room.
3. Which direction should the Gods face in the home?
The deities should face the northeast or east zone.
4. Can I place the puja room in my hall?
You can keep the pooja room in the hall if the site is spacious.
5. Can we have a glass door for the pooja room?
Yes, glass and wooden doors are good options for the pooja room.