Packing and Moving to a new and unfamiliar place is such a tedious and challenging task for many. Moving is like getting a tooth pulled or driving a very long distance through an uninteresting landscape. Moving sometimes unpleasant, it is never exactly fun, but it generally leads to offer you positive vibes. Of course, with moving, the success of the endeavor depends on avoiding moving mistakes to get a smooth relocation experience. There are plenty of packing and moving tips to make the whole process easier. Following a moving checklist will surely help you ensure that everything's in the proper order before and after the shifting. Another good moving tip is to be committed to having a good attitude about all the changes to come. Kindly go through the mentioned moving tips and tricks with much helpful advice:
Tips, Tricks, and Advice
1. Get rid of Unwanted things
Packing all your belongings into boxes, bags, and more can be overwhelming. Please make it a little bit easier on your end by cutting back on clutter as much as possible. Before you pack a single box, try to sell unwanted things or items. It would be best if you packed less to move and less to unpack so that you can start afresh and new life.
2. Make a moving list
Start collecting new addresses or purchase papers, moving contracts in one single folder. If any doubts come up during the planning or the move itself, then you will have the answer.If any questions come up during the planning process or the move itself, you'll have the answer (and records of agreements, payments, and more) on hand.
3. Pack as far in advance
Start by packing off-season and the items you do want to miss. If you plan to move in summer, you can pack winter coats in advance—and likely books and other once-in-a-while articles. When it's finally time to shift, many items will already be ready to go, giving you less stress.
4. Book the respective service provider early
If you are hiring a genuine and honest packers and movers in India, renting supplies, or hiring professionals such as painters or cleaners to work in the house, kindly book them early as soon as possible. Waiting to do so means paying a higher price and not getting a truck on time.
5. Schedule the utilities for your new place
Once your moving dates got finalized, contact your utility providers to schedule service at your new house. You don't want to arrive there, because of the relocation, only to find that the electricity, water is off. So schedule it ahead of time, and keep records of your requests in your moving folder.
6. Keep the essential things
On the night before the move, tuck every essential with you—a change of clothes, a toothbrush, must-have stuffed animals or toys for the kids, medications, paperwork—into a suitcase or bag you'll keep with you in the car, the truck cab. If you get some issues with your truck, at least you have some essential things with you.
7. Invest in equipment
A few days before the significant shift, stock up on supplies. The last thing you want is to make sure that all the packed boxes are out of the house. Order or purchase box cutters, adhesive bandages, markers, packing tape, and garbage bags.
8. Get a truck equipped with a loading ramp
If you're a DIY mover, you need a truck equipped with a ramp, as it may be cheaper to rent a truck without one, but the hassle of lifting every box and piece of furniture high enough to get it into the truck will add hours to your move.
Some packing tips for Moving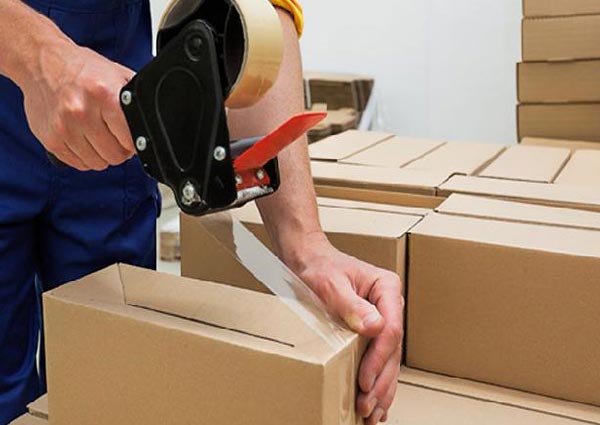 1. Use the correct packing boxes
When you start packing books for moving, pack them or other heavy items in small boxes and try to pack light items, like linens and pillows, in a bigger one.
2. Put heavier objects on the bottoms of boxes
And if you're loading the truck yourself, pack your heaviest boxes first, toward the front of the truck, for balance.
3. Make sure to fill the Void of boxes
Fill the gaps with clothing, towels, or packing paper. Movers often won't move boxes that feel loosely packed or unbalanced.
4. Organize the objects in a manner
The best packing and moving trick is to organizing your household will make your packing quicker and it will also make your unpacking a lot easier, too.
5. Make a Label and stick it on the Boxes
The label will help you and your movers know where every box belongs in your new destination. Labeling each box and keeping an inventory list in a small notebook is an excellent way to keep track of what you've packed.
6. Tape the boxes with quality material
Use a couple of tapes to close the bottom and top seams. Then use one of the movers' techniques―making a couple of wraps around the box's top and bottom edges, where stress is concentrated.
7. Take special care while packing Kitchen items
Understand precisely how to pack artwork for moving to help keep it safe. When you pack pictures for moving, make an X with masking tape across the glass to strengthen it and to hold it together if it shatters. Then wrap the images in paper or bubble wrap and put them in a frame box, with a piece of cardboard between each framed piece for protection.
Final words
There are many other ways by which packers and movers will make your shifting process smooth and easy. With them, you will feel no tension, no stress at all. Moving firm's professionals take great pride in fulfilling client's needs and requirements. So, if you are willing to relish your moving journey to the new city, in that case, you must prefer to hire a highly rated and genuine relocation company from a reliable moving portal. You can also browse SurfIndia, an honest and dependable portal, which has listed thousands of packing and moving companies. Pick the best service firm that suits you most!!