Don't you think that we all deserve a break from daily work life and go somewhere to freshen our moods? If you are tired from your work, chores, or studies and want week-long fun with your friends or family, consider going on a road trip. It is a fun way to explore all the famous places throughout your destination. You will also get a chance to rekindle your friendships with your best buddies during this trip. Even if you have not decided on a place to head to, you can count on us as we have made a list of all the best places for an adventurous road trip in India.
1. Mumbai to Pune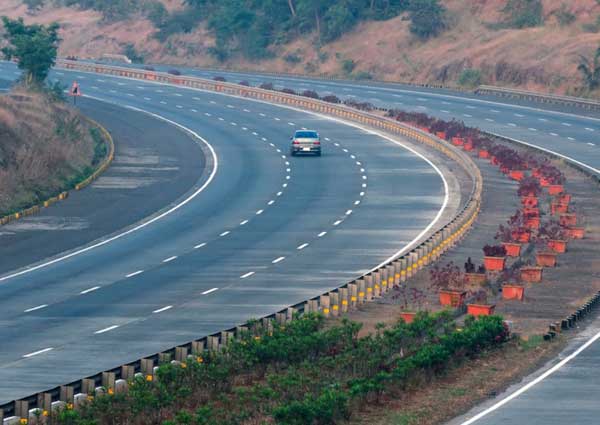 If you stay in Mumbai and search for a short but memorable road trip with your buddies, you must visit Pune. It is one of the best options for a weekend-long getaway. The best route to take is Mumbai to Pune Expressway when traveling by car. You can also opt for the route via NH48 or Old Mumbai Pune Highway. On the trip, you can take a quick detour and famous some worthy sites such as Karnala Bird Sanctuary for the nature enthusiast in you, Duke's nose or Aadishakti Mata Ekvira Devi Temple. Sunny Da Dhabba, Homely Food Joshi's Sanatorium, and Golden Vada Pav Food Stall are some of the top places to eat.
| | |
| --- | --- |
| Distance | 120 km |
| Duration | 2 to 3 hrs |
| Best time to Visit | October to February |
2. Manali to Leh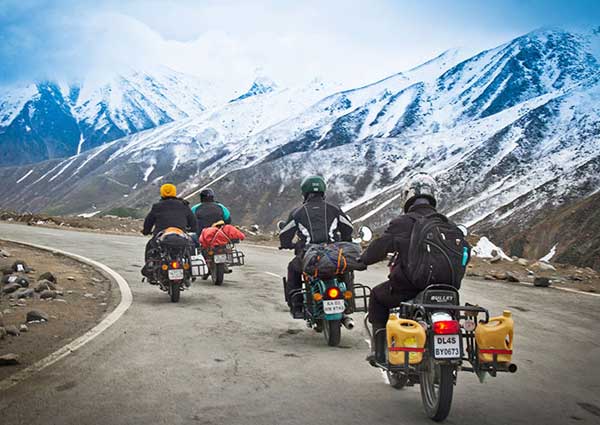 One of the breathtaking spots to visit for your road trip is Manali to Leh. Words cannot express the beauty of this place. You have to see, and only then can you capture its beauty. It's a top destination for a road trip during winter to indulge in the beauty of snow. It takes 1 to 2 days to reach Leh via the Manali to Leh Expressway. On your way, you will have to rest so that you can halt at hotels in Marhi, Palchan, or Gulaba near Rohtang Pass. For delicious food and snack breaks, head to Khoksar, which has numerous dhabas, and cafes. You can also stop here for a rest at parachute tents. You can find more accommodation options at Pang and Sarchu in the form of basic to luxury tents. Some fantastic places to see during your trip are the Sissu Waterfall, Chandra River, Shaheed Sainik Bhawan, Rohtang La, and many more.
| | |
| --- | --- |
| Distance | 480 km |
| Duration | 11 hrs |
| Best time to Visit | March to February |
3. Guwahati to Tawang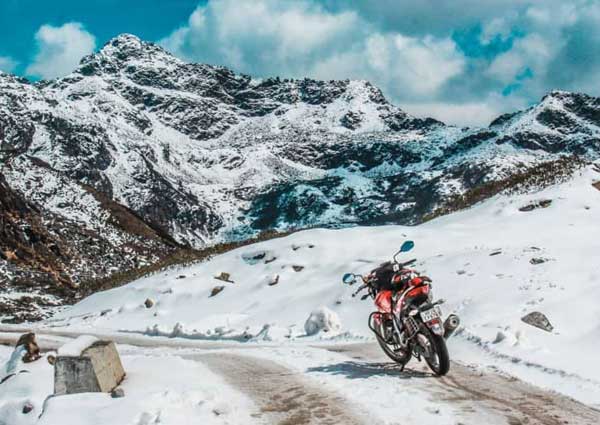 Suppose you plan to have a trip somewhere in the northeast, Guwahati, to Tawang's absolute best choice. Sure, the paths are rough, but you get to see scenic snow-covered hills on every turn, making the entire road trip worth it. Do stop at Dirang to witness the Buddhist culture by visiting Ngingmapa Monastry and Kalchakra Temple. Other famous attractions include Madhuri Lake, Jaswant Garh, Tawang War Memorial, Nuranang Falls, etc. Make sure to have delectable momos on the way to Tawang!
| | |
| --- | --- |
| Distance | 509 km |
| Duration | 14 hrs |
| Best time to Visit | March to October |
4. Golden Triangle Road Trip AKA Delhi – Agra – Jaipur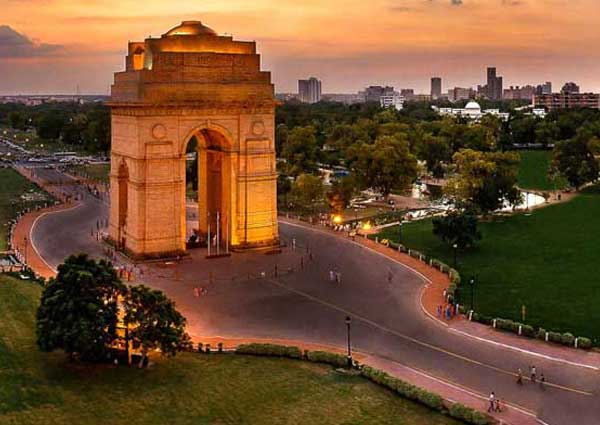 Delhi, Agra, and Jaipur are some of the cities rich in culture and have numerous places to visit, and this is why it is also famously known as the golden triangle. If you enjoy exploring cultures, historic sites, and monuments, the golden triangle is worth taking a road trip. The Golden Triangle is an ideal trip worthy for bikers as well. You can take this trip via Yamuna expressway and NH8. There are many restaurants and dhabas along the way to satiate your hunger and lots of picturesque sights to witness. There are unique sites to stop by during this fantastic road trip starting from Red Fort, Jama Masjid, then historical wonders such as Taj Mahal in Agra to the dazzling City Palace, Hawa Mahal, Amer Fort in Jaipur.
| | |
| --- | --- |
| Distance | – |
| Duration | – |
| Best time to Visit | February to March and October to November |
5. Ahmedabad to Kutch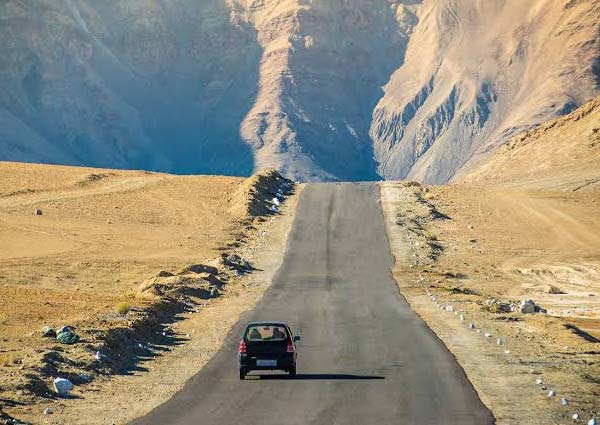 Another terrific place for a memorable road trip is from Ahmedabad to Kutch. You get to explore the magnificent landscape, learn about the culture of Gujarat, devour delicious Gujarati snacks and delicacies. Once you reach Kutch, visit Chari-Dhand Bird Sanctuary for bird watching, Hodko Village to buy traditional handicrafts, etc. Kutch is also famous for its Rann Utsav, which you would not want to miss. It's a celebration of music, dance, nature and you can even experience living in a luxurious ten on your visit there. The Rann Utsav takes place from November to February, so if you ever plan on Ahmedabad to Kutch road trip, this time will be ideal for a visit here.
| | |
| --- | --- |
| Distance | 400 km |
| Duration | 7 to 10 hrs |
| Best time to Visit | October to March |
6. Jaipur to Jaisalmer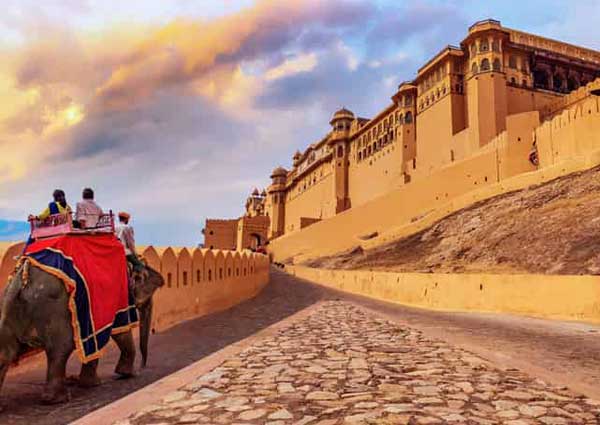 Jaisalmer is the golden city for its vast palaces and forts attired with golden sandstone. It's a stunning destination with an array of lakes, Jain Temples, and other famous places. If you plan to take a road trip from Jaipur to Jaisalmer, NH15 would be best. There are numerous restaurants throughout the road where you can enjoy Rajasthani flavor in their unique cuisine. Do not worry about the road condition as it's completely safe and smooth for travel. When planning on stopping for the night, you can head to Harasar Haveli or Hotel Desert Winds for a comfortable stay. Some famous places worthy of stopping by include Brahma Temple, Savitri Mata Temple, Umaid Heritage Art School, Jaisalmer Desert Safari, Jaisalmer Fort, Kothari's Patwa Haveli, Gadisar Lake, Tanot Rai Mata Mandir, Salam Singh ki Haveli, and many others.
| | |
| --- | --- |
| Distance | 558 km |
| Duration | 9 to 10 hrs |
| Best time to Visit | October to March |
7. Bangalore to Ooty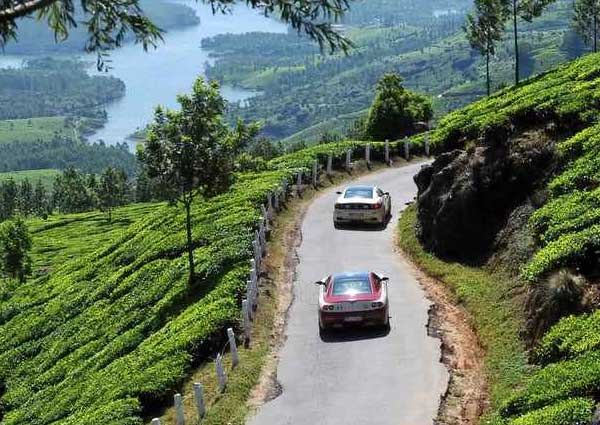 If you want to take a break and head to a place surrounded by nature, you should take this road trip from Bengaluru to Ooty via Mysore. It's the ultimate destination for nature fanatics. The lush Hills surround the roads of Bangalore, which you would not want to miss. If you take the route via Mysore, you'll witness the greenery and scenic Bandipur Forest and the city's historic monuments. That's not it. You will also get to see the stunning waterfalls, lakes, and tea plantations on your way. Stop at Kamath near Channapatna for a tasty meal on your journey. When you reach Ooty, sit in the lap of nature by visiting the famous Rose Garden, Pykara Lake, Mudumalai National Park, Elk Hill Murugan Temple, and so many more. Don't forget to book a room in hotels and resorts in Bangalore, Ooty, etc., well in advance.
| | |
| --- | --- |
| Distance | 280 km |
| Duration | 6 to 7 hrs |
| Best time to Visit | Oct to June |
8. Jaipur to Ranthambore
Jaipur to Ranthambore is one of India's most famous road trips, especially for nature and wildlife lovers. You have to take NH54 to reach Jaipur to Ranthambore National Park. Make sure to visit Bassi Wildlife Sanctuary by taking a quick detour. During your trip, you will witness the picture-perfect mustard fields and quaint villages such as Balsi and Lalsot. Ensure to travel to this road trip between October and June. The park is closed for the rest of the year. There'll be a lot of eateries available throughout the route, so you do not have to worry about that.
| | |
| --- | --- |
| Distance | 190 km |
| Duration | 3 to 4 hrs |
| Best time to Visit | October to June |
9. Mumbai to Goa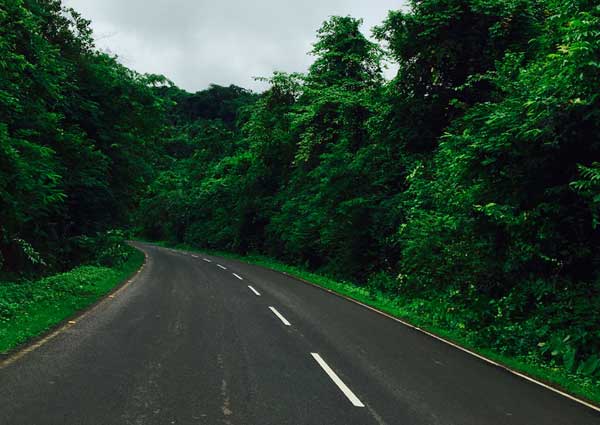 A road trip list is incomplete without mentioning Mumbai to Goa. It's a perfect road trip location to have a delightful time with your friends and close ones. The ideal route to take should be Pune to Kolhapur route as it is the safest one with the smooth road all the way. If you want to have a more adventurous trip with beautiful scenery or plan to travel by bike, you can also choose Chiplun-Ratnagiri Route. You will love seeing the Western Ghats on this route, and you may also want to explore the Karnal Bird Sanctuary. You can also visit Karnala Fort, Kansai Waterfall, Lord Parashurama Temple, Dudhsagar Falls, Basilica of Bom Jesus, and many more.
| | |
| --- | --- |
| Distance | 587 km |
| Duration | 11 hrs |
| Best time to Visit | December to January |
10. Darjeeling to Pelling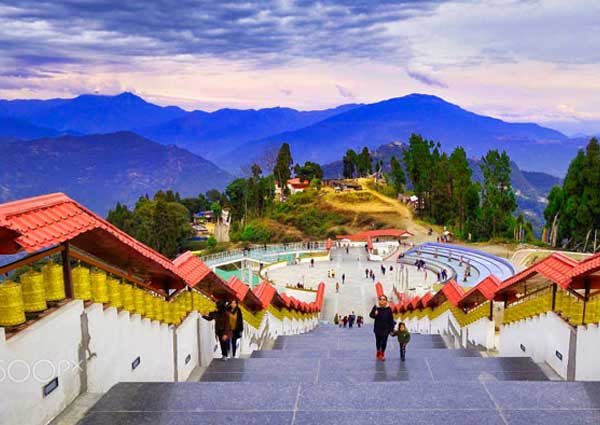 Another excellent option for a road trip is Darjeeling to Pelling. This route will surely give you a lot of picturesque scenes as you drive through the lush tea gardens, mountains, hills, and many more. Pelling is a stunning hill station in Sikkim around Mount Khangchendzonga. You can also visit monasteries villages around the city to explore their culture and the local people. Stop by Singshore Bridge, Kanchenjunga Falls, Pemayangtse Gompa, Khecheopalri Lake, etc., to make your trip extra special.
| | |
| --- | --- |
| Distance | 72 km |
| Duration | 2 to 3 hrs |
| Best time to Visit | October to March and September to December |
Frequently Asked Questions: Road Trip Locations in India
1. What are the best roads in India?
The best roads for travel in India are Shillong to Cherrapunjee, Delhi to Agra, Gangtok to Lake Tsomgo, Delhi to Jaipur.
2. How do I plan my road trip to India?
The first step is to search which location in India would be ideal for traveling by road. Then you must contact hotels or budget hotels for advance room booking. Pack all the essential things required during travel by road such as food, drink, extra tire, first aid kit, etc.
3. What should I pack for a seven-day road trip?
Before traveling, ensure to research the weather and climate conditions and pack clothes accordingly. Then, make sure to have enough money for your seven-day road trip. Lastly, don't forget to inform your friends and family if you are going on a trip for a week.
4. How can I prepare myself for a long drive in India?
If you travel by road, check the tire pressure and send your car for servicing to avoid any vehicle breakdown during the trip.
5. What should you not do during a road trip?
Don't go over budget on your road trip. If you feel exhausted during the journey, then take a break. Just have a good rest and continue your journey from the next day. Also, it would be best to rely on a physical map rather than an online map.