Birthdays are one of the best days of the year. Nothing makes a person feel more special than lots of love and care from near and dear ones who send their heartfelt birthday wishes through messages and phone calls. And, birthdays are also not fully complete without a delicious cake. Is there a special someone whose birthday is coming up? And, do you want to give them a surprise with a yummy cake? You always have the option to contact bakeries in Bangalore, Noida, Kolkata, etc., and order a cake. But, you can also bake a special cake. If you are a complete beginner at baking, then have no worries, as we have listed down the best and most easy cake recipes for birthdays that you can bake without any hassles. The recipes listed here are quick and super easy to prepare. So, scroll down and have a look!
1. Strawberry Birthday Cake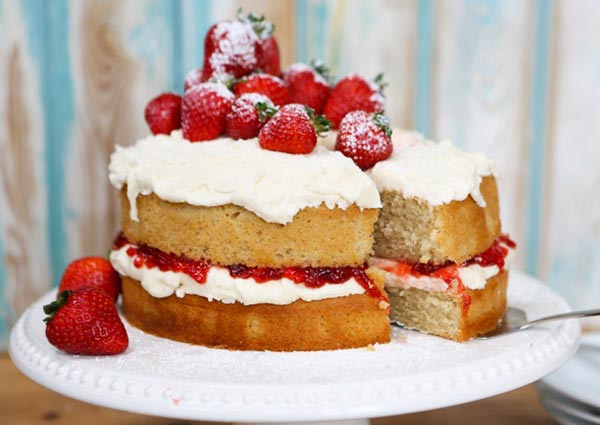 Packed with the fresh and sweet flavor of the strawberries is this super soft cake. It is very easy to make, and there is no doubt that your family members will love it so much. If you wish to bake something sweet and fresh for a special someone's birthday, you have to try this recipe.
Ingredients
200 gm strawberries
½ teaspoon of baking soda
1 ¼ teaspoon of baking powder
1 ½ cup of all-purpose flour
1 ¼ cup of vinegar or lemon juice
1 tablespoon of vanilla extract
¼ teaspoon of salt
½ cup of butter or vegetable oil
1 cup of milk
1 cup and 2 tablespoons of sugar
Instructions
Remove the strawberries from the refrigerator two hours before preparing the cake. Then, wash the strawberries and remove their stems. Cut the strawberries in halves or small chunks.
Grease an eight-inch pan with butter or cooking spray. You can also line a parchment paper. Set this pan aside.
Preheat the oven to 350 F or 180 C.
Take a large mixing bowl and add milk, vinegar, or lemon juice. Add sugar and vanilla essence and combine until the sugar melts.
Sift the flour, baking soda, baking powder, and salt into the wet mixture.
Fold this mixture lightly with a spatula to evenly incorporate all ingredients.
Add this batter to the pan. Tap the baking pan on the kitchen counter one to two times so the batter spreads evenly.
Add the strawberries on top of the batter.
Bake the cake for 15 minutes. When done, let it cool and serve.
2. Glazed Coconut Cake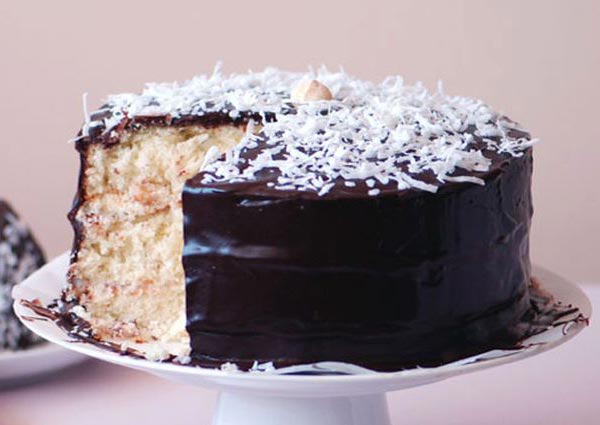 If you are looking for a quick and easy small birthday cake recipe to whip up for someone special, then here is this delicious glazed coconut cake. It is a top choice to make, especially during summers, as it is delicious and refreshing. This is also one of the best birthday cake recipes, especially for beginners.
Ingredients for Cake
1 ½ cups of all-purpose flour
3 eggs
1 ½ teaspoon of baking powder
¼ teaspoon of salt
1 teaspoon of vanilla essence
Lemon zest
1 and ¼ cups of sugar
½ cup of softened butter
1 cup of shredded coconut
1 cup of coconut cream
Ingredients for Glaze
¾ cup of powdered sugar
1-2 tablespoons of coconut cream
1 cup of shredded coconut (for topping)
Instructions
Preheat a nine-inch pan in the oven for 350 F.
In a large bowl, sift the dry ingredients and set them aside.
In a mixer, add the wet ingredients like butter, sugar, lemon zest and mix for two minutes or until the mixture turns fluffy. Then, add eggs to the mixture one at a time. Add vanilla essence and coconut cream and mix again on low speed.
Add the dry ingredients and combine. Do not over mix the cake batter.
Add the batter to the pan and bake it in the oven for 45 to 60 minutes. Poke a toothpick to the cake, and if it comes out clean, your birthday cake is ready. Set it aside to cool down.
For glaze preparation, mix sugar and coconut cream in a bowl until it becomes smooth. Its consistency should be thick but still pourable. Drizzle this glaze on the top of the coconut birthday cake. Sprinkle the shredded coconut flakes for garnishing.
3. Confetti Birthday Cake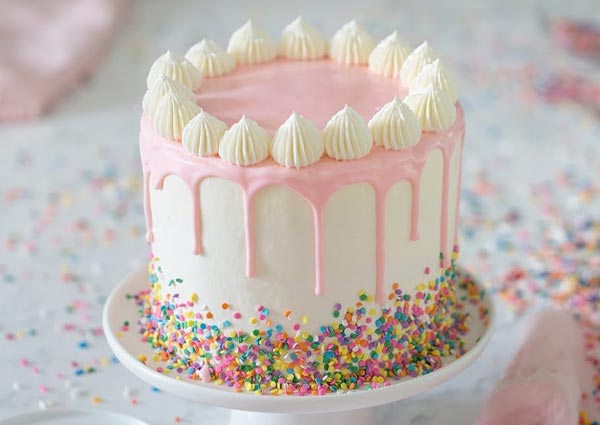 Want to bake a vanilla cake with a twist? This is a super fun confetti birthday cake that you can bake from scratch. This cake is loaded with buttery frosting and colorful sprinkles. It is a very easy birthday cake recipe that you can easily bake at home. Here's how:
Ingredients for Cake
2 cups of sugar
1 cup of unsalted butter
¼ teaspoon of salt
2 ½ cups of all-purpose flour
½ cup of sour cream
½ teaspoon of baking soda
1 ½ teaspoon of baking powder
½ cup of flavorless vegetable oil
1 cup of rainbow sprinkles
1 teaspoon of vanilla essence
4 eggs
1 cup of buttermilk
Ingredients for Frosting
½ cup of rainbow sprinkles
4 cups of powdered sugar
1 tablespoon of vanilla extract
1 ½ cup of unsalted butter
Instructions
Preheat your oven to 350 Fahrenheit and line a nine-inch baking tray with parchment paper for preparing the cake.
Whisk the dry ingredients together which are flour, salt, baking soda, and baking powder.
Mix the softened butter and sugar until this mixture becomes fluffy. Add oil and give it another mix.
Add eggs one at a time to this mixture. Then add vanilla extract, buttermilk, and sour cream.
Next, combine the wet and dry mixture, then mix until there are no lumps. Add the rainbow sprinkles and fold.
Transfer the cake mixture to the parchment-lined pan. Bake it for 30 to 40 minutes. The cake will be ready when the skewer comes out clean.
Let the birthday cake cool down for 10 to 20 minutes. For frosting, mix butter and powdered sugar in a stand mixer. Then add milk and vanilla essence and mix again till the mixture thickens.
The frosting is ready. You can also add more milk if the frosting is too thick.
To assemble the confetti cake, spread the frosting on each cake layer. Place the cake in a freezer. Then, frost the entire cake and decorate with rainbow sprinkles.
4. Colorful Tutti Frutti Cake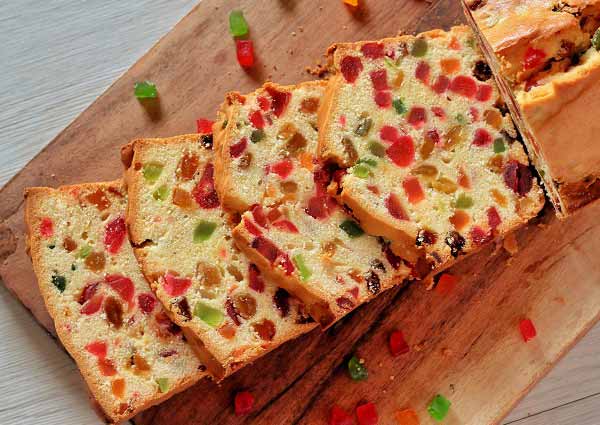 Another refreshing yet fruity cake for a birthday is a fun tuttifrutti cake. It's so moist, spongy and melts in the mouth, and it's one of the simple and easy cake recipes for a birthday. This cake is very popular and loved by all kids and even grown-ups! Below is the detailed recipe for preparing this cake for a birthday.
Ingredients
3 cups of all-purpose flour
1 cup of tuttifrutti
½ cup of sliced almonds (optional)
2 teaspoons of vanilla essence
2 tablespoons of white vinegar
2 cups of milk
1 cup of vegetable oil
¼ teaspoon salt
1 teaspoon of baking soda
2 teaspoons of baking powder
Instructions
Line a nine-inch baking pan with parchment paper or grease it with butter/oil.
Combine all the dry ingredients, including baking soda, baking powder, flour, and salt. Coat the tuttifrutti with flour.
Take another bowl and add the wet ingredients. Mix it until everything is well incorporated.
Add the dry mixture to the wet one and whisk until there are no lumps. Also, add the tuttifrutti.
Pour the batter into the pan. Sprinkle the sliced almonds on top. Then, bake the cake for 40 to 50 minutes.
Once prepared, let the tuttifrutti cake cool down for 5 to 10 minutes, and then serve.
5. Eggless Chocolate Cake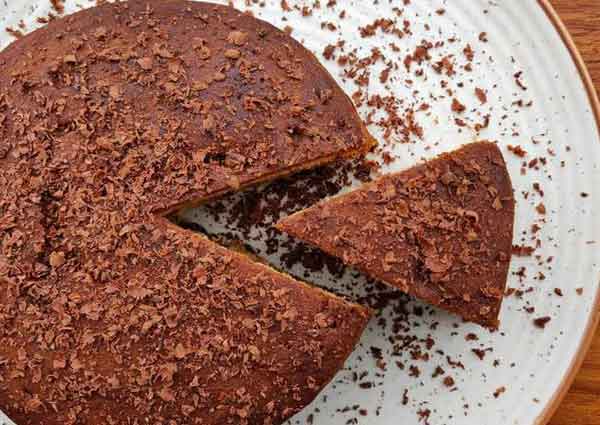 One easy cake recipe for birthdays to impress your close ones is this classic chocolate eggless cake. It is super soft, spongy, and so chocolaty. So, if you are wondering how to make an easy birthday cake at home, try this recipe below:
Ingredients
1 ½ cups of all-purpose flour
½ cup of cocoa powder
1 teaspoon of baking soda
1 cup of sugar
½ or any flavorless oil
1 cup of milk
1 tablespoon white vinegar
1 teaspoon coffee (optional)
1 teaspoon of vanilla essence
¼ teaspoon of salt
Instructions
Preheat your oven to 350 F. Line an eight-inch pan with parchment paper. You can also grease the pan with butter or oil if you have parchment paper.
Sift all the dry ingredients, such as cocoa powder, baking soda, flour, and sugar.
In another bowl, add milk and vinegar. Let the milk sit for 5 minutes or until it starts to curdle. Then add sugar to this milk and mix till it dissolves completely.
Add vanilla essence and oil to this mixture, and mix until well combined.
Combine the wet and dry ingredients and mix until the cake batter is smooth.
Transfer this batter to the greased cake pan and bake it for 25 to 30 minutes. Take the pan out when the cake is made and let it cool for 5 to 10 minutes.
You can add chocolate ganache or a simple chocolate spread as frosting.
All you need for a perfect cake is the right measuring cups and spoons along with the right ingredients. We hope that the above recipes were helped you in baking a delightful birthday cake for your loved ones. And, if you are looking for quick delivery of cakes, donuts, or other baked goods, then Surfindia has the best bakeries in Delhi, Noida, Kolkata, and other cities. Contact them for quick cake deliveries.