A book lover's most prized possession is their vast book collection containing numerous hardbacks and paperbacks. Book lovers are also conscientious in handling their favorite books so that there is no crease on the pages or text covers. Now, if they suddenly have to move to a new location, the first thing they would worry about is how to relocate their library of books. If you also love reading and own a plethora of books but have to relocate to a new city, you must be thinking about how to pack books for relocation the right way? If yes is your answer, then have no worries. We have got your back. Here are some helpful tips on packing books for a home relocation.
Materials Required to Pack Books
Sturdy boxes/cartons

Packing paper

Adhesive tapes

Bubble wraps
How to Pack Books for Home Relocation?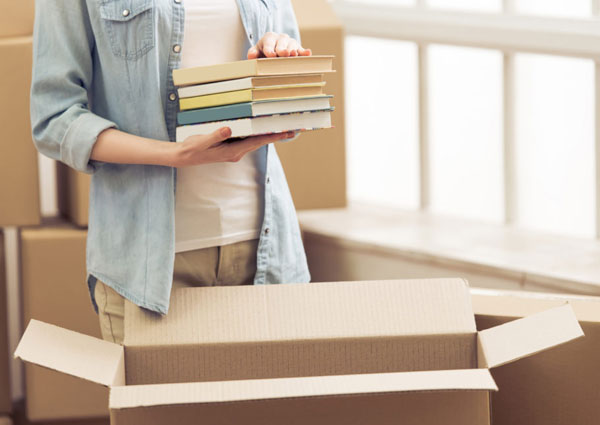 1. Sort through your book collection
If you have hired packers and movers in Delhi, Agra, Chennai, or any other city for home relocation, you must know that they charge for home shifting depending on the weight and number of goods. So, you can reduce the weight of goods by reducing the number of books for packing. You can go through your books collection and keep the ones for packing separately, such as your favorites, special edition books, or the books you will be reading. And keep the ones aside that you have already read or did not like so that you can sell these titles at a second-hand book shop instead of packing them.
2. Pick the right boxes for book packing
Once you pick the books for relocation, the next step is to pick the right size and type of boxes to pack your books. Pick the boxes of medium sizes and make sure that they are not damp. Ensure that these boxes are strong enough to carry tons of heavy books. You can find some spare boxes at a shop near you.
3. Pack your books early
Packing books for your home relocation can take a lot of time, especially if you have a lot of books. You will require several boxes and other packing materials. So, packing all the books properly without damaging them will take time. It is best to gather all of your books and start packing them early.
4. Hardcover books
The best way to pack your hardcover or hardback books are by placing them upright in the box. You can also wrap these books with packing paper or old newspapers and then stack them up the carton. The hardbacks of less value can be placed flat at the bottom of the box.
5. Paperbacks
When packing paperback books, it is best to place them flat in the box. Place the heavy books at the bottom and the lighter ones at the top. Another good way to pack books for relocation is to place their spine facing the bottom, reducing the chances of book bending during the move. Remember to fill any gaps in the box with crumpled paper or bubble wraps.
Packing Books for Home Relocation: Do's
Following are the things you should do when book packing for home relocation:
Do wrap the book with materials such as bubble wraps before placing them in the box.

Do label your book boxes so that you do not spend time looking for them after shifting home.

Do keep one or two books with yourself for the travel.

Do pack your books in a suitcase, as this is one of the safest ways to pack them.

Do keep some valuable books with you instead of relocating them with the packers and movers.

Do use good quality packing supplies to pack books.

Do fill gaps in the boxes with papers or bubble wraps. This way your books don't move in the box during the transport.

Do place heavy books at the bottom and place the small or thin books on top.
Packing Books for Home Shifting: Don'ts
Given below is the list of things you should not do when you pack books when shifting from one place to another:
Don't use old boxes to store your books as old boxes could be damp leading to book damage.

Don't place your books with the spine facing upwards direction as the book cover may cause cover damage during transit.

Don't pick a huge box to pack all of your books together. The box may become extremely heavy to handle.

Don't forget to pack your unique books, such as signed editions or rare editions, with wrapping paper for protection.

Don't stuff books in the boxes. Place them properly on top of another.

Don't forget to pack the essential school or college books separately so that these don't get mixed with rest of the books.
What to Do with Books You Are Not Packing?
After deciding which books to pack for home relocation, there must be a few books left, but you don't know what to do with them. Here are some tips you can follow:
You can sell these books at a second-hand book shop.

You can also donate these books to a nearby library.

Give your books to the friends who also like. They may enjoy these books more than you.
Relocating to a new place makes book lovers nervous as they do not know how to pack and move it securely. If you have to shift to a new home and wonder how to pack books properly for relocation, ensure to follow our helpful tips along with Do's and Don'ts so that you don't face any problems during the packing and unpacking process.