Of course, extravagant meals and Valentine's Day drinks are extraordinary, yet it's the sugar-mixed goodness that truly has every one of us returning every year. As a child, you can most likely recall the happiness of getting the best Valentine's Day candy or being gifted a container of chocolates from a parent. Then as a teenager, we all received chocolates on V-day, but there are many other valentine's day cake options that one can explore.
There's only something about the occasion that causes treats to feel extra special in a manner they don't on any other day. From flavourful cakes to frozen yogurt, there are 1,000,000 methods for adding goodies to your Valentine's Day – and spoiler: They all taste extraordinary. Regardless of whether you're preparing a sweet treat for a friend or family member on this occasion, or you're hoping to treat yourself, the following are some Valentine's Day cake recipes that will help you reach your lover's heart!
Chocolate cake for valentine's day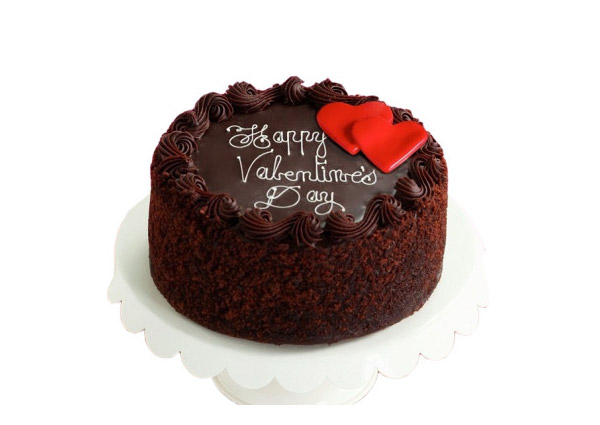 Those who are fond of eating sweets will love this chocolate cake. This cake is slightly moist with tastes of chocolate and coffee. This cake is baked to perfection. You will not be able to stop yourself from eating this mouth-watering chocolate cake.
Ingredients:
1 cup all-purpose flour
1 cup powdered sugar
1/2 cup cocoa powder
1 tsp baking powder
1 tsp baking soda
1/2 tsp salt
1 tsp coffee powder
1/2 cup oil
1/2 cup hot water
2 cups cold milk
1 tbsp vanilla essence
1 egg, beaten
Steps:
Preheat the oven to 180 degrees Celsius. Grease a baking tin with some oil.

Combine all-purpose flour, sugar, cocoa powder, baking powder, baking soda, and coffee powder in a bowl.

Keep them aside.

In a bowl, mix broth 1/2 cup oil and 1/2 cup hot water Take it. Let it cool down a bit

When done, add milk and vanilla essence to it. Mix it well.

Add the beaten egg to it.

Now after mixing it well, add the wet ingredients to the dry ingredients and mix them together.

Now put it in the oiled baking tin.

Bake it at 180 degrees Celsius for 35 to 40 minutes. Put a toothpick in it and check that it comes out clean.

To make it smooth, you can apply chocolate ganache/ chocolate sauce to it.
Red velvet cupcakes for V-day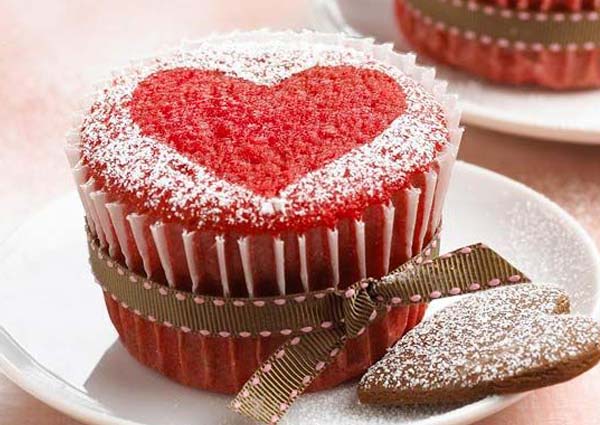 There is hardly any person whose mouth does not water in the name of Red Velvet Cake. Due to being buttery and soft, this is a great valentine's day cake idea to impress your other half. Many people who are not good cooks prefer to order it from outside because they feel that they will not be able to get the taste right at home. If you also think so, then you can try this recipe. With this recipe, you can easily make Tasty Red Velvet Cupcakes.
Ingredients:
1 cup flour
200 grams condensed milk
100 grams butter
2 tablespoons powdered sugar
1 tsp cocoa powder
1 tsp vanilla essence
1 tsp vinegar
1 tsp baking soda
1 tsp baking powder
1 tsp edible food color
water as needed
1 cup buttermilk
Steps
In a bowl, add 200 grams of condensed milk in it. Then add 100 grams of butter to it. Make sure the butter is well combined melted.

Add 2 tbsp sugar powder, i.e., powdered sugar, to it and mix well. Now add 1 cup of flour to it.

After this, add 1 tsp cocoa powder, 1 tsp baking powder, tsp baking soda, 1 tsp vanilla essence, and 1 tsp vinegar. Mix all the ingredients well.

Now add 1 cup buttermilk to it. And then add a teaspoon of red food color. In this way, the batter will be ready.

After this, we will take cupcake molds. If you want, you can also take paper cups. Fill cupcake molds only 3/4th as they will puff up after it is baked.

Now put the cupcakes in the oven. Preheat the oven for 10 minutes and then bake the cupcakes at 180°C for 15-20 minutes.
1. Vanilla cake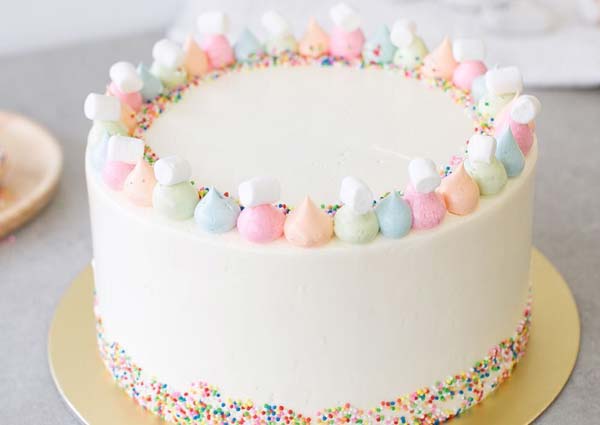 The classic vanilla cake is still not out of fashion, and many people are genuinely obsessed with vanilla cake. This is the original version of the cake that we all had in our childhood, and some of us are still not over it. If your partner is one of those people who finds vanilla cake delicious, then this recipe is for you.
Ingredients
3 tsp oil
100 grams powdered sugar
1 cup sweet curd
5-6 drops vanilla essence
100 grams flour
a quarter teaspoon baking soda
3/4 tsp baking powder
1 kg cream
Steps
First of all, we will take a baking pan to make the cake and grease it with oil around it. After applying oil, we will keep butter paper in it and apply oil on it.

Then we will make a big pot or wok and keep it covered to heat on the gas on low flame.We will put a steel stand inside the pan. While the pot is hot, we will prepare the cake-making mixture.

For this, we will take a vessel, put curd and sugar in it and mix it well.When both the things are mixed well, then we will add vanilla essence and ghee and mix both.

We will use it to heat rice oil or refined oil here. After mixing, we will add flour to it and beat it well. We will use all-purpose flour hereafter sifting it.

If the mixture is a bit thick, then you can mix it by adding a little water. After mixing, we will add baking powder and baking soda to it and mix.

Then we will put this prepared mixture in the baking pan and keep it in the heated vessel. Put a lid on the pot as well. We have to cook it for 35-40 minutes.

After 35-40 minutes, we will remove the lid, turn off the gas and leave it in the pot to cool down for a while.

After 10-15 minutes, we will take out the baking pan and separate the sides of the cake from the pan with a knife to separate the cake from the pan. This will make the cake come out easily. Now we will cut the cake into two parts.

Now you can decorate it with whipped cream.
2. Fruit & nut cake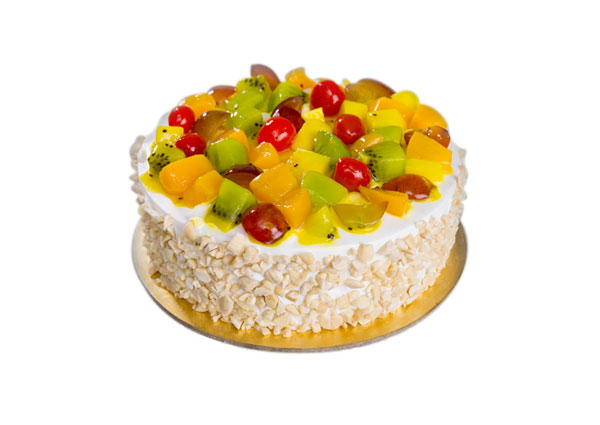 Hearing the name of the cake, not only children but adults also get water in their mouths. And when it comes to Fruit & Nut Cake, everyone gets super excited about it as it is very tasty to eat. That is why people who are fond of cake often keep asking each other about the simple method of making fruit cake. On valentine's day, this cake can impress the love of your life, and that is why we bought this recipe for you.
Ingredients:
Flour – 1.5 cup,
Sugar – a little more than 1/2 cup (ground),
Milk – A little more than 1/2 cup,
Butter – a little more than 1/2 cup (melted),
Condensed milk – 1/2 cup,
Tutty Frutti – 1/2 cup,
Cashew – 1/2 cup,
Walnut – 1/2 cup,
Raisin – 1/2 cup,
Almond – 1/2 cup,
Baking powder – 01 tsp,
Baking soda – 1/2 tsp.
Steps:
For the fruit cake recipe, first cut almonds, cashews, and walnuts into small pieces and clean them with a cloth after breaking the stalks of raisins. Now add baking powder and baking soda to the flour and sieve it well.

Add melted butter, powdered sugar, condensed milk, and whisk well in a bowl. When this mixture starts to appear puffy, then understand that the mixture has been mixed well.

Now add half the milk to the prepared mixture and beat again. After that, add half the flour to the mixture and beat again. Then add the remaining milk once and mix once again by adding the remaining flour. After that, add chopped dry fruits, raisins, and tutti frutti and mix well.

Now preheat the oven to 180 degrees centigrade. After that, grease the inner surface of the cake-making vessel by applying butter/oil. Cut a butter paper the size of the bottom of the vessel, place it on its surface and apply butter/oil in it too. Now put the prepared mixture in the vessel, keep it in the oven and set it at 180 degrees centigrade for twenty-five minutes.

If the cake is not yet brown or is sticking to the knife, it means that it is not cooked properly. In this condition, bake the cake again for ten minutes.

When the cake is completely baked, take it out of the oven and leave it to cool. When the cake cools down, separate it from the pot by rotating it around the cake with the help of a sharp knife and then turn the pot and take out the cake.
Final note
Valentine's day is an occasion where you can rightfully appreciate your soulmate. Many people like to spoil their partner on this day and to cook for them is a way of spoiling them but if you are not a great cook (or a horrible cook), then maybe rather than taking a chance on this important day, you can send valentine's day cake from a renowned bakery. Whatever you choose to cook by yourself or to get the dessert from the market, your lover will surely appreciate your love and efforts. So, celebrate the day of love without worry and with affection.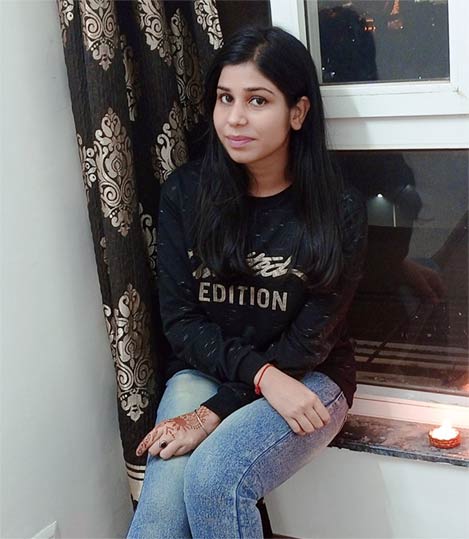 Kriti Awasthi is a passionate reader and a professional writer. Her writing style is figurative, animated, and Chatty. If she is feeling it and it strikes her fancy, she will write it. Sometimes poetically and sometimes rhetorically, she is keen to open the new doors of the writing world.