With rapid globalization, the lifestyles of the people have also evolved. There has been a shift towards how a space is used and looked at. It is one of the primary reasons why the wholesome experience of a room has become an essential factor for the customers. This is why Interior Designers are increasingly in demand by society, continuously looking to evolve its living standards and thrive in sophisticated living. Another important reason for interior design is to make your personal space your own. One of the most meaningful achievements that one can achieve in his life is possessing a home, especially in India. And it is from that we gain the eagerness to engage in meaningful activities that will help create our own personalized home. In addition, it helps uplift our spirits and helps in effectively optimizing spaces in our homes, thus, producing the best use of the available space. Here's why interior design is an essential part of our lives:
1. Virtual Impact: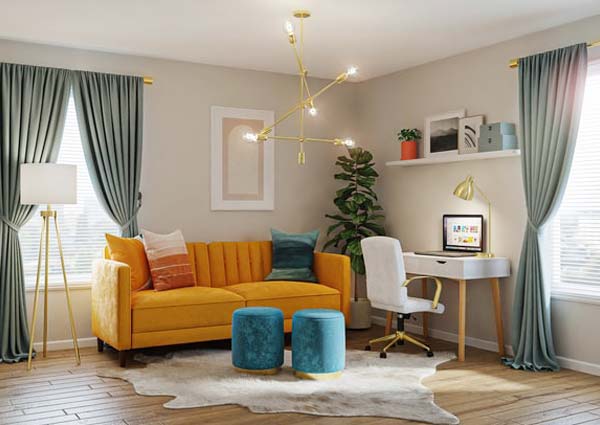 The interior decoration of any place, any site represents it and creates a visual impact on the customer, and it becomes a part of the place identity. The ambiance creates a virtual effect on the customer's mind which makes them want to visit frequently.
2. Interaction
An Interior designer brings forth the opportunity to interact with various people and get the honor of designing a collection of numerous in-house designs for multiple clients. Designers often feel that the most wholesome part of the career is knowing the people and making something precise for them.
3. Art of Composition
Interior design is an art of composition because it requires designers to bring various pieces together to build something innovative, something with a stylish look. They handle every part of the room's looks, from the floor material in some cases to the knick-knacks on the bookcases. It can often take months for an interior designer to complete their job because so much goes into it.
4. Ambiance
The right interior planning concept will provide an ambiance that reflects the brand or character of its users. This will make a comforting interior space because it fits their personality, especially in a private area like a bedroom.
5. Function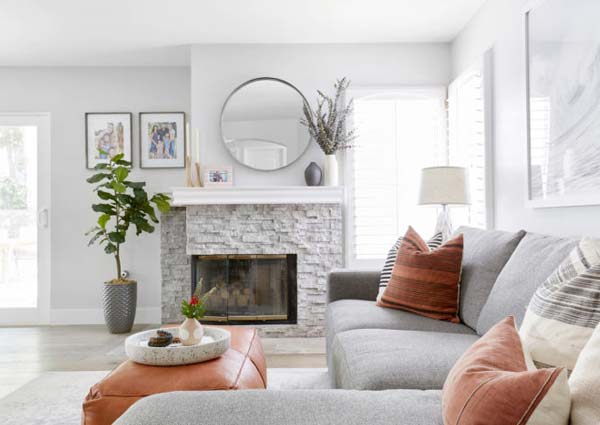 Wherever the interior planning is, whether it's an office, a cafe, or a residence, of course, the function must be very concerned. Good interior planning will provide a good and beneficial function in every internal element, which leads to productivity, efficiency, and effectiveness of activities inside the room.
6. Visuals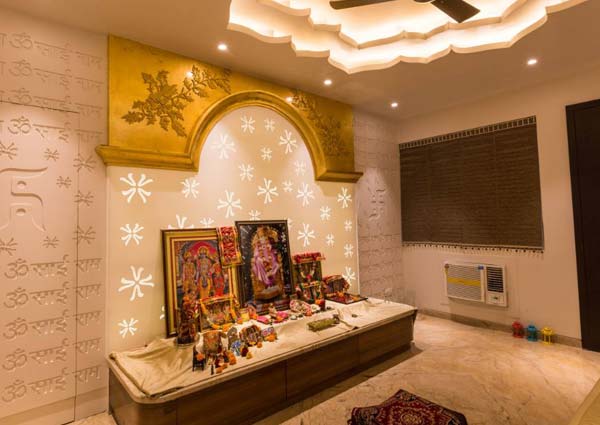 Visuals play a significant role while designing your bedroom or Puja room. If a room has bright and colorful colors, you will feel more energetic and passionate, and use of calm colors with natural decoration, you will feel soothed and relaxed. And on the other hand, when you are in a narrow room with bold—dark colors and rigid decorations, you will feel gloomy, not always because it depends on people's taste, but most of us will feel that. As the color and shape influence the ambiance that unconsciously affects our psychology. So, play safe!!
7. Cost savings: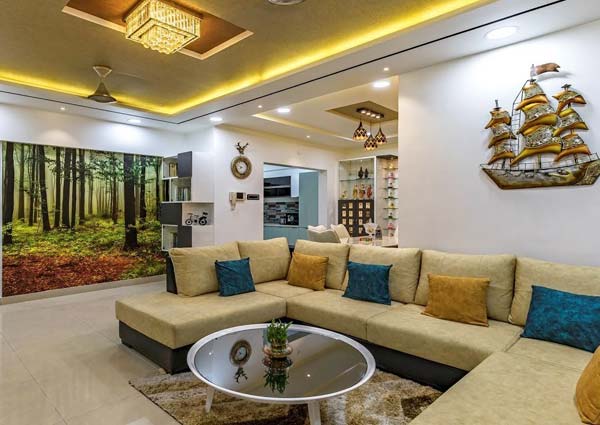 In most cases, homeowners try to save on the cost of hiring a professional interior designer. But sadly, in the bargain, they end up spending more time figuring out what to install and how to install it correctly. So, to get more and spend less picking up a professional and reputed Interior Designer can be the best idea. A good interior designer will help you save your costs by helping you choose the best materials, fittings, and furniture that you can afford with your current budget.
Basics of Interior Design: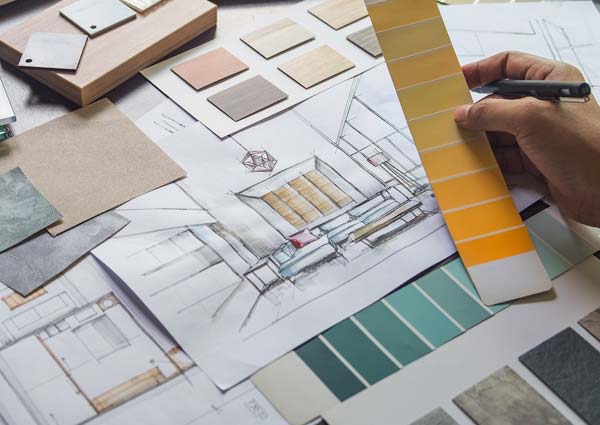 Below are some basic Interior design principles you can transform any space to look fabulous. You can sense how everything feels cohesive and put together. It feels just right.
1.Balance:-
In design, balance creates a feeling of equilibrium. It is all about equalizing or approximating the visual weight of objects. There are three different kinds of balance:
~Symmetrical or formal
~Asymmetrical or Informal
~Radial balance
2.Rhythm:-
As in music, rhythm in design is all about creating patterns of repetition and contrast to create visual interest.
3.Harmony:-
Harmony is created when all the elements act together to create a unified message. Just as rhythm can create excitement, harmony makes sense of restfulness.
4.Emphasis:-
A room where everything gets equal importance will seem either scattered or boring. Architectural spaces often have points of interest, such as a fireplace or a window with a beautiful view. You can choose to enhance the built-in focal point by arranging furniture around it to emphasize it.
Final Verdict:
Interior design tells about beauty, relaxation, and modernism. It is the technique that is given more importance all over the world nowadays. So, hire a professional Interior Designer, and they will make your space lively, beautiful, and functional within your budget and requirement. You can browse our site, SurfIndia it has enlisted many reputed and trusted interior designing service providers. Hurry up, contact them and let them decorate your home!!