2020 was on the rollercoaster heels, and the reason is no surprise for anyone. COVID 19 has made it very difficult for humans to live their life. This has affected celebrations and gatherings as well because of the obvious reasons. But this does not mean no wedding will take place and no bride will get ready. Marriage is one such most-awaited and indeed the most special day in everyone's life. Whether it is a woman or a man, marriage is extraordinary for everyone. But one thing you have to agree that the wedding day is a little more important for women (on offense to men out there). Marriage is a day when many dreams of women are being fulfilled.
From gorgeous clothes to beautiful jewelry, marriage brings many colors of happiness in the lives of women. Apart from all these things, women need to look stunning at their wedding not only for the photos but to satisfy their inner self. And, for this, all the brides-to-be must know the latest bridal makeup trends for 2021. Once weddings become a thing again after COVID, all the brides out there will get a chance to choose their fair share of gorgeous make styles from the latest and brand-new bridal collections.
Here, we have prepared a compiled list of the top bridal trends of 2021 that will spread its fire everywhere this year in 2021. All the gorgeous brides-to-be will be flaunting these new makeup trends ahead on their special wedding day.
1. Glittery Eyes are in Trend Once Again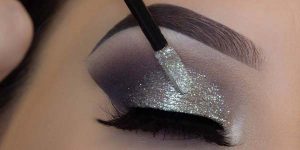 According to the top-notch and famous makeup artists, glittery eyes belong to one of the best and trending bridal makeup trends that will rule 2021. Adding glitter to the eyes with eye shadow will let your eyes do all the talking, and at some point of time while watching television, every one of us must have thought to pull off the gorgeous, bold, and stunning beautiful eye makeup look. Nude and bold glitters are both perfect for adding the much-needed glitz to your bridal attire and look.
2. Glowing Makeup Blended with Loaded Blush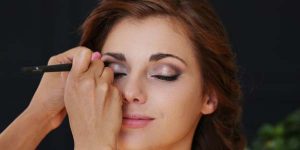 Talking about bridal makeup, it is almost impossible to ignore the importance of highlighter and blush. Adding a perfect amount of highlighter to the makeup is essential to get glowing and flawless skin on your wedding day. Now, the question arises: what is the ideal highlighter amount? Well, the answer is very simple and straightforward. A makeup look should not contain too much blush that it starts blinding everyone in the wedding, but also not too little of it that the blush gets unnoticed by everyone. If the bride has a pop-up eye look, then blush should be so minimal that it adds the right amount of glowing look. If you wish to have a subtle eye look, then heavy blush will give a very natural-looking glow to the skin.
3. Bold Lips with Subtle Smokey Eyes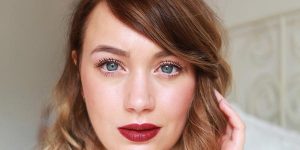 We have talked very much about the eye makeup looks for the brides-to-be, and this is the time we should know which kind of lips will go with which eye look. When paired with bright red bold lips, subtle and nude smokey eyes have become the most favorite look for one and all. The black and brown smoked-out eye look with red and magenta pink lips is the perfect bridal makeup.
4. Why Not to Try Colored Eyeliner
Black and brown eyeliners with smokey eyes and nude lips are among the most common, yet most favorite, makeup looks that compliment the stunning wedding attire. But have you ever thought of pairing your eye makeup with colorful eyeliner? Yes, you heard it right, like bright blue, bright green, or bright orange eyeliners are in the trend nowadays. Colorful eyeliners are undoubtedly one of the biggest bridal makeup trends of 2021, perfect to doll-up the newest "New Normal" of mask-wearing.
5. Shimmery Eyes paired with Nominal Base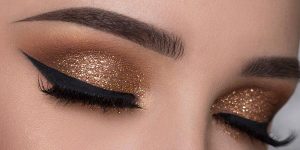 Glittery eyes outshine the bridal makeup look when you don't want your lips bold. There could be no better option other than shimmery eyes and bold lips for all the brides who wish to keep their base minimal for the wedding look. Every woman out there knows very well that creating cut-creases is undoubtedly a daunting job for the brides and their makeup artists. Owing to this, we have included this simple yet extraordinary look. Shimmery and glittery eyes are from the modern makeup trend for brides.
6. Skincare is Must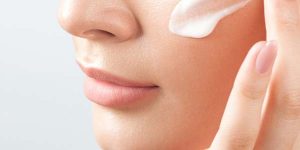 2020 has been a disastrous year not only for mental peace but for skin health as well. Owing to this, everyone's first and foremost resolution in 2021 is to take good care of their skin. It is indeed no surprise that glowing and flawless skin is the result of good skincare. So, if you are soon to be a bride, then this is high time to start taking good care of your skin. From drinking the right amount of water to taking the perfect diet, several ways are there that will help you switch to the healthiest and flawless skin.
7. Matte Hues are Back in Town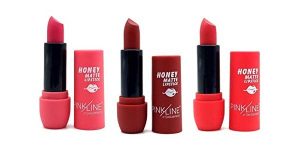 There is very little to talk about the matte look as every bride or office-going female, or even the college-going girls, knows that mattefying is one of the best ways to subtle the bridal makeup look.
Final Thought
We have slipped these a few stunning bridal makeup looks from the top-notch couture shows and makeup artists in Delhi to add some fashion flavors to the wedding. So, without wasting any more time, have a taste of the interesting bridal roundup perfect to create ear-to-ear notes that are complimenting your looks. Every bride-to-be or newly wedded bride can embrace these high-octane glamorous looks at their memorable wedding and extra-special anniversary celebrations.
The most important thing needed to pull off unique and gorgeous makeup bridal looks is to find the best beauty parlors in Delhi & NCR or anywhere in India. Surfindia.com is here catering to everyone's need to get their perfect makeup look for their ideal wedding. This online platform works as a link that connects the end-users with the best, experienced, and top-notch makeup service providers. So, connect with Surf India's team and find the best salons offering services like trending beauty packages for weddings, receptions, and anniversaries. Apart from these, you can get expert makeup-artist service providers and spa services to pamper yourself at budget-friendly rates.