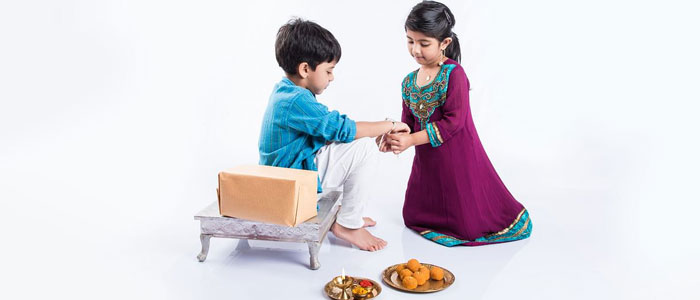 Raksha Bandhan Date 2018 - 26th August
Raksha Bandhan beautifully celebrates the perennially never dying love shared between brothers and sisters. This bond is something that can never be compared with any other relationship in the entire Universe. While sisters tie the bond of love called Rakhi, lovingly on their brother's wrist, brothers promise their sisters to protect them for rest of their lives.
Raksha Bandhan 2018 is around the corner and the bunch of people flocking near the Rakhi shops can be seen bargaining over the price and choosing the best one for their brothers. The India society is sternly connected with the stars and the Puja Muhurat and timings are decided according to their movements. And, before all the preparations get over and we finally enter into the zone of Raksha Bandhan 2018 celebration, it's important to know about Rakhi timing and Shubh Muhurat. Here we have jotted some important information on the same.
Auspicious Timing for Raksha Bandhan 2018
| | |
| --- | --- |
| Shubh Muhurat for the Tying Rakhi | 06:09 to 18:55 |
| Total hours for Tying Rakhi | 12 Hours 46 Minutes |
| Raksha Bandhan 2018 Aparhan timing | 13:33 to 16:01 |
| Raksha Bandhan 2018 Aparhan Duration | 2 Hours 28 Minutes |
| Raksha Bandhan 2018 Pradosh Timing | 18:29 to 18:55 |
| Raksha Bandhan 2018 Pradosh time duration | 0 Hours 26 Minutes |
| Purnima Tithi Start Timing | 25th August 2018 at 16:46 |
| Purnima Tithi End Timing | 26th August 2018 at 18:55 |
Raksha Bnadhan Aparhan timing
Aparhan timing is considered as the most auspicious time for the observing Raksha Bandhan. Aparhan, according to the Hindu division of the day is, the afternoon time. As per the rituals and beliefs, the celebration must start from 6'o clock in the morning and lasts till early evening.
Raksha Bandhan Pradosh time
However, Aparhan timing is considered as the best time for performing the Puja ritual, Pradosh can also be considered as the auspicious time for the same. The period is believed to begin in the late evening and end on the Shubh Muhurat of Raksha Bandhan that is at around 7 p.m. Holy scriptures and other sources tell that if you miss on the Aparhan time for some reason, you can observe the Puja ritual and Rakhi tying ceremony during Pradosh time which is believed to be the second best Muhurat for Raksha Bandhan celebration.
Purnima Tithi - One more important aspect of auspicious time to tie Rakhi is Purnima Tithi. This year, it will start in the mid afternoon of 25th August 2018, a day before Rakhi, and it will be ending in the evening of 26th August 2018.
What to Avoid? - Inauspicious Timing for Rakhi Tying Ceremony
Bhadra - It is considered as the most inauspicious time for tying Rakhi during Raksha Bandhan. There is a mention of this fact in various scriptures belonging to the Hindu religion. Bhadra falls in the first half of the Prnima Tithi and it is believed that one should not perform the Rakhi tying ritual during this time of Bhadra.
This is all you will need to know about the Shubh Muhurat for Rakhi before 26th August. The Indian society has strong belief in these types of stuff and is very important part of celebration. Therefore, you must also follow them and perform the Rakhi Puja ritual and Rakhi tying ceremony according to the auspicious Muhurat of Raksha Bandhan.
While these timings and Rakhi Shubh Muhurat is an important part of the celebration, selection of Rakhi is also an important aspect one should never avoid. There are a number of websites where one can find beautiful Rakhis online and that gives convenience of choosing one as per the personality of brothers.
Raksha Bandhan Dates - 2018 to 2030
| | | |
| --- | --- | --- |
| Year | Date | Day |
| 2018 | 26th August | Sunday |
| 2019 | 15th August | Thursday |
| 2020 | 3rd August | Monday |
| 2021 | 22nd August | Sunday |
| 2022 | 11th August | Thursday |
| 2023 | 30th August | Wednesday |
| 2024 | 19th August | Monday |
| 2025 | 9th August | Saturday |
| 2026 | 28th August | Friday |
| 2027 | 17th August | Tuesday |
| 2028 | 5th August | Saturday |
| 2029 | 23rd August | Thursday |
| 2030 | 12th August | Monday |