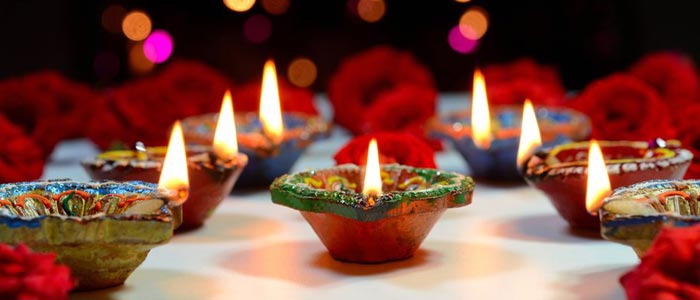 The excitement and zeal of Diwali celebration is something special! Of all the festivals celebrated in India, this one is the favorite of all. No matter if you are lying down in your couch or are attending an official meeting the thought of Diwali celebration always hovers around your head right from the first day of the Diwali month.
The festival adds some pomp and excitement to the mundane everyday routine. And, the great thing about this festival is that it lasts for longer for around 4-5 days. Diwali 2018 is here again assuring the much needed break from the daily time table that you were dreaming of.
The beautiful & bright lights, the yummy & delicious sweets, the beautiful & revamped aesthetics of the home, and the happiness & joy of being with the family are the incredible gifts of the festival of Diwali. There are plethoras of reasons that this festival is awaited by every Indian. Here are a few of those reasons that make Diwali one of the most celebrated festivals of the country. Read below to find them here……
1. Deliciousness of Special Diwali Sweets – Diwali & Mithai!
This is the day when you can savor the taste of yummy & delicious sweets without any guilt of overdoing it. There's a perfect correlation between Diwali & Mithai! It's the time when you can bid adieu to the strict diet routine and get to know the real taste of some ever tasted varieties of Mithai. Every state has its own specialty when it comes to Diwali sweets!
2. It's the time to Shop - The Shopping Spree!
Who does not love shopping? And, when you can shop double in the same amount as usual then, who does not have the reason to wait for Diwali shopping. Most big brands and online stores come with Diwali BUMPER SALE OFFER where you get everything at half the rate as usual. It's that time of the year when you can spend relentlessly without any guilt. No matter if you have been craving for apparels, gadgets or Jewelleries this is the perfect time to shop around.
3. Time to Meet Friends & Family – Home Calling!
Because of the incessant pressure of maintaining the balance between home and work, we don't get time to meet our friends and distant family members. But, the long vacations of Diwali give time to meet up with family and friends. Even if you live miles away from your family, Diwali celebration cannot be missed at home.
4. Gifts on the Way – For Cheerful You!
The happiness of receiving an envelope of exciting Diwali gifts is something that cannot be denied by anyone. From family to friends to your employer, everyone will have something for you. Diwali come with the assurance of bringing smile on every person's face!
5. Time to celebrate Long Vacation – Long vacationing!
Vacation is something that we all wait for! Whether you are college going or office going, there must be a want in your heart for a long vacation when you can enjoy with your family and friends. So, when Diwali is around, you can get that much needed leisure time to enjoy a get-together.
6. Witnessing the Bright & Beautiful Lights – The Light of Happiness!
Diwali is the festival of lights! Diyas, candles, and sparkling lights all glittering all around the city is sure to make the moment a special one. It's the time when every nook and crony of the city gets lit up with happiness and excitement in heart. A special kind of life can be seen in the liveliness in life can be seen all around.
7. A Hope to find your lost Precious items- Diwali ki Safai!
Diwali celebration starts with the much needed house cleaning session! And, you can wait for Diwali to get your precious items to be found that has been lost. Every household is cleansed from its nook and cranny in the hope that Goddess Lakshmi finds her abode in a neat and clean place.
8. It's time to Stay late at Night – Delight at Night!
And, no one is going to stop you from waking late at night enjoying with friends and family. This is completely going to be your day and you own every second of it! You can be awake late at night, play cards, have fun with friends, burst crackers and 'DEFINITELY' you shall not be judged!
9. Time to Party Hard – Partying Hard!
Diwali party is particularly awaited by all! For it comes with a chance to meet up long distant friends and savor the taste of some delicious sweets. You can hop around and enjoy the carefree you ones again on the day of Diwali.
10. A Chance to be You - Artistic side of you!
Diwali is the perfect time to showcase the artistic side hidden in some corner of you! From Diwali Rangoli making, to decorating the household, every single part of Diwali celebration will give you the chance to showcase your art.