It's official when it comes to following trends; we always look up to Bollywood celebs, and no wonder we do that as they have spectacular taste in fashion and their lifestyles are lavish. Following in their footstep and living life might be impossible for a middle-class Indian, but when it comes to your D-day, one can fulfill all of their wishes and dreams. The Bollywood brides are always one step ahead of us in terms of fashion, so we young ladies must check out the fashionable attire they chose for their wedding.
Getting inspired by your idol is something that will make your special day more special. So, keeping that in mind, we have prepared a list of the top 10 blushing Bollywood brides that looked stunning at their wedding with their well-chosen wedding dresses and finest jewelry.
1. Anushka Sharma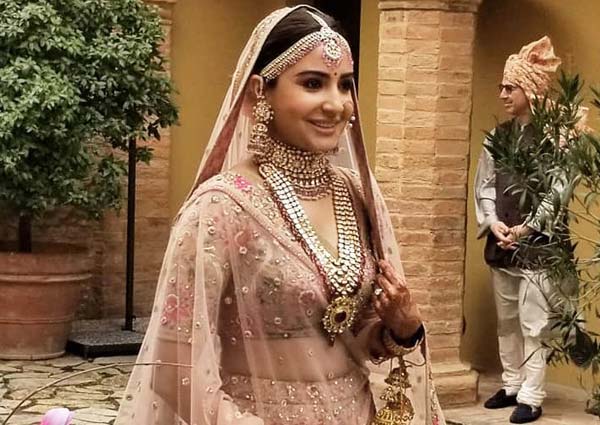 Anushka Sharma got married to Virat Kohli in Italy in a lavish way, and one can say that she made the prettiest bride in Bollywood as there was a delightful aura around her. In her pale pink lehenga, she gave us the Indian bride goals. In her wedding, we have to say Sabyasachi outdid himself, and the whole aesthetic of her marriage was something out of a fairytale. With her pastel pink lehenga, she wore jewelry out of the Sabyasachi Heritage collection; it was made of uncut diamonds, pearls, silver, and gold. It went the best with her dress and made her an inspirational bride for many ladies out there.
2. Deepika Padukone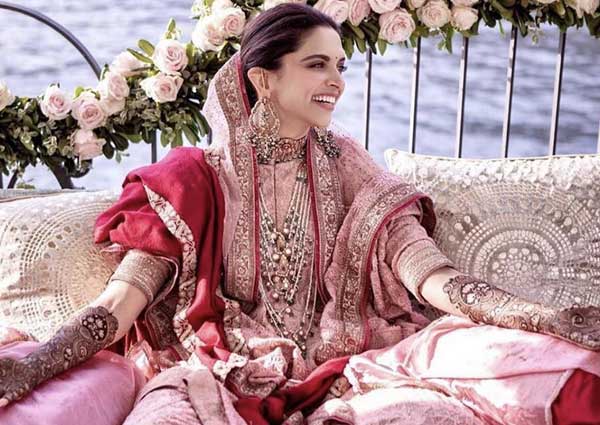 Deepika Padukone got married to her long-term boyfriend, Ranveer Singh, and the pair that played the part of royals in many of their movies made sure to have a royal wedding at Como Lake in Italy. They got married as per two traditions; first, they had a Konkani wedding where Deepika wore a light red and dull gold Kanjeevaram saree and rocked the look of a traditional south Indian Bride. Then at her Sindhi wedding, she wore a traditional North Indian red bride look and color-coordinated with her beau. She paired the red Sabyasachi Lehenga with Heavy Kundan Jewellery and a big smile, and she gave the happy bride goals to our youth.
3. Dia Mirza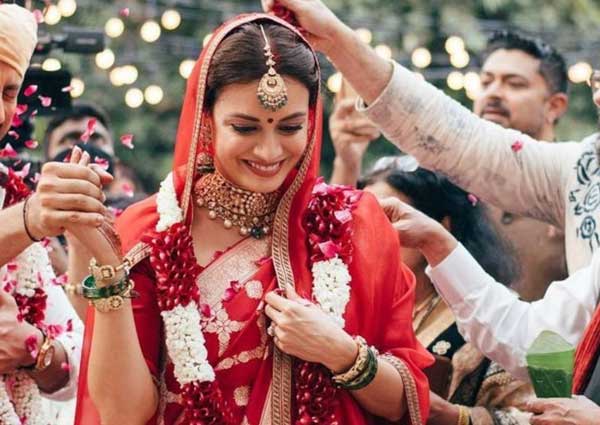 The beautiful actress looked gorgeous on her wedding day, and no wonder, with her glowy skin and natural beauty, she went with a simple look with her bright red lehenga and minimalistic makeup. She wore a plain red dupatta, a small bindi, gold and red mang-tikka, and choker; with all of this, her green Maharashtrian bangles stole the show. On her special day when she is getting married to Businessman Vaibhal Rekhi, she can be seen wearing a big smile stealing the hearts of her fan, and inspiring the brides who want to go for a simple yet elegant look.
4. Priyanka Chopra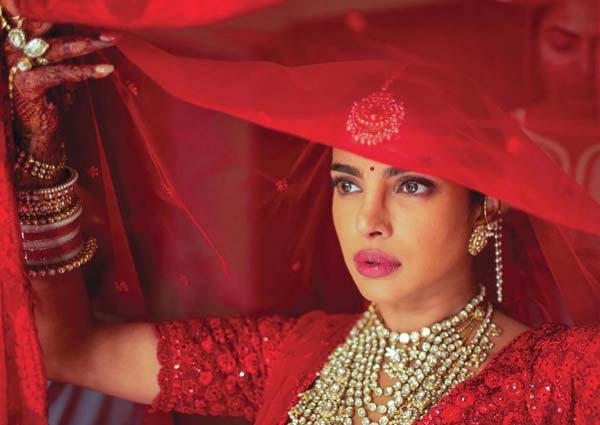 The Hollywood sensation and Indian Desi girl got married to her gora Husband, Nick Jonas. They made a dazzling couple with Priyanka's beauty and Nick's spectacular looks; they definitely gave us something to dream about. They had two weddings with their respective customs. At her Christian wedding, Priyanka wore an elaborated White gown made by none other than Ralph Lauren, and her 75-foot veil was the topic of every conversation. At her Hindu wedding, she wore a custom Red lehenga made by our own favorite wedding designer of Bollywood brides, Sabyasachi. Priyanka carried both looks with grace, elegance, and beauty and made every man in the world envy Nick Jonas.
5. Katrina Kaif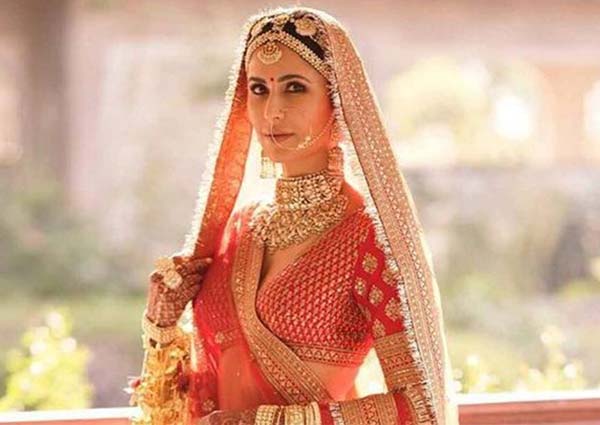 Katrina Kaif broke many hearts by getting married in 2021, but we can't say it was an unexpected affair as we all knew for a long time it was coming. The classic lehenga draped to perfection by bride Katrina Kaif was pretty to a fault, and any lady who got a glimpse of her look can't help but dream for her own wedding. The prettiest dress, stunning jewelry, and a husband like Vicky Kaushal, what else a girl can ask for. Mrs. Kaushal chose a red silk lehenga and jewelry made of gold and uncut diamond; wearing all that, she looked mesmerizing and breathtaking. No wonder Vicky Kaushal lost his heart to her.
6. Sonam Kapoor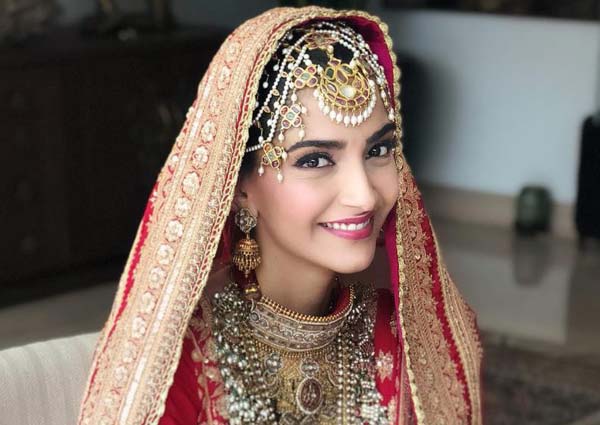 Sonam Kapoor got married to Anand Ahuja in 2018, and they had a big fat Bollywood wedding and with a father like Anil Kapoor, we don't expect anything less from their wedding. In her typical red lehenga with dual dupatta, we felt a little let down by Sonam Kapoor, as she is the well-acclaimed fashionista of B-town. But her outfit is pretty to a point, and our disappointment is only due to the fact that we have expected a lot from her. She wore gold and pearl jewelry with her red bridal dress and mesmerized us with her beauty.
7. Aishwarya Rai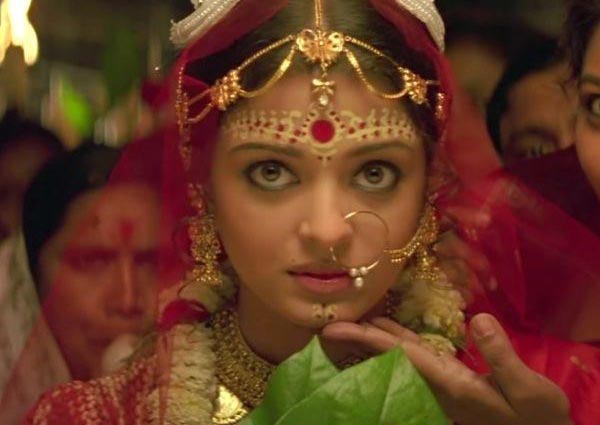 Aishwarya Rai is and always has been a pride of India with her beauty and grace. We all have been a fan of her on-screen capabilities, and she rendered us speechless with her off-screen wedding look as well. Her wedding took place in 2007 and is still considered as one of the biggest affairs of Bollywood as she got married to the heir of the Bachhan family. We all know that she got married in an authentic gold Kanjeevaram saree and paired it with gold jewelry, but the little known fact about her wedding attire is that her saree is made of real gold thread and her whole bridal look cost her 70 lakhs. Yes! Now that's what we call being speechless…
8. Kareena Kapoor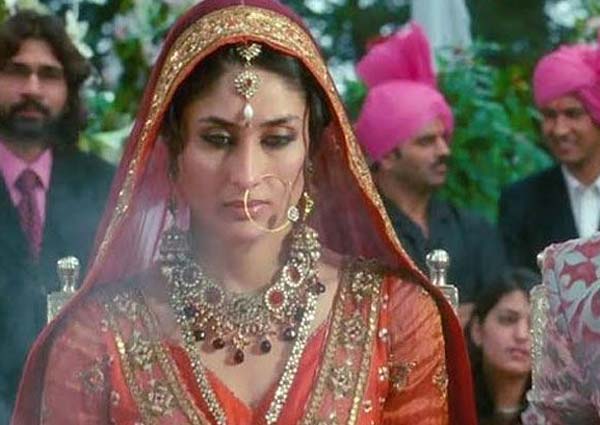 Bored with the cliche lehengas and sarees, the actress chose something different for her wedding. She wore the heirloom of the Pataudi family, a sharara; This sharara was previously worn by Begum Sajida sultan and begum Sharmila Tagore on their respective weddings. The orange sharara with green borders and heavy work of gold was paired with gold jewelry completed her statement look and converted her from a daughter of the Punjabi family to the Bahu of Pataudi family. The vintage dress went well with their royal wedding theme and honored the family tradition in a great way. Also, just to make you shocked again, the whole attire cost the actress 30 lakhs, so looking beautiful in that was not really a big deal.
9. Bipasha Basu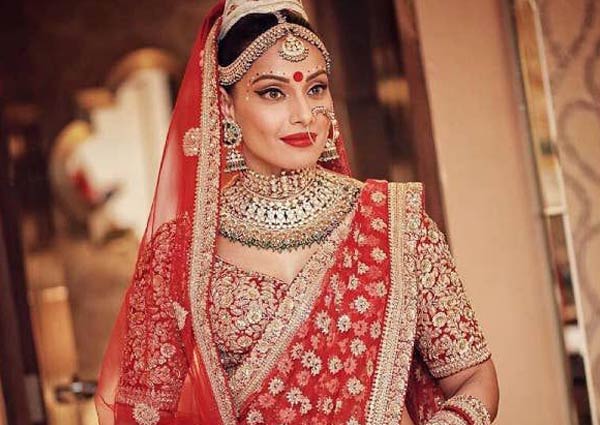 Our own Bengali beauty turned to her friend and fashion designer Sabyasachi for her wedding look, and as usual, he didn't let us down with his traditional red lehenga and awe-inspiring jewelry. Their wedding took place in 2016, yet her wedding look lives rent-free in our minds. Her heavy jewelry made of Kundan and lehenga full of Zari work was like a cherry on top as actress beauty inspires a lot of comments in itself. As the actress used to say that she always dreamed of having a fairytale wedding, we can safely say that fate has not let her down.
10. Kajal Aggarwal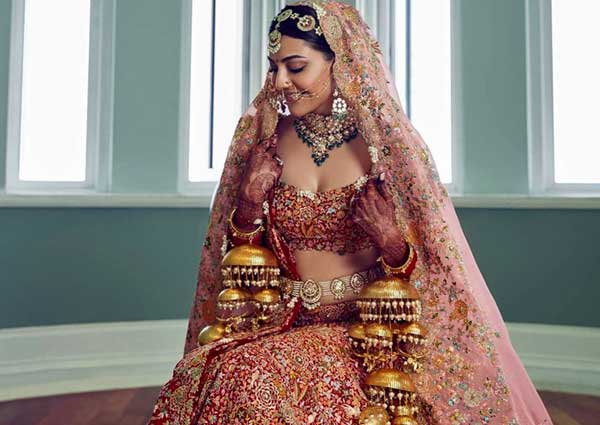 The intricate lehenga that our lovely bride Kajal Aggarwal chose came in red color with so much gold work that it almost looked golden from a distance. The lehenga was designed by Anamika Khanna, and the intricate Resham work done on the dress stole all of our hearts and breaths away. Her bridal ensemble also consists of diamond jewelry made by Sunita Shekhawat. The bride stunned us with her traditional colored lehenga and over-the-top accessories.
11. Yami Gautam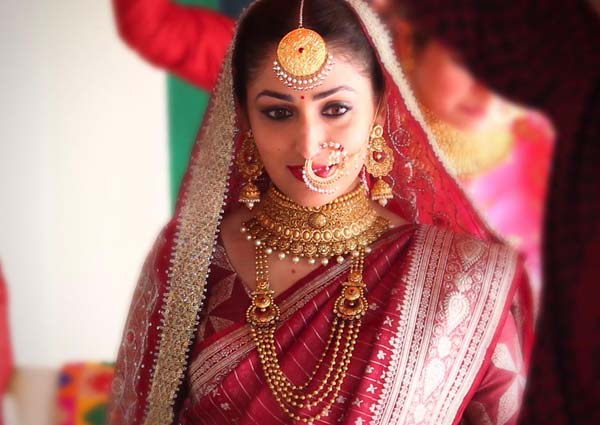 While talking about a family heirloom, Yami Gautam must need to be mentioned as she wore a magnificent Saree originally owned by her mother. This saree is 33 years old, made of silk, and done with intricate gold work. It went so well with the actress's natural fair beauty. To complete her look and make her look more divine, a traditional Himachali Nath and gold mang-tikka also adorned her face with a charming smile. Her wedding with Aditya Dhar came as a shock to many people, but nonetheless, it was a shock that we would like to experience again.
12. Neha Kakkar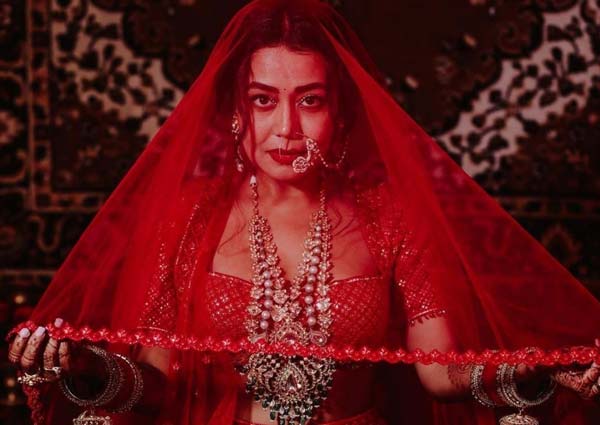 Neha Kakkar is not an actress but she acted in her albums, so we will consider her in this list. Neha is so adorable on her own, but to say on her weddings to Rohan Preet Singh she was looking extra sweet would not be a lie. Neha has two weddings which seems like a natural thing in Bollywood; in her first wedding, which happened with all Sikh tradition, she wore a pale pink lehenga and was adorned in a diamond necklace and earrings. She wore a sparkly red lehenga at her Hindu wedding with Nath and Kundan neckpiece. It can clearly be seen that her wedding looks as inspired by Anushka's and Priyanka's wedding look, but if she likes to be inspired, then we are to stop her. We believe that every bride is beautiful in her own way.
13. Preity Zinta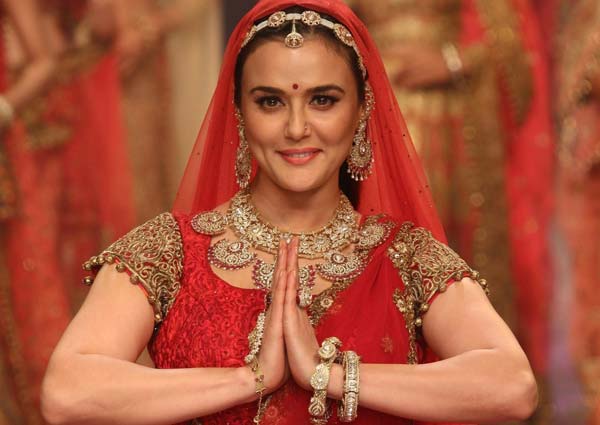 On her wedding to her beau Gene Goodenough, Preity Zinta wore a bright red lehenga that suited her bright personality very well. Her traditional red lehenga was nothing out of the ordinary, but the choli is a pure gem. She chose Manish Malhotra to get her wedding attire in order, and it was spectacular as expected. Their wedding took place in Los Angeles, and they didn't share a single image by themselves, but still, their images were made public on the internet as expected. Her red veil was something out of royal weddings, and with a white husband, it was a picture to remember.
14. Neha Dhupia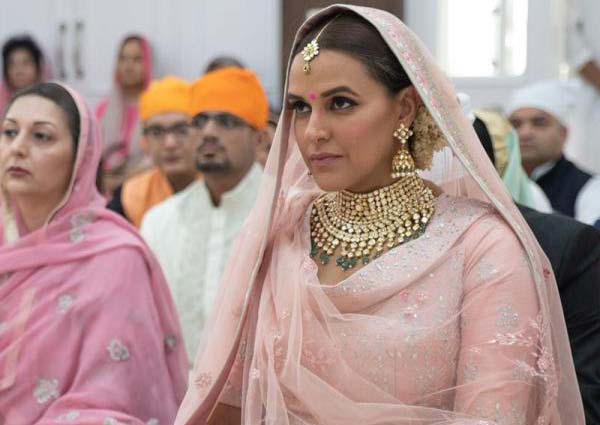 Neha Dhupia might not make it into the list of B-town A-list actresses. But when it comes to the wedding, she held her own fort by wearing a Blush pink lehenga on which zardozi work was embroidered and her gold jewelry paired with gold kaleere and red churra. She had a super-secret Sikh wedding with Angad Bedi in May 2018, and her lehenga was designed by Anita Dongre. The simple yet elegant lehenga took many people's breaths away and inspired many brides for their future weddings. On her whole wedding, pastels were her go-to color which went very well with her daytime wedding.
The Final Thought
Yes, it is not a secret that Bollywood brides make a fabulous bride on-screen, but their off-screen bridal looks make us believe that fairy tales can be true. Their dresses and makeup are something like fine art, and their pictures create a magic that is irreversible. Their attire and the aesthetics of their weddings make them look like an angel straight from heaven. Those who want to follow in their footsteps and make their wedding as blossoming as theirs, need to find a great beauty parlor and the prettiest banquet hall, which you can easily find on SurfIndia.