Every color that we can see has some significance to it. Red means love and sometimes anger, blue represents water, the shades of yellow give us a sense of joy and cheerfulness, and so on. According to Vastu Shastra, did you know that colors can be instrumental in bringing uplifting, peaceful, and even lots of good fortune to your home? But, choosing just any color won't do. Specific colors are effective and are just suitable for creating negative energies. So, you have to know which ones to pick for which room. You are in luck as this is just the place to know which Vastu colors for home are best and most ideal. After reading, find the best interior designer in Ahmedabad, Gurgaon, New Delhi, etc., or any area you reside and decorate your home according to the Vastu of colors.
Vastu Colors for All Zones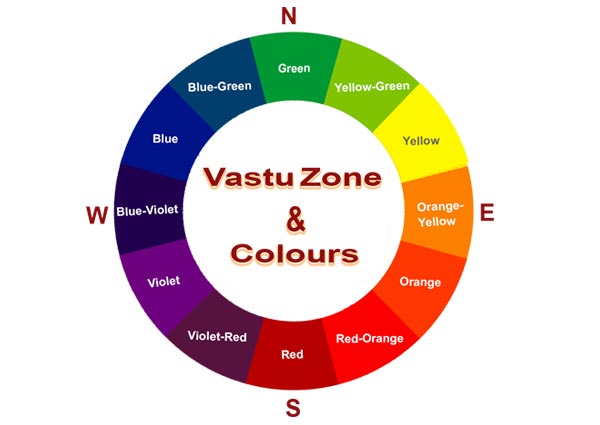 Before picking the colors of your new home according to Vastu, you can have a look below at the table. We have listed down the best and most suitable colors for each zone. Following this table and choosing the colors will benefit your home. It will help in decoration, but it maintains a positive aura in the house.
Zones/ Directions Suitable Colors
| | |
| --- | --- |
| North | Green |
| Northest | Blue or Light Blue |
| Northwest | Cream, Light Grey or White |
| South | Yellow or Red |
| Southeast | Silver, Pink , or Orange |
| Southwest | Light Brown, Peach or Cream |
| East | Light Blue or White |
| West | White and Blue |
Vastu Colors for Living Room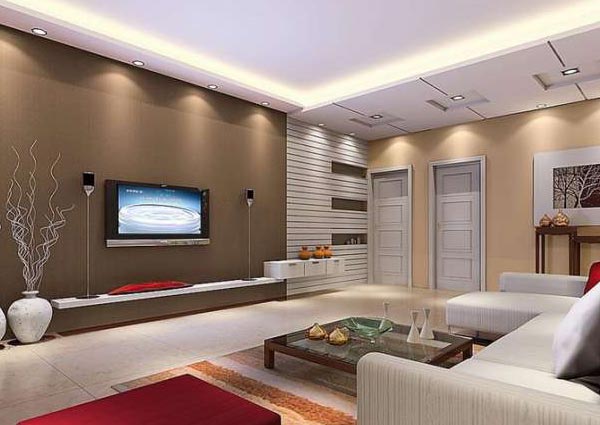 The living room is an inportant place where everyone hangs out. It's often the first room your guests see when they visit you. So it is essential to maintain harmony in the room with vibrant and Vastu-friendly colors. If your living room is in the northeast or northwest, yellow and white tones are the best options. Shades of peach, orange, saffron are related to the feeling of joy and cheerfulness, so these will also be a good option. To maintain harmony in the living room, avoid choosing dark shades such as black, dark, brown, etc.
Vastu Colors for Pooja Room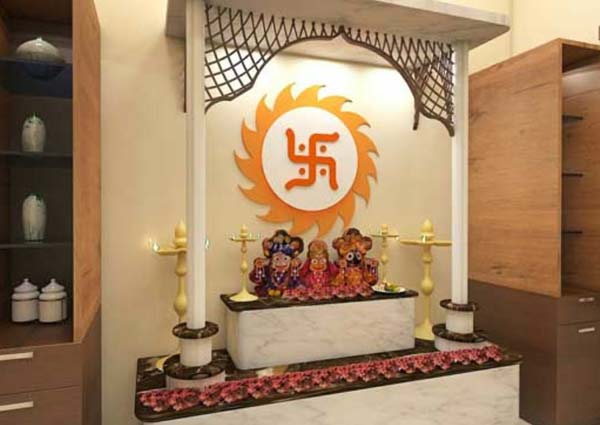 A pooja room is an essential part of any home. It's where you pray and get closer to God. Such a pious place should be decorated with bright and happy-looking colors. The Pooja room walls can be bright light colors such as red, yellow, white, etc. It must be noted that the pooja room must be placed in the northeast zone of the house to allow the maximum amount of sunlight to enter the room.
Vastu Colors for Kitchen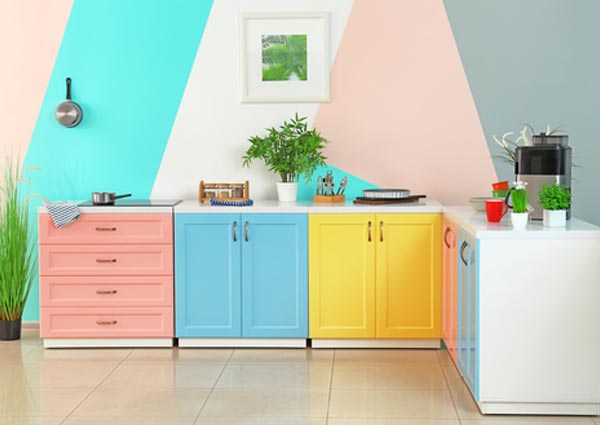 The most suitable colors for your kitchen, according to Vastu Shastra, are bright colors that represent the elements of fire. So, red, orange, and yellow hues are the ideal color choices for your kitchen walls or wallpapers. Vastu says to avoid shades of blue in the kitchen as it represents Lord Varuna, revered as the God of water. So, it is not ideal for placing water describing colors in a fire-based room. You can choose warmer shades like pink, light brown, and other soft shades. Green in the kitchen can attract good health and good vibrations for your family. Light brown will be best for the kitchen floors, mosaic, ceramic tiles, or tiles in shades of beige. Cabinets in your kitchen will be best when it's in yellow, green, or orange shades. Granite or quartz is good options for your kitchen slabs.
Vastu Colors for Master Bedroom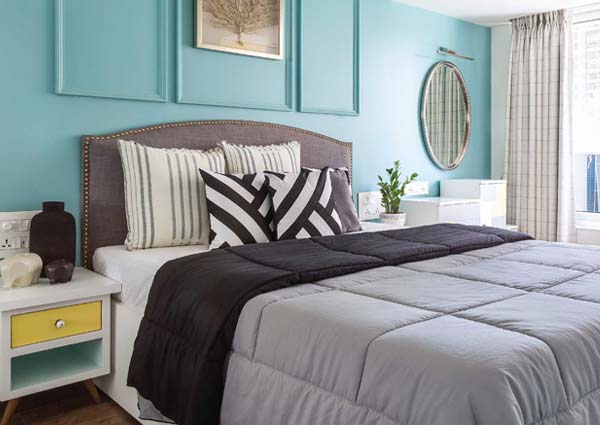 According to the Vastu Shastra, the master bedroom should be in the southwest direction. This zone is ideal if you want a peaceful and relaxed environment in your master bedroom. You can also go for rose and light pink shades as they symbolize gratitude, gentleness, and admiration for the walls and overall room color choice. Colors such as gold, pink or yellow are a great choice for newly-wed couples as these colors signify bonding. It's worth noting that dark shades like dark grey, black, etc., should be avoided, especially if you suffer from anxiety, stress, or high blood pressure. These shades also bring in the aura of negativity, dullness, and gloom, so it's best to stay away from them. You can even consult bedroom interior designers for more color options and the room's overall decoration.
Vastu Colors for Kid's Bedroom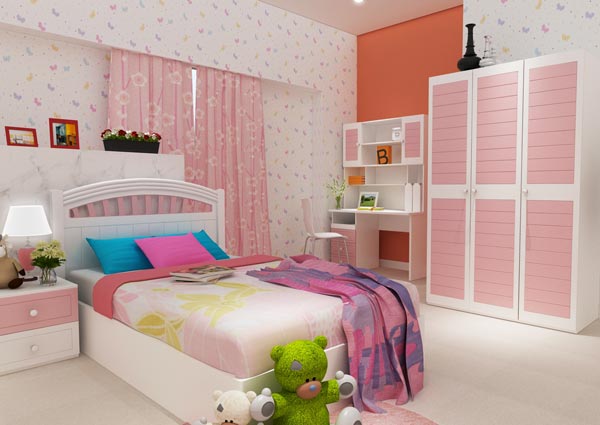 Do you know that colors have energy that can affect a person's mood? So, if you are going to choose a color for your children's bedroom, it should be the one that has a calming and positive effect on them. As per Vastu, green is the most suited color for your kid's bedroom. Blue is also a good option for your kid's bedroom if they are very active. But, you must avoid colors like orange, purple, and red as these are considered negative for a kid's room.
Vastu Colors for Bathroom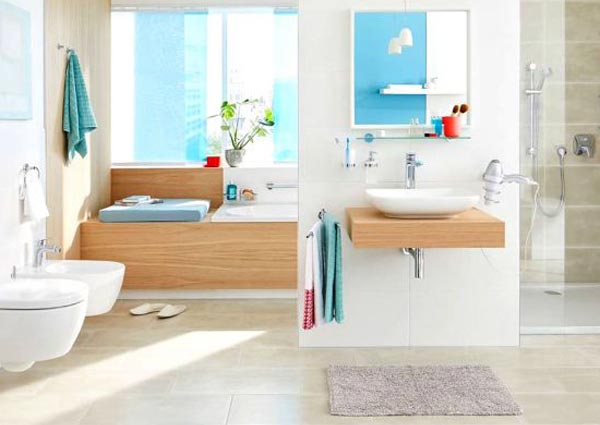 When it comes to the colors for the bathroom, you should choose light shades, for example, light yellow, cream, off-white, beige, etc. Because the bathroom is a small space compared to the rest of the rooms in your house, it's essential not to have dark-colored walls there. The dark colors will make the bathroom look smaller in appearance.
Vastu Colors for Main Entrance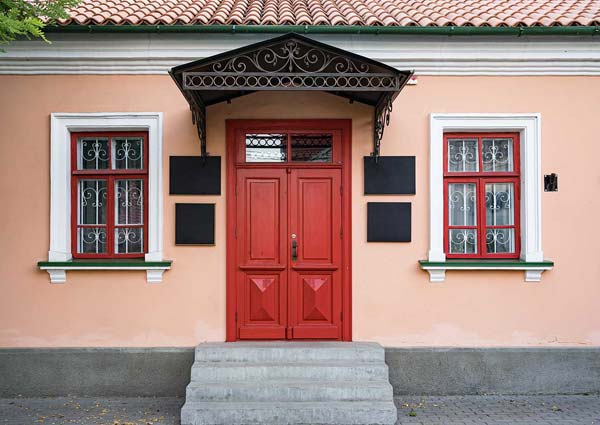 Following Vastu Shastra for the main entrance gate will benefit you in many ways. Just placing a main door in the right direction, according to Vastu, is enough, but it would be double helping if you also choose the right color for your main door. So, you should choose soft hues like green, light blue, silver or cream color. It would be best to avoid dark shades like dark and dark blue colors as these colors can attract negative energies towards your home. This is why it's also rare to see doors of that color. According to the Vastu Shastra, you must also avoid the red color for the main door because it's also not very favorable for you.
Vastu Color for Home Office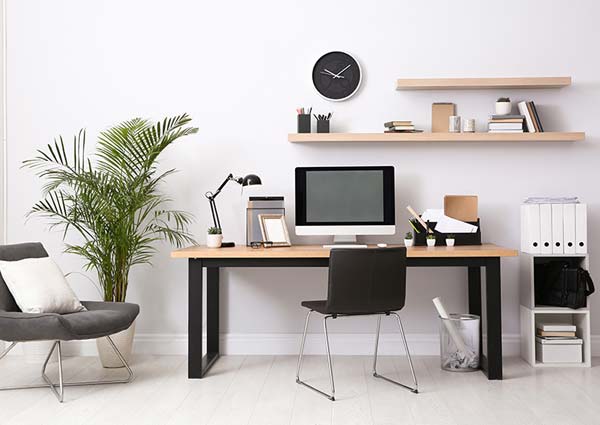 If you have an office room or a workspace set up in your room, you can customize its wall colors according to Vastu Shastra. Choosing the right color for your workroom will bring profit and grow your profession. It will also help in increasing business opportunities. So, you can choose colors such as light yellow, light gold, and light green.
Vastu Colors for Curtains and Floors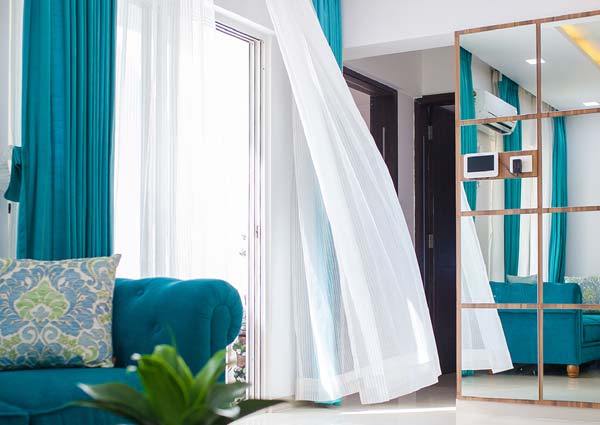 Now you know the suitable colors for different rooms in your house. But, picking the right colors for curtains and floors is also important. Choosing the right colors will set a relaxing atmosphere in your home. So for curtains, you can opt for rosy pink, white, pale yellow colors, etc. According to Vastu, it is best to use light and neutral tones for flooring when it comes to the floor color. Granite or white marbles are very befitting as these can enhance peace in your home. You can also opt for wooden flooring in your home for east, northeast, or north direction.
Frequently Asked Questions (FAQs): Vastu Colors for Home
1. Which color is the best for home walls as per Vastu?
The top colors for your home walls can be shades of white, cream, off-white, yellow, light green, etc.
2. What should be the color for the south walls in the house?
The shades of red and orange are suitable for walls in the south.
3. Which colors are lucky for home?
You can choose between white, green and yellow as these are the best colors for your house. These are good for attracting luck and prosperity in your home.
4. Which color is the best for west walls?
You can choose white or blue shades for the walls in the west direction of your home.
5. Which colors are suitable for exterior walls?
Shades such as white, earthy tones, beige, yellow, light blue are all good for exterior walls.