The kitchen is an essential part of every home. It is also the best and favorite place for every foodie, a boring place for every housewife, and an unknown place for every man as they are rarely found in the kitchen. It is not only used for cooking, but people also create various memories in the kitchen, like gossiping with mom about relatives, the best place to hide from sibling, waiting for the lunch box to be ready, standing next to mom during cooking, and many more. In Indian homes, the kitchen is believed to be the home of Annapurna because she is the goddess of food. It always holds a special place in every home.
If you are planning to renovate your kitchen and want to make it look classy and stylish, then you might be searching for a color scheme for the kitchen, right? Well, planning the kitchen color scheme is a topic that needs attention. Wrong color contrasts might not look good and attractive in your kitchen. Careful planning will create that dream kitchen for the rest of your life. It is important to look out for the spots which will make your kitchen look alive by applying color.
Like most people, if your question is, what is the best color scheme for my kitchen, then we will give you some ideas that you can use to make your kitchen the most beautiful place in your house. The right color schemes will determine the overall look of your space. It also creates a comfortable living environment. Most note that all the colors should be used in moderation to create the best kitchen color scheme.
So here are the 10 best kitchen color schemes to make your kitchen alive as well as stylish. Choose the best kitchen color scheme compatible with your style and enhance the overall look of your home.
1. Light Gray and White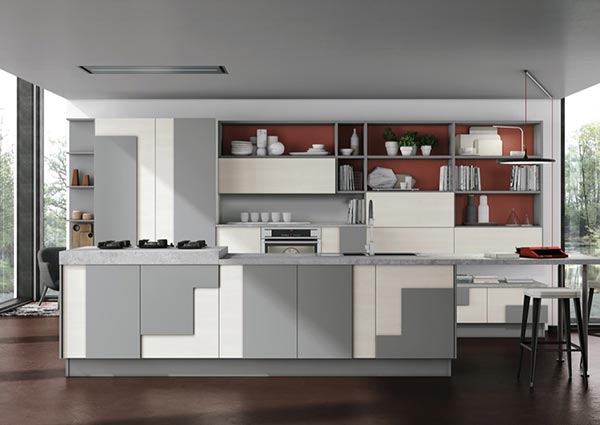 Grey turns anything look classy. If you want a stylish yet simple kitchen theme, you can go for the gray-and-white color scheme. Paint gray color on the cabinets, top shelves, and table tops. You can add a light gray table top and use white tiled walls to finish the look.
2. Dark Green and White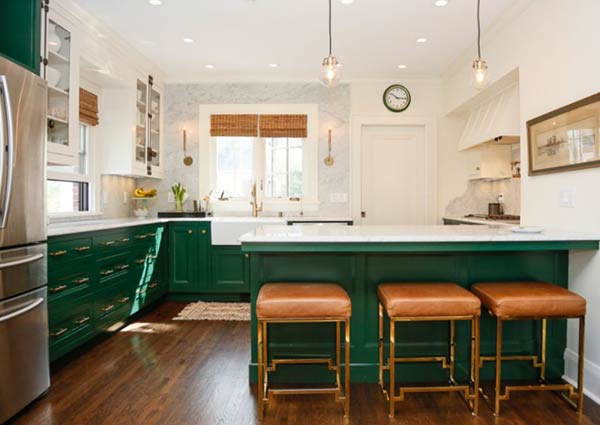 If you have a small kitchen, you can make it look bigger by adding the right colors. Try dark green and white color contrast for your kitchen to look aesthetic. Paint the cabinet with dark green and white color for the upper wall, chimney, and ceilings.
3. Dark Gray with Orange
If you want to add a funky and quirky look to your kitchen, paint it with dark gray and orange combo. Maximize the natural light in your kitchen. Put orange color on the walls and dark gray on the cabinets.
4. Royal Navy Blue with White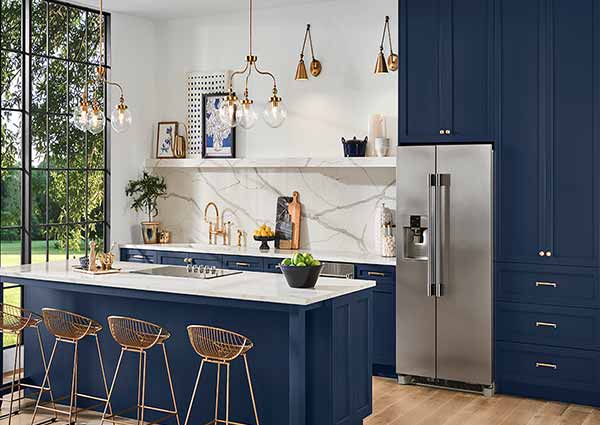 Give your kitchen a royal and luxurious look with the royal navy blue and white color scheme. Paint the cabinets, drawers, and furnishings with a royal navy blue color. Give an aesthetic appearance by using a white brick wallpaper design.
5. Black and Orange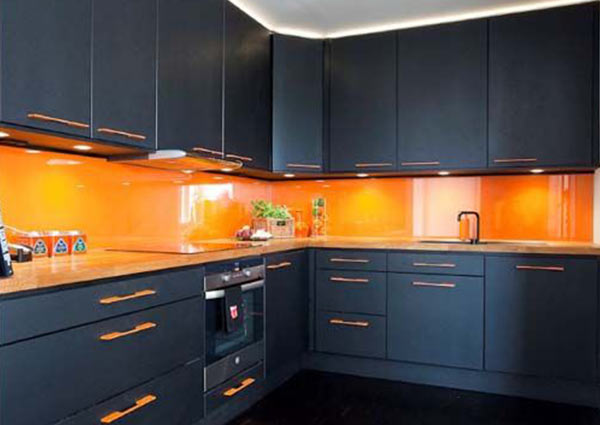 Nothing looks bold and more stylish than black color. It will change the overall look of your kitchen and make it look like the kitchen of a palace. Paint all the shelves, cabinets, and drawers black, and paint the tabletop black. Now add orange color to paint the shelves above the sink.
6. Dark and Light Pink with Gray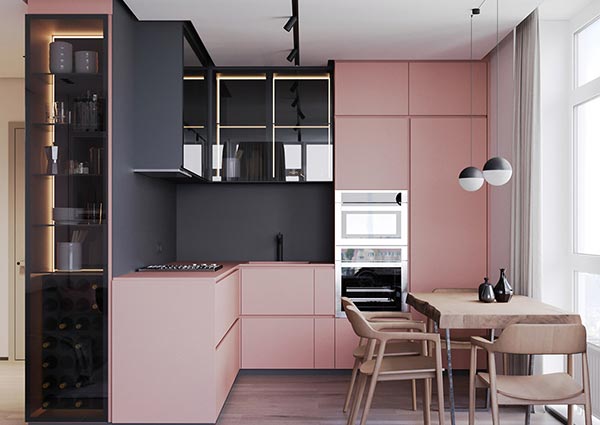 It will make your kitchen look charming and elegant. Use dark pink for the flooring and light pink for the walls and cabinets. Add the gray color to the center table of the kitchen.
7. Bright Colors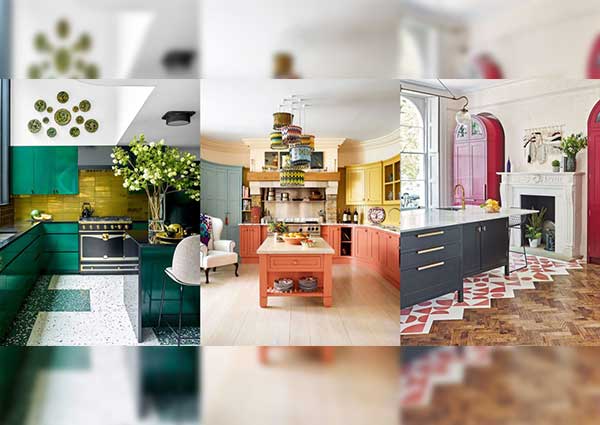 Add bright colors if you want a pop-up look to your kitchen. You can choose colors like yellow, gray, and white in a mix. Paint the cabinets gray, the door yellow, and the walls white if you love color, then this scheme will be perfect for you.
8. Yellow and Blue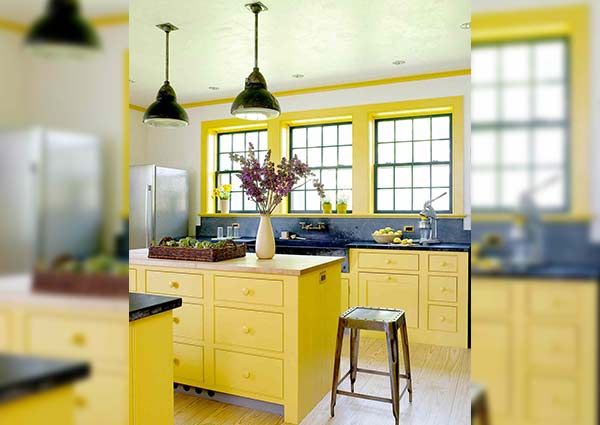 Let your kitchen reflect more natural light and positivity by adding yellow and blue colors. Paint the cabinets and drawers blue, and then pair them by painting the walls light yellow. It will look very classy.
9. Red and Blue with White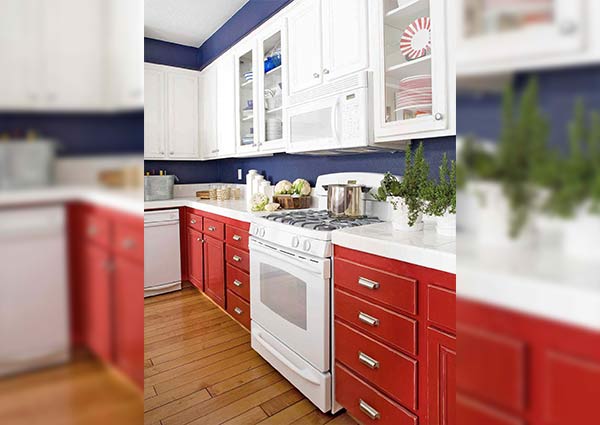 Enhance the look of your kitchen by adding royal and aesthetic colors. Paint drawers with red and cabinets and tabletop with white. Then paint blue color on the background and create the best kitchen color scheme.
10. Brown with White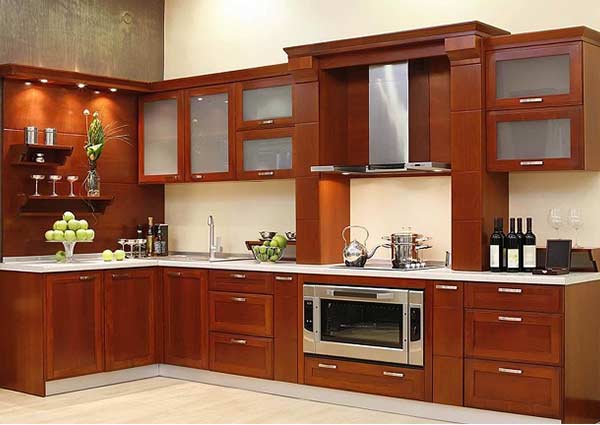 Transform the overall look by adding white and brown to your kitchen color scheme. Paint the shelves and cabinets with brown color. Pair it with white color on the tabletop and in the background. It will improve the ergonomics of the room.
Colors might look simple, but it gets difficult to choose the perfect combination that suits the personality and environment. In the above, we covered different kitchen color schemes, whether bold, pop-up, classic, or basic. If you are still wondering about the perfect style for your kitchen or any other corner of your house, go for kitchen interior designers. At Surfindia, you will find expert and professional interior designers in Chennai, Mumbai, Delhi, NCR, or anywhere around you. They will give you the best-suited advice by hearing your needs and wants for your home and making it look exactly as you wish. You can explore the website and book qualified interior designers for your home.