Bridals are no less than a fairy tale. It seems like someone extracted the beauty of the universe and put it on their look. Every woman has her dream for her wedding, and she wants to look unique and gorgeous that day. The excitement of every bride-to-be depends upon her lehenga. It is the most special attire in a woman's life, and she always wants to look the best by wearing a stylish lehenga on her wedding day. If your wedding bells are about to ring and you are in search of a trending bridal lehenga for 2023, then dear ladies, check out this exclusive information about trending lehengas so that you will look modern and elegant.
1. Fuchsia Pink Lehenga will Rock!
The pink color was always a top choice for Indian weddings, but for the past few years, the focus has been on subtle and Pastel pinks. But now the pink trend is back again. The exceptionally appropriate pick, with lots of zari work and gold sequin detailing, will rule the trending bridal lehengas of 2023.the double dupatta look will add more grace to the look.
2. Maroon and Ochre Lehenga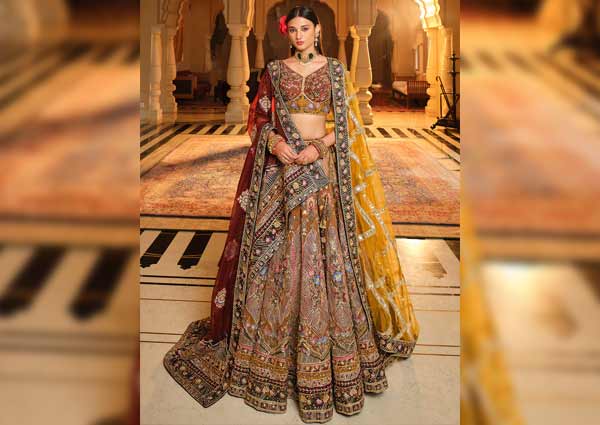 In 2022 the red and white bridal lehenga combination was on hype, but this year the position has been taken by red alternatives such as maroon, wine, and burgundy with a couple of white shades. The maroon and gold lehenga requires a double dupatta style. This attire also carries gold sequin and zari work. The cross-body dupatta will also carry a bright ochre tone.
3. Pastel Peach and Gold Lehenga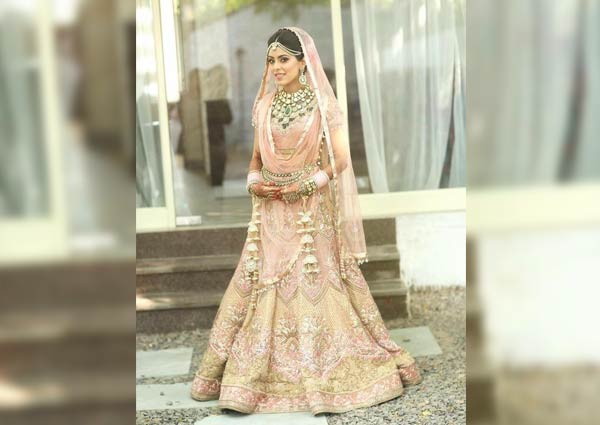 If you are a fan of Bollywood, then you must know that Bollywood brides are crazy for pastel shades. Gold embellishment will never go out of fashion, especially in the case of Indian bridal. The light peach lehenga fabric contains golden zari work in a matte texture. It will look mesmerizing on any skin tone.
4. Blue Colour Lehenga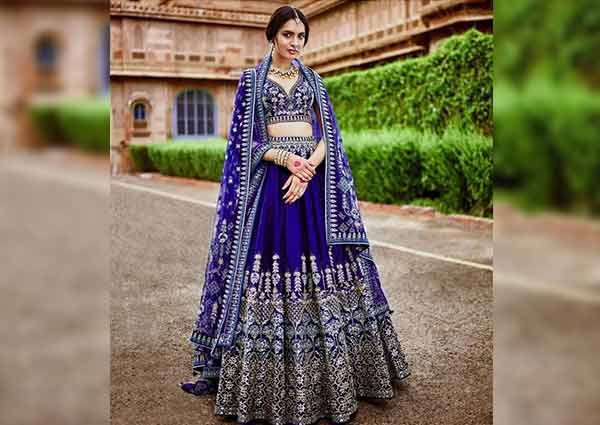 The non bridal shades will be in trend for 2023. The ethnic look will come only from royal colors like blue. The blue lehenga with matte gold work will look damn pretty on the bridal. This attire will rule the lehenga color palette.
5. Pastel Shades Lehenga
Pastel is very common, but still in the team of trending lehengas. Pastel pink lehenga with floral embroidery will make you look more adorable and pretty.
6. Lehenga with Pop and Neutral Contrast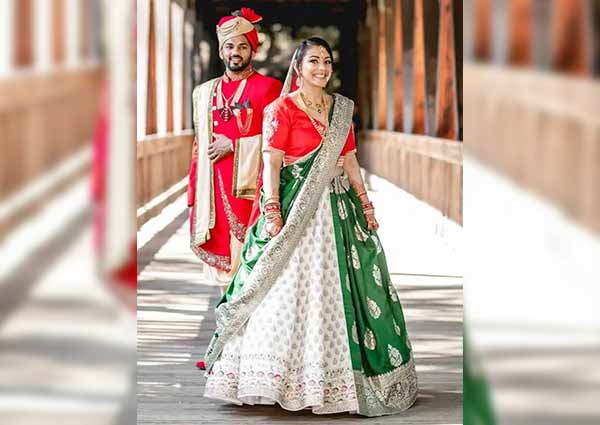 The poppy colors combined with neutral ones will be the most following trend this year. The lehenga skirt should be in light color with silver or gold embellishments, while the bright red choli and green dupatta add a vibrant look to the whole attire.
7. Lotus Lehenga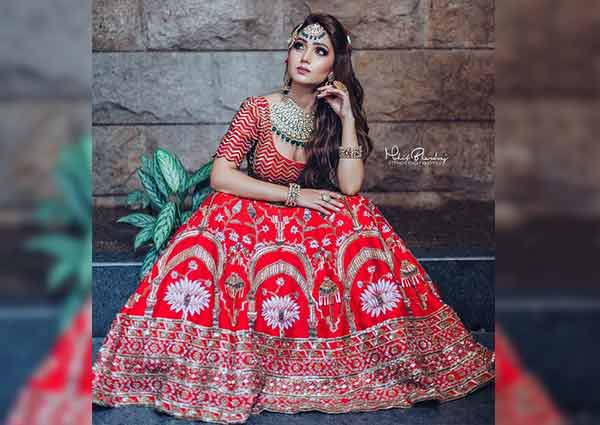 Lotus Lehenga will dominate the other fashion works in 2023. This lotus work lehenga will symbolize the bridal as Laxami, the goddess of money, and the lotus is the favorite flower of Laxami. So, ladies, it is the time to rock your wedding while spreading your charm with a red lotus lehenga and neutral makeup look.
8. Peacock Lehenga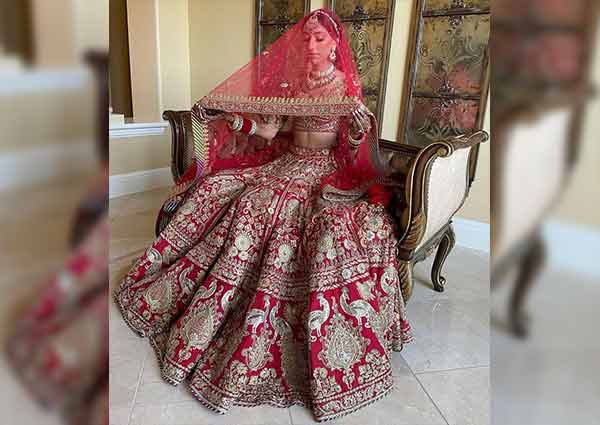 The peacock motif inspired by beautiful nature will do rounds in 2023. the velvet fabric will also make a comeback this year. Peacock embroidery lehenga is reminiscent of Rajasthani folk and culture. The matte gold motifs of peacocks, flowers and other works represent Rajput art and culture. This will look ravishing.
9. White Bridal Lehenga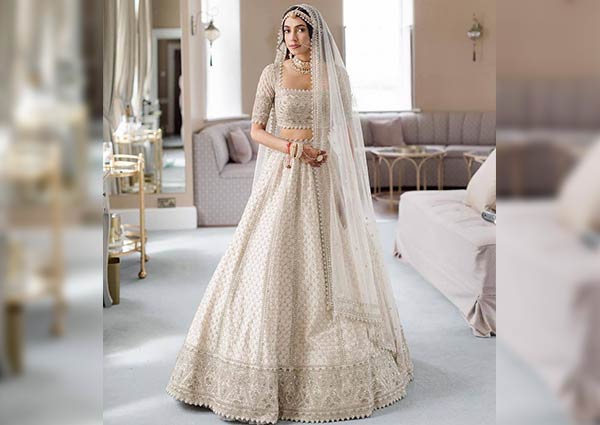 White is no more forbidden color. This year, we will see lots of unconventional bridal lehengas in white color. The lehenga skirt forms a gown style with thread work and sequins to create floral motifs. The dupatta should be styled like a Christian bridal veil.
10. Banarasi Skirts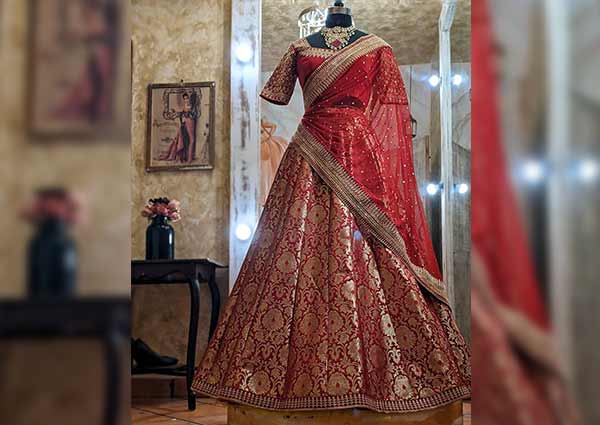 A couple of years back, there was a trend for the Banarasi dupatta, but now the Banarasi skirts are ruling. Less detailed work and bigger motifs also leave space for the luster of silks to show. You can pair these types of lehengas with neutral color dupattas and blouses.
11. Long Sleeves Lehenga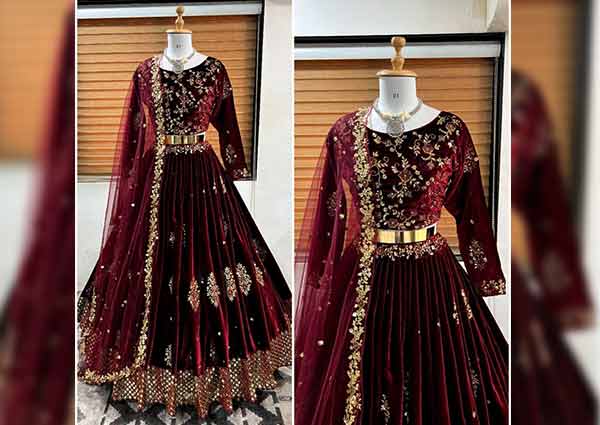 If your wedding is in the cold months, you don't need to compromise by wearing half sleeves. Instead, you can wear long sleeves lehengas which will be in bridal trends. This look also includes ruffled sleeves, cold shoulders, off shoulders, etc., dark maroon colored lehenga with detailed zardozi, sequin, and zari work will work perfectly. In contrast, the peach dupatta will also be in the bridal lehenga trend of 2023.
12. Saree Like Lehenga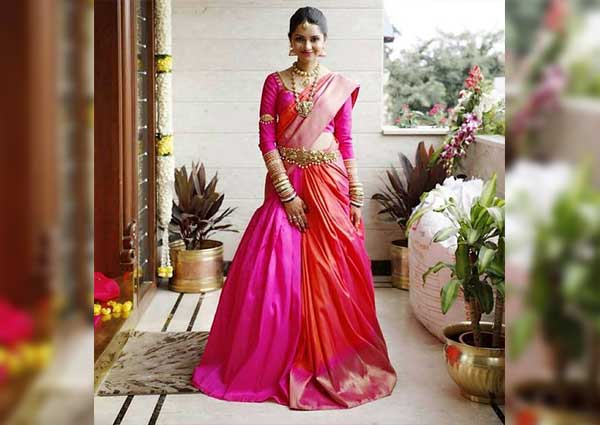 Saree-like South Indian saree lehengas inspire saree-like lehenga style. The double dupatta is particularly popular in the case of bridal looks. Draping one dupatta like pallu or anchal of a saree is becoming a popular bridal trend nowadays.
13. Neutral Shades Lehenga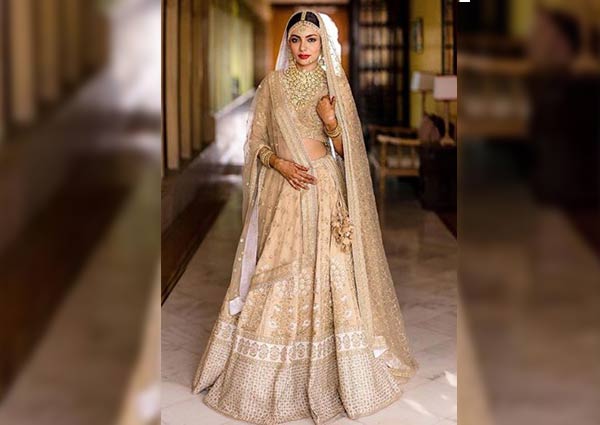 Whether it's white, cream, ivory, or off-white, neutrals are the love of every bride. These colors are combined with silver or golden threads as intricate details as these threads stand out gorgeously on such outfits. To make the outfit more ethnic, the involvement of a contrasting tone, such as peach, makes it looks finer.
14. Velvet Lehenga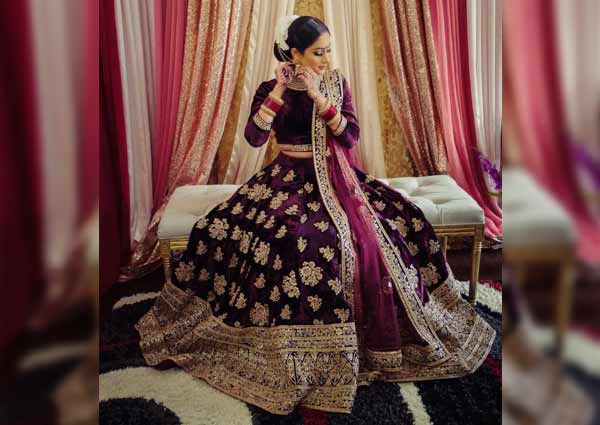 Well, velvet was in huge trend in the past. But now the trend is back again. Deep-tone velvet lehengas are the preference for winter weddings. It is predicted that burgundy and wine tones will be in hype for 2023. Vintage and retro brides will be in more demand.
15. Red Alternative Lehenga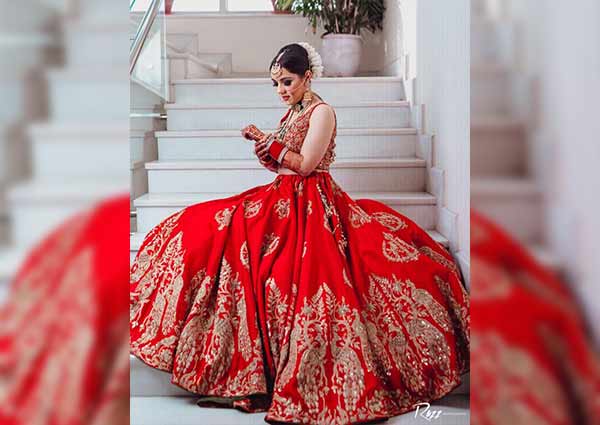 The red color seems to be present in different alternatives this year. Light coral red lehengas with pure raw silk work and the techniques of zardosi and aari with sequin, resham, marori, and peacock motifs will steal the show. Moreover, the heavily embroidered princess cut blouse and light coral dupatta complement the exquisite look.
16. Multi Coloured Lehenga with Embellishments
Contrasting multi-colored embellishment is a style that will be in bridal fashion for 2023. The multi-colored hues will create an extremely vibrant look on the light-colored surface, such as peacocks. The contrast dupatta compliments the overall look.
17. Sprinkle Pink Lehenga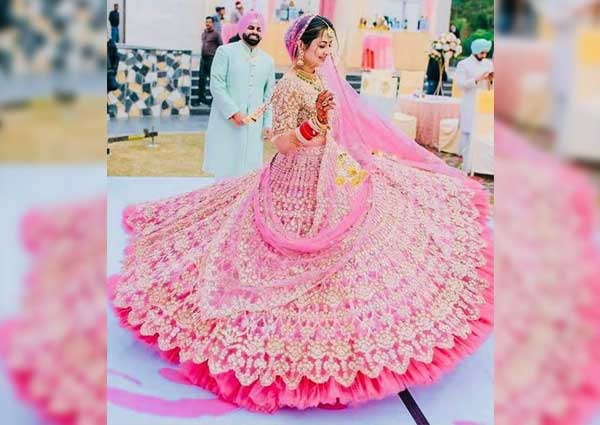 The combination of pale pink with golden zari work is inspired by Mughal bridal fashion. The lehenga skirt consists of kalis that bring in a pleated look. Dupatta draping style and jewelry take you back to the Mughal setting.
18. Western Look Lehenga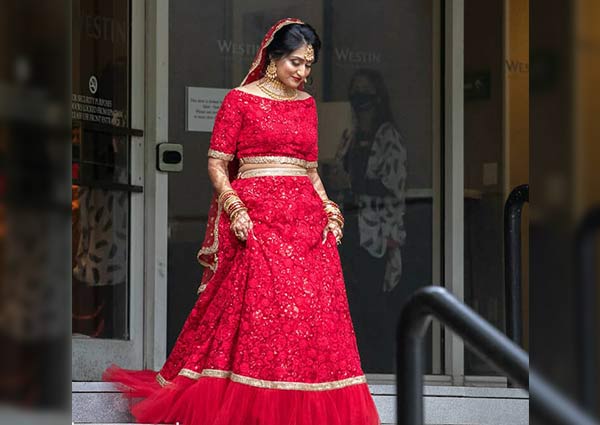 Self-tone embellishment will hold the stage in 2023. This will surely be a followed bridal trend this year. Moreover, western inspired elements like ruffles and frills will also be seen. The off-shoulder blouse and ruffle skirt with self-tone embellishment will make the lehenga into Indo-Western attire.
19. Anarkali Lehenga Dress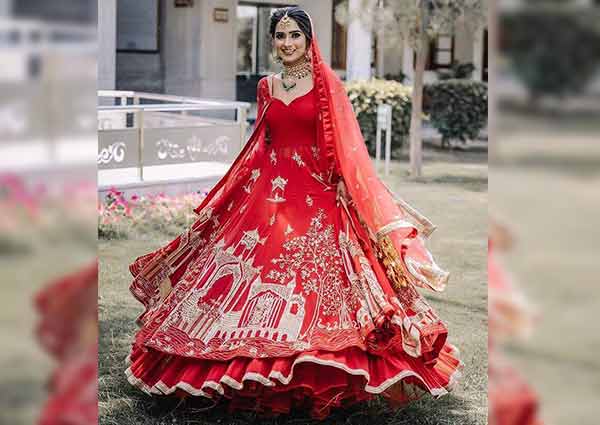 The Anarkali lehenga will be the most popular lehenga trend in 2023. the neutral base tone with the detailed ruffle hem of the dress will surely make you a fairy tale. Did you check our 5 trending makeup looks? If not yet, then you check it and opt for a trending makeup look with a lehenga.
20. Rust Orange Lehenga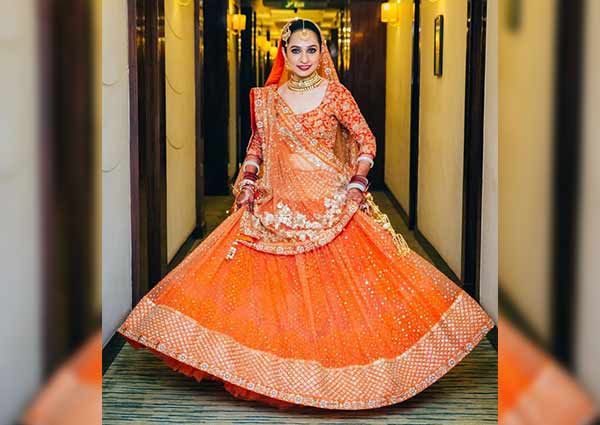 Rust orange lehenga with traditional handworks like dabka, tilla, sequins, nakshi, and cut-dana. The heritage motifs and patterns are inspired by the 18th century. The Mughal art and architecture will give a luminosity to the outfit that will give a subtle, glowy, and extraordinary look.
So above are some trending lehengas of 2023 that will surely rule this year. We hope you have found this very helpful and that it also solves your confusion about the perfect lehenga. Now you can select anyone, and surely you will seem to have descended straight from heaven. If you haven't done with your bookings for banquet halls, then don't worry. Surfindia.com have a solution for you. The princess look deserves a palace wedding. So check out the portal and find the best banquet hall in Mumbai, Delhi, Chennai, Bangalore, and all over India at relatively affordable prices. Have a happy wedding!