No one is more precious than our children. Their safety is first for every parent. Baby stuff needs extensive care to keep it safe from harsh chemicals and germs. We cannot compromise when it comes to the keep our kids safe. Here are some caring tips for baby clothes and toys. Check it out.
Caring Tips for Baby's Clothes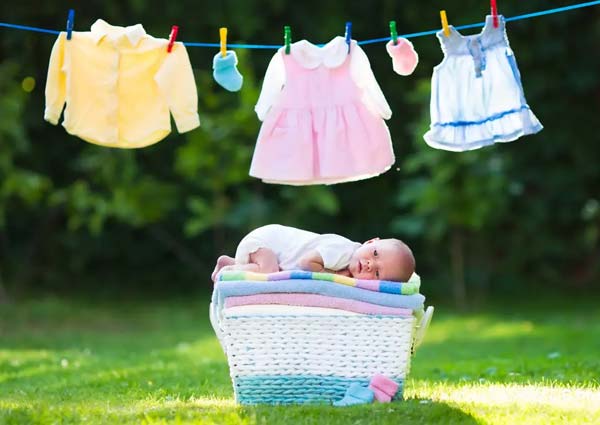 1. Wash the Clothes Before the Arrival of Baby
Always wash the clothes before the arrival of your baby in this world. It has two main benefits. First, it will soften the material of the clothes and makes them comfortable for a baby to wear. Secondly, it makes the clothes clean and germ-free. So make sure to wash it before making it in use.
2. Use Child Safe Products
Use child-safe products for washing. Non bio detergents will work the best. It will keep away the dangerous chemicals away from your baby's cloth. There are so many products available in the market, so it is important to look out for gentle detergents and fabric cleaners.
3. Must Check the Care Label
Every clothing item comes with a care label tag. Must check it and wash the cloth according to the care label. It will increase the life of the cloth and keep it safe from getting torn or spoiled.
4. Separate the Washing
Always wash your baby's clothes separately. Do not mix it with other clothes of the family members. Also, separate the white and colored clothes so that the colored ones will not stain the white ones.
5. Deal with Stain Promptly
If your kid leaves a stain on the clothes, it is important to deal with it immediately to prevent permanent stains. Sock the clothes in a stain removal product, or rinse the stained part under tap water.
6. Dry in Sunlight
Put the clothes to get dry in the sunlight. The natural sunlight will kill the bacteria from the clothes and acts as a natural disinfectant. It also gives a nice and soothing fragrance to your baby's clothes.
7. Sock Before and After Wash
Sock the cloth of your baby before washing. It will kill most of the bacteria. Try to sock it for at least 30 minutes before Wash in hot water. And then also sock it after washing so that any detergent or chemical will completely rinse off from the cloth.
8. Try Hand Washing for Baby's Clothes
Well, it is extremely time-consuming and exhausting, but doctors should wash your baby's clothes with their hands instead of washing machines. This is because washing machines contain germs and bacteria from other clothes, which can also get into babies' clothes. So use it as a best caring tip for child clothes and try hand washing for baby's clothes.
Cleaning Tips for Toys
Toys are the second most important part for babies, as we know how much kids love their toys and want to play with them all day. With that, the safety of toys is also important. Most people neglect the safety of baby toys, but they should also take into consideration that their care is important for your child's safety. So here are some tips for cleaning baby toys.
1. Clean the Toys At least Once a Week
Likewise, clothes, clean the toys at least once or twice a week. As babies have to put everything in their mouths, washing will make the toys clean and germ-free. In this way, dirty or full germ toys will not harm your babies health.
2. Avoid Strong Chemical Cleaners
As babies put everything in their mouths, avoid strong cleansers to clean the toys. Soap and water are advisable caring tips for toys that will do an excellent job. Or you can also buy toy cleaners from the market which are gentle and harsh free.
3. Use Baby Wipes for Battery Toys
You cannot wash the battery toys in the water, of course. So you can clean the surface of such toys with a baby wipe or wet cloth. You can use also use this for a plastic toy.
4. Let the Toys Dry Completely
Allow the toys to get dry completely before giving them to your baby. The best place to make them dry is outside in the sunlight. The natural light will also kill any leftover bacteria from the toys, and it will be safe to play with for your kids.
5. Buy Safe for Infant Toys
If your kid is too small or an infant, then always buy safe infant toys, which are given on the label usually. Try to buy soft and gentle things for your baby, like soft toys or colorful items, instead of plastic blocks or items that usually contain bacteria.
6. Immediately Wash Toys When in Contact with Sneezing or Cough
It is important to wash the toy immediately if it comes into contact with the sneeze or cough of another person or child sneezing or coughing. If another kid puts the toy in the mouth, do not hand it over to your child before a wash.
So above are some caring tips for clothes and toys for your babies who matter the most to you. Well, these offspring do not need a harsh or professional wash, but your clothing might need it. So if you are looking for a professional dry cleaner around you, check the surfindia, where you will find thousands of listed dry cleaners in Mumbai, Delhi and NCR, Kolkata, Bangalore, etc., with extensive services of ironing, washing, and dry cleaning. Moreover, they are very affordable in price also.