According to Vastu Shastra, a house that faces north is highly auspicious. A house facing north attracts lots of prosperity, good luck, and wealth to the family. If you plan to buy a property, you can consider buying one in the north-facing direction. If you are not sure from where to begin, here is a simple guide on Vastu for North facing home. You can also hire home interior designers who can help design your home according to Vastu. You can hire interior designers in Pune, Hyderabad or any major cities online very easily.
What does Vastu say about a house in the direction of the north?
As per Vastu, north-facing houses are the best because the north direction is ruled by Lord Kuber, who is known as the lord of wealth. This is why north facing homes are believed to be very lucky.
The meaning of having a north face house is that as you exit through your main door and face north direction. Having a north-faced house is not enough to ensure you with cash flow, luck, and prosperity. It would be best to go through some factors when moving homes or buying a new one.
Entrance for North Facing Home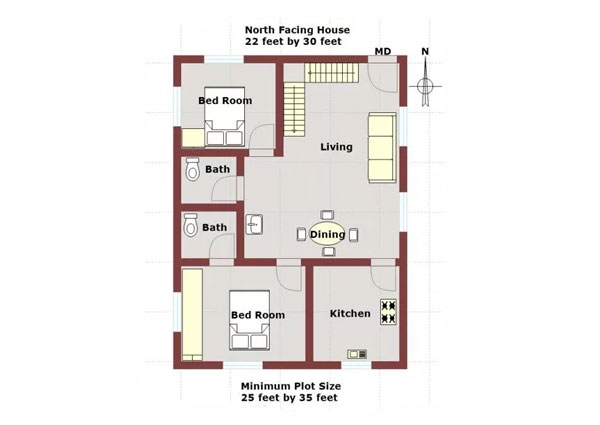 The main door of the north-facing house can be in the north direction, but in the north direction, according to Vastu, there are padas. The entrance of your home should be in 3rd, 4th, or 8th padas as these are the most auspicious padas to attract cash flow and rule by Lord Kuber. However, the north-west facing entrance can be disadvantageous.
Living Room for North Facing Home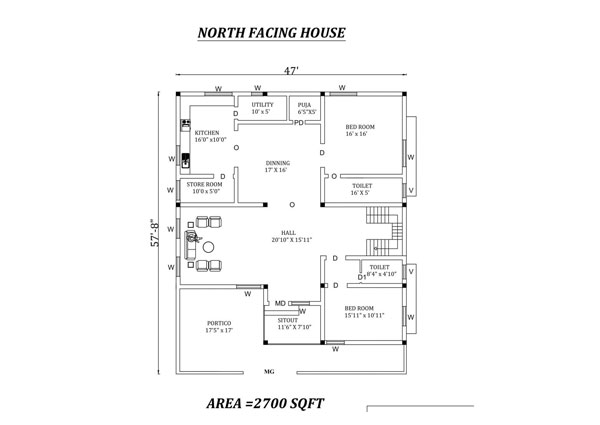 Your living room in the north direction home can be in the northeast or northwest corner of the house. Furniture such as sofas and dining tables can be placed in west or southwest. If you also have electronics such as computers and other appliances like AC, then southeast direction is ideal for setting them.
Puja Room for North Facing Home
Puja room is an essential part of the home as this brings lots of positive vibrations in the house. Keeping your pooja room Interior Designers in an ideal north-facing home would bring more fortune to the occupants. So, the puja rooms can be in the northeast direction in the house. This way your deities will be facing east. Other suitable directions are east and west.
Kitchen for North Facing Home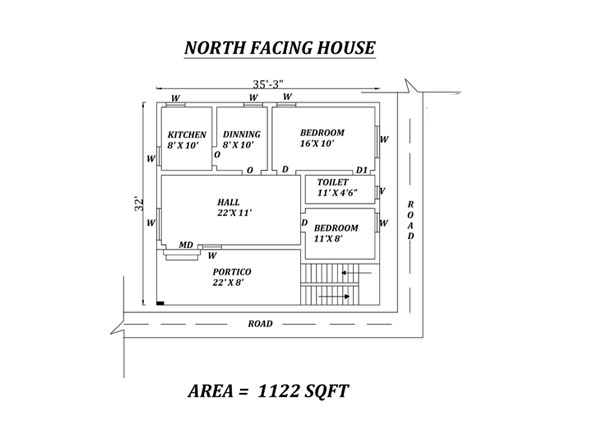 Kitchen is an important part of every house. It is also considered to be a temple in the house. And, an important room such as this should be in the right direction of your home. According to north facing Vastu, the ideal place for kitchen is northwest or south. Some people have their kitchens in the northeast, believing that it will go well with the water element zone in that direction. But, it is not a good location and is can be very inauspicious. It may cause disputes in the family financial or neurological problems.
Bedroom for North Facing Home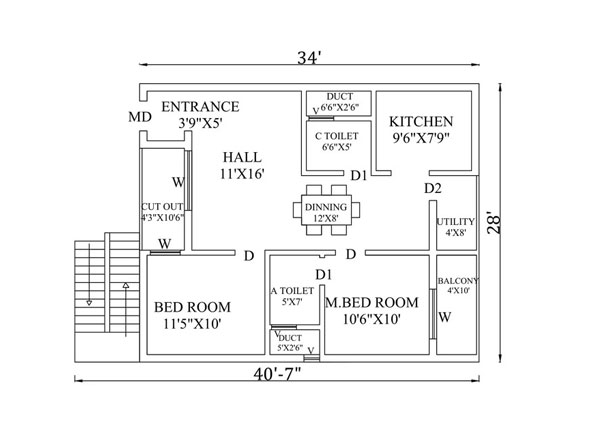 The bedroom in north home Vastu can be in the southwest direction. The bedroom door can be north, west, or east. Your bedroom should not be in east or south directions as it may cause misunderstandings and disputes.
Bathroom and Septic for North Facing Home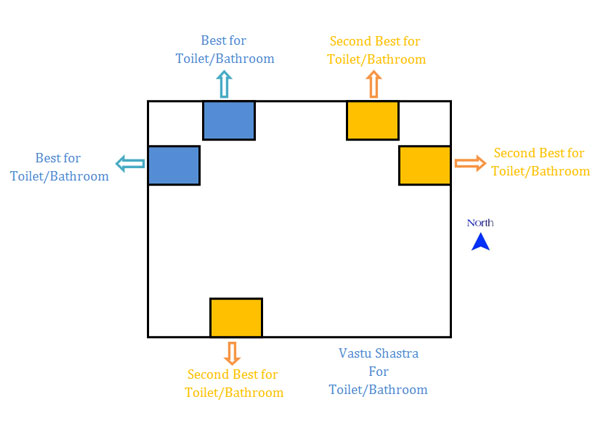 The most suitable place for a bathroom in north-facing homes is west, south, southwest or northwest. Washrooms or bathrooms can collect lots of negative energy, so it is essential to keep this room in the directions mentioned above to ensure no negativity in your home. The septic tank can be placed underground but avoid placing it in the northeast direction.
Office Room for North Facing Home
Having a workstation or office in the north direction can benefit you when choosing a north-facing home. Since the north is the home of Lord Kuber, who is revered as the Lord of wealth, having an office in the north direction can attract wealth and good luck. Make sure the office table is mess-free and placed in the northeast direction.
Study Room for North Facing Home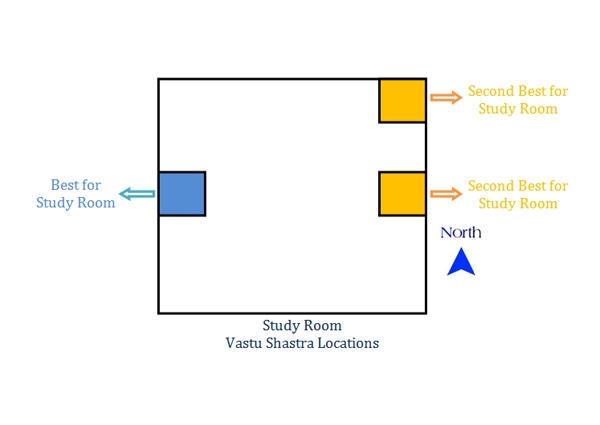 The study rooms of the house can be located in the northeast, northwest, or east locations. These locations can be beneficial in attracting success in studies. The chair of the study table should not face the door.
Staircase for North Facing Home
Staircases can be placed in the northwest, southeast, southwest, and west, whether inside or outside the house. You may avoid placing staircase in north direction as it may be unfavorable for wealth gain.
North Facing Home Vastu: Suitable for Which Profession?
Profession is an essential factor in determining if a north direction home is suitable for you. According to Vastu Shashtra, a north-facing property is very beneficial for people in business, investors, bankers, brokers, or any people involved in the financial sector as the north direction is favorable for wealth and cash flow. People who are part of the media and print industry can also have a auspicious living in a north-faced home.
North Facing Home Vastu: Suitable for Which Rashi?
Zodiac signs or Rashi also play a vital role in the suitability of houses and other properties. People with the zodiac sign Pisces, Scorpio or Cancer will be well suited with north-facing homes. For more accuracy, you may refer to the zodiac sign as per your natal charts.
Do's for North Facing Homes
Here we have a list of things that you can do for your north direction house:
Ensure that the guest bedroom is in the northwest location

The entrance or main door can be in the 5th pada as it will bring fortune to your home.

While cooking, make sure to face northwest or southeast in the kitchen.

Plants like money plants can be kept on the north side of the home to gain wealth.

The electric circuit board may be set southeast direction for even distribution of energy in the house.

Holy paintings, symbols such as Om and Swastika, etc., can be set in the house for positive energy attraction.

The master bedroom is ideal for the northwest or southeast zone.

Gardens should be placed in the north or east direction of the house.

Choose warm tones such as cream, warm grey, and white for the walls for north facing house.

The nameplate of the house can be made of metal which is suitable for north direction homes.
Don't's for North Facing Homes
Following are the list of things to avoid for your north facing home:
Do not set your washroom and septic tanks in east, northeast or north direction.

Do not place mirrors in south and southeast zone of your house.

Keep away from placing anything in 6th pada, otherwise it may cause health problems in the family.

Do not place your kitchen in north or northeast zone.

Avoid setting up the master bedroom in direction of northeast.

Refrain from keeping garbage, dirt or mess in north and northeast direction.

Do not use black marble for kitchen décor.

Do not construct huge windows in southwest or southeast zone.

Do not keep the garage in north direction.

Avoid placing a garden in northeast direction.
Frequently Asked Questions: Vastu for North Facing Homes
1. Should I sit facing north in home?
Yes. As per Vastu Shastra people who are in business shall sit in north, northeast or east direction as it is very beneficial in gaining wealth.
2. What is meant by north facing house?
A north facing house simply means that the entrance of your house is in the north.
3. Why is north facing house good?
North facing house is good as it is believed to be very favorable according to Vastu Shastra. North facing homes may bring wealth, health and success to the family.
4. In which direction should we sleep according to vastu?
You should sleep with your head toward the south. Sleeping with you head pointed in the north is not very favorable.
5. Where to have balcony in north facing home?
Balconies can be in the north or northeast direction of the house.