As the year comes to an end, you may feel like taking a break from your day-to-day life and going out for a vacation. Be it with friends and family, you want to make sure that everyone has fun. But this winter, you might wonder, what are the best places to have a vacation? There is huge number of places to visit but you can be confused in choosing the best one for you. Some of your friends want to witness the snowfall; some want to have a relaxing vacation at the beach, and you just want to have fun exploring the local market. Well, the search is over because here is a list of 6 amazing winter destinations that you can enjoy with your friends, family or just for your solo trip that you have been always thinking of. So here have a look:
1. Goa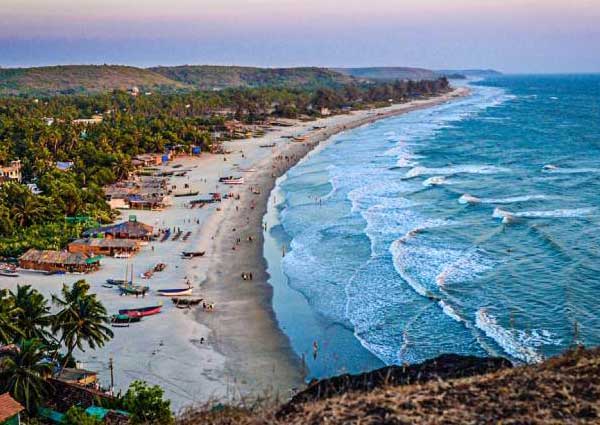 The number one destination on our list is Goa! It is widely known as the "party capital" of India. No matter what season and what time you visit Goa, it is always brimming with beaches, parties and lots of other tourist spots. You can enjoy sunbathing during winter while listening to the ocean waves on the beaches or go partying in the club with your friends. Some beautiful attractions from the place are Mandovi river cruise, Basilica of Bom Jesus, Baga Beach and Aguada Fort. Not only this, you can also discover Goan heritage and Goan delicacies.
2. Rann of Kutch, Gujarat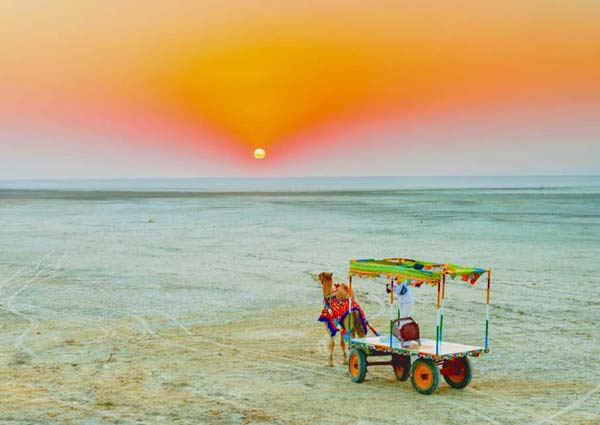 Another splendid destination to stop by is Rann of Kutch. It is one of the biggest salt deserts in the world, located in Gujarat. The most befitting time to visit Rann is during winter as this festival begins from November to February. The festival is packed with folk dance and classical music. You can even buy ravishing clothes and jewelry from the Rann Festival. Some other attractions here include Nadeshwari Mataji temple, Kalo Dungar and Khadir Island.
3. Manali, Himachal Pradesh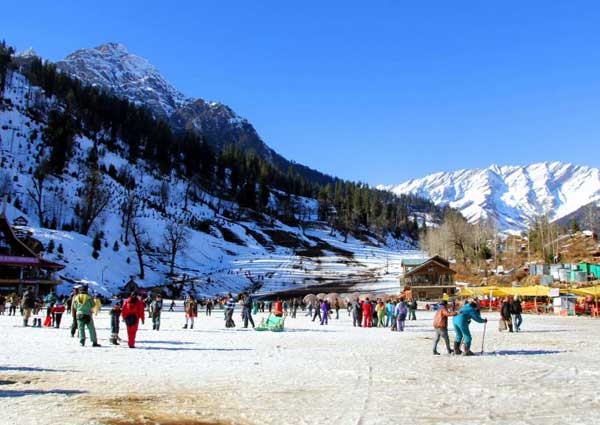 Do you want to see snowfall this winter? If yes then Manali is the destination for you. You should definitely visit Rohtang Pass and Gulaba if you want to witness snowfall. Other than that, you can also take part in winter sports such as snow sledding, skiing, snow tubing, etc. Some of the famous tourist spots in Manali are Hadimba Devi Temple, Mall Road, and Jogini Falls. So, book a hill resort for you and have a lifetime of an experience here.
4. Shimla, Himachal Pradesh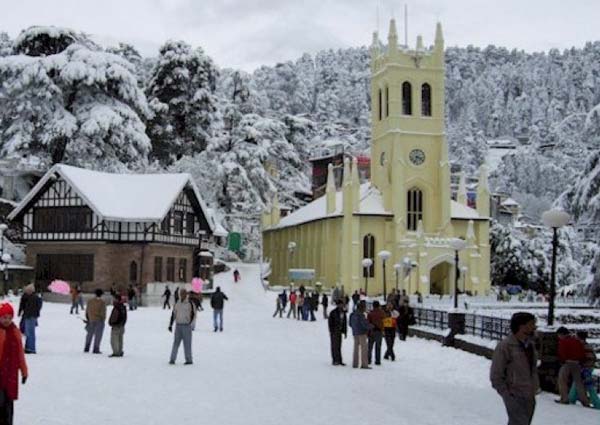 Another fun place to visit in Himachal Pradesh in winter is Shimla. You can witness snowfall and play with snow along with friends. You can also take a ride on the Kalka Shimla Toy Train to enjoy the amazing scenery of the snow-covered mountains. Make sure that you also visit sites and locations such as The Ridge, Jakhoo Hill and Temple, Christ Church and Kufri to make your trip exciting.
5. Pondicherry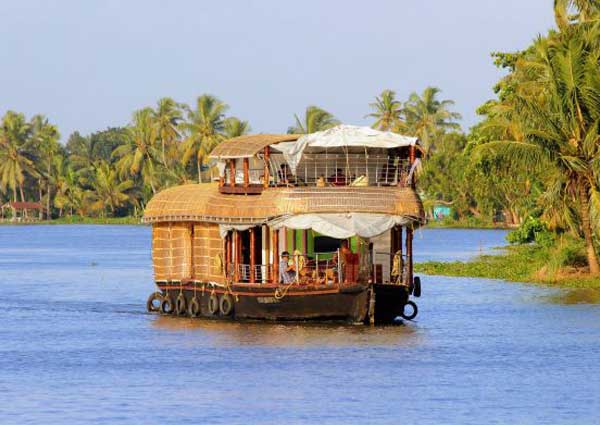 Next up on this list is Pondicherry. The temperature in Pondicherry throughout the year is warm, so you will never feel too cold to go out. You will not want to miss the plethora of water sports Pondicherry has to offer, such as water surfing, kayaking, zip lining, bungee jumping and canoeing. When you visit Puducherry you should go explore famous places like Promenade Beach, Shri Aurobindo Ashram, Arumigu Manakula Vinayagar Temple and The Sacred Heart Basilica.
6. Dawki, Meghalaya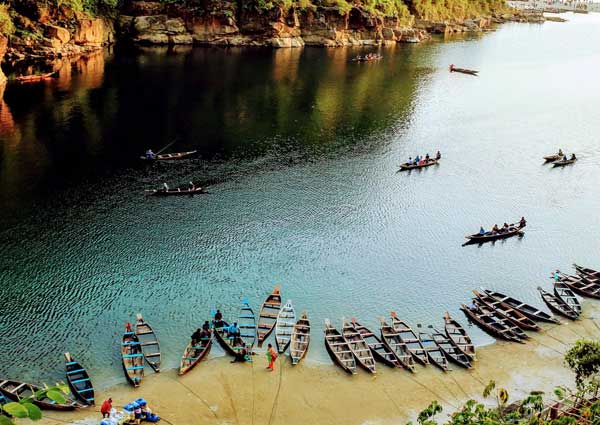 If you plan on visiting the east during winter, you should most definitely stop by Dawki. They weather here is not very cold so it's a great time to explore the city. The Umngot river here, which is also known as Dawki River, is famous for its cleanest river water as it is as clear as looking into glass. You can also go snorkeling underwater in Dawki and explore the underwater fauna and flora. Other than that, places like Jaflong Point, Byrdaw Falls and Wah Umngot are some other travel-worthy places that you should not miss.
7. Dalhousie, Himachal Pradesh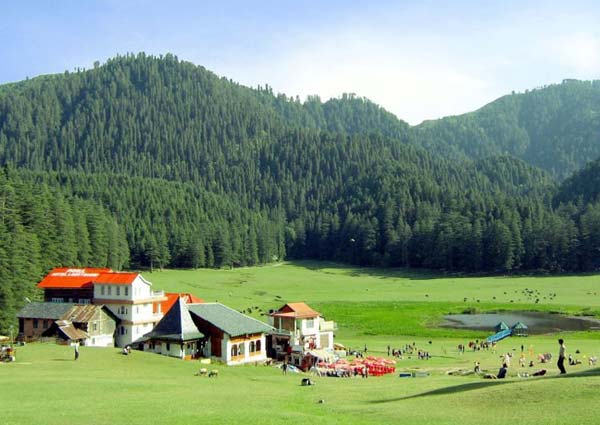 A popular addition to this list is Dalhousie, Chamba district in Himachal Pradesh. Dalhousie has become one of the top destinations to visit in the winter season, which here takes place from October to February. If you enjoy the sight of hill stations and are planning on visiting them, then you should definitely think about traveling to Dalhousie. This destination offers its tourists beautiful and picturesque snow-covered hills, which is why it befits the name "Switzerland of India". If you ever visit Dalhousie, then here is a checklist of the famous places which you should visit. These are Ganji Pahari, Punchpula Waterfall, and St. John's Church. Not only that, if you are looking forward to trying some winter sports, there are a variety of sports activities here for you like trekking, nature walk, and paragliding.
8. Binsar, Uttarakhand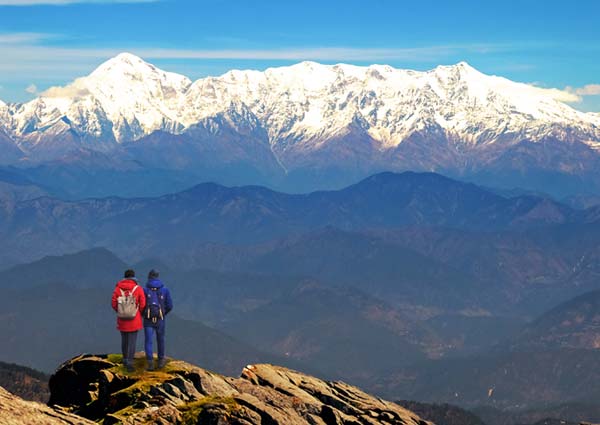 A lovely place to visit this winter is Binsar, situated in the Kumaon region Uttarakhand. You can visit Binsar any time between October to March during winters. This stunning destination offers you a wide range of activities to do which will make your trip worthwhile. If you are a nature and wildlife enthusiast, then you must take a trip to the Binsar Wildlife Sanctuary, where you can witness ravishing yet important birds such as Eagles, Forktails, Parakeets, Blackbirds, Brown Footed Woodpecker, and many others. You may also visit Chitai Golu Devta Temple, Kasar Devi Temple, and Binsar Eco Camp.
9. Wayanad, Kerala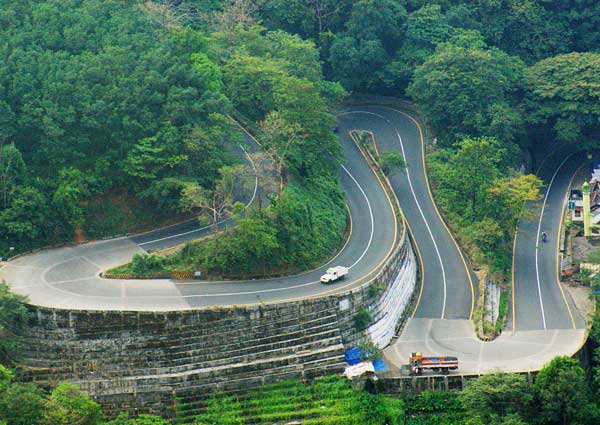 Wayanad is famous for its beautiful rivers and lakes, wildlife, and photogenic scenery, which makes it the best choice for vacationing in winter in India. You can start off your winter holiday by visiting Chembra Peak. It is the highest peak in the Wayanad hill. You may also like to visit Banasura Sagar Dam surrounded by hills. Here you can also enjoy attractions such as boating and camel riding. You can learn about the culture and the lifestyle of the local people in Wayanad by visiting the Bamboo Factory. If this isn't enough for you that you can also stop by the Tholpetty Wildlife Sanctuary, which is home to deers, vultures, four-horned antelopes, elephants, leopards, and many more.
10. Jaipur, Rajasthan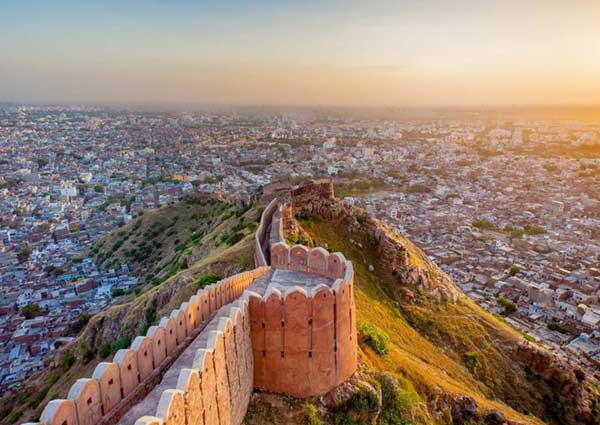 Jaipur is one of the most popular destinations in India. People from all over the world visit here to learn about the Rajasthani culture, food, and art. Usually, Jaipur is a hot city, so the best time to visit this beautiful city is during winter. The famous places you must visit here are Hawa Mahal, City Palace, Amer Fort, and Jantar Mantar.
If you are thinking of travelling across the country in winter, then make sure to check out these amazing spots listed above. You will surely have a wonderful time in winters! From snowfalls to skiing, beaches and temples, there are endless places to explore. If you are looking for hotel services in Delhi, Ahmedabad or any other city then we have an entire list for you!