Our heritage is a vast collection of our historical sites, monuments, building, objects in museums, and so on. India has a rich heritage that shows a glimpse of all religions, customs, traditions, art, architecture, music, and philosophy. It is one of the oldest civilizations. Every year, tourists come from a long way to see the preserved heritage of India. It attracts tourists to travel to the places and experience the feel and activities representing the stories of the past. Visiting museums, and historic homes, eating local food, and participating in the cultural program are some examples of heritage tourism. When we talk about heritage and tourism, there's no better place to stay than a heritage hotel to experience the best. Heritage hotels are the structures that hold the historical significance of the place in which they are located. They may have been built centuries ago, or maybe a castle converted into a hotel for visitors. Whichever it may be, it gives visitors a luxurious feel and makes them feel close to the Indian heritage.
If you are planning a trip and want to explore the heritage of India, then here are the top 8 luxurious heritage hotels in India that you must visit whenever you come to these cities.
1. Raj Palace, Jaipur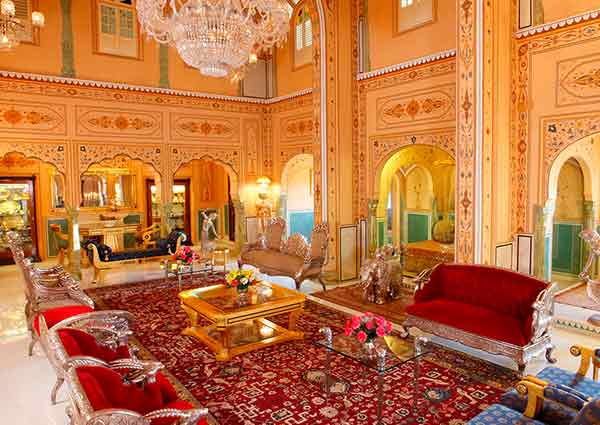 Raj Palace is situated in the heart of Jaipur. Along with offering the flavor of royalty, it also serves the best to its visitors with values. It is maintained with all the luxuries and facilities. The hotel provides the best hospitality for its visitors. It is also one of the most preferred wedding hotels in India. It provides the best services to its guests, like spa, massage, camel, and horse rides, and also includes trips to the iconic places in Jaipur for a vacation.
2. Taj Mahal Palace, Mumbai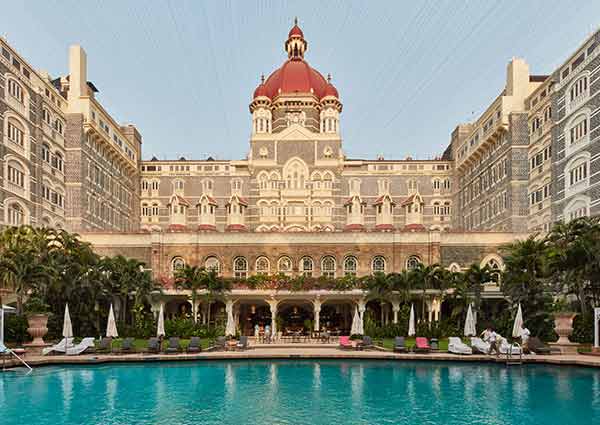 It is quite a known place for everyone. It stands as India's image in the world and Mumbai's icon. Consisting of 560 rooms and 44 suits, it presents the culture with advanced and modernized facilities. It will be correct to say that it is the epitome of the finest luxury. The staff ensures the best experience for its guests by giving a warm welcome. Moreover, it is also a famous and preferred spot for celebrities.
3. The Imperial, New Delhi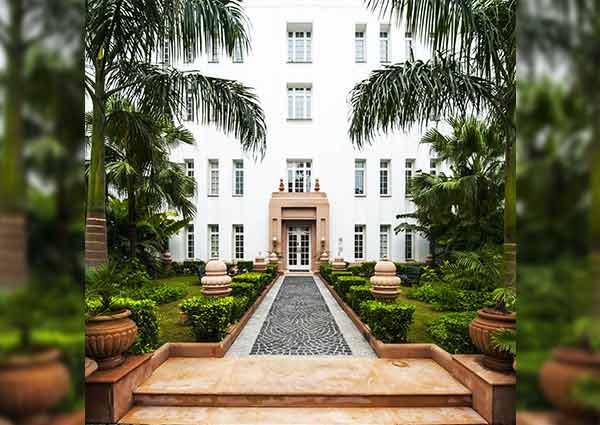 One of the most recognizable spots lies in the heart of India's capital. The affluent course of Indian heritage also provides an amiable service spirit. It is designed in a colonial style and consists of clean and shining marble floors, elegant ceilings, and dignified paintings and artwork. The hotel has award-winning dishes offered by PAN India. Having accommodation of 235 rooms and 43 suits, it is the perfect place for tourists.
4. Neemrana Fort Palace, Rajasthan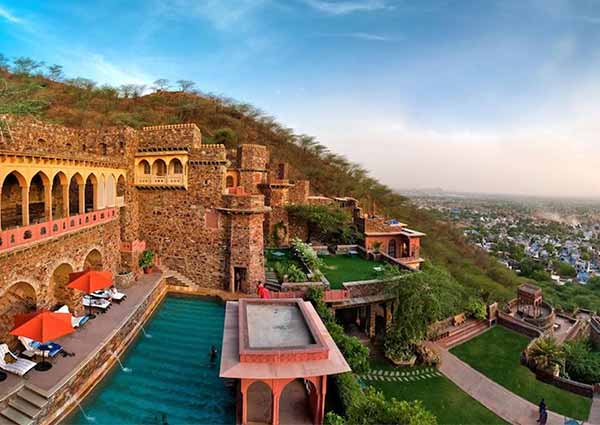 Having the "Certificate of Excellence" 2013, this hotel is situated on the Delhi-Jaipur highway. It is the most popular weekend getaway for Delhiites and other national and international tourists. This hotel provides excellent facilities to the guests, like a spa, rides, and cuisines and dishes. It is the best spot for business conferences, weddings, parties, etc. It also offers rooms according to the choice of customers, which are furnished with a television, refrigerator, etc.
5. Ratan Vilas, Jodhpur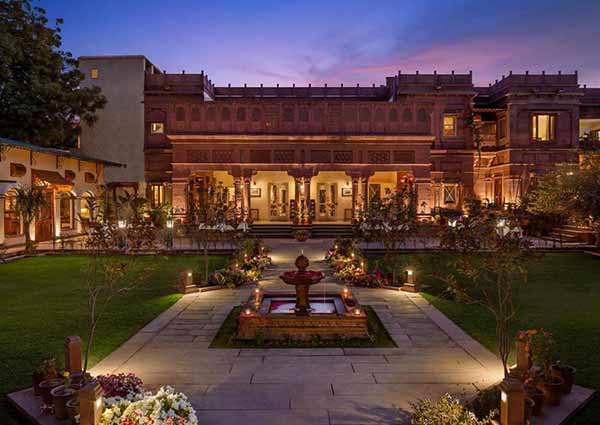 This hotel provides comfort to its guests with 24-hour room services, separate dining, and a swimming pool. It also provides pickup services from the airport, WiFi, private parking, and a playground for children. Guests can hop around the city without any worry about luggage privacy. This well-furnished hotel is also full of modern facilities.
6. Lalit Laxmi Vilas Palace, Udaipur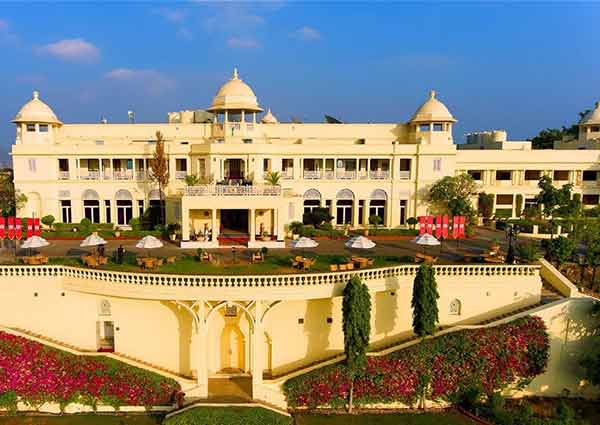 This hotel is the full image of rich Rajputana culture. It shows the royalty and luxury of Udaipur. This hotel is located amidst the Aravalli Hills with the famous Fateh Sagar Lake. This hotel is magnified with 55 well-furnished rooms. It provides a rich and memorable experience to visitors.
7. Kumarakom Lake Resort, Kerala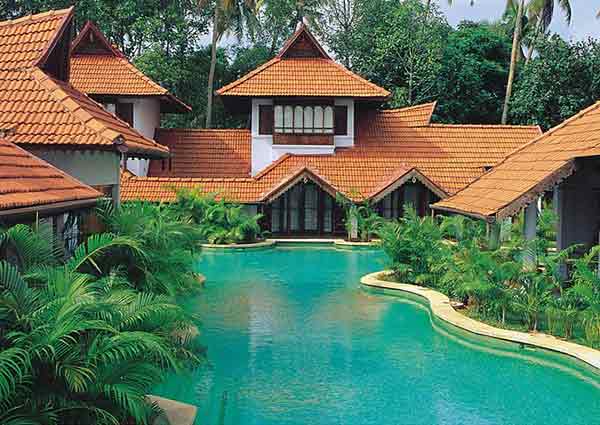 It is one of the most famous lake resorts. With heart touching view, this hotel represents true Kerala services. This also offers modern and luxurious facilities to its guests, like a swimming pool, multi-cuisine restaurant, health clubs, etc. If you want to relax your body and mind, you must plan to visit here. It is like a tourist heaven that will give you a mesmerizing feel.
8. Lalit Great Eastern, Kolkata
This hotel is a historical and heritage site for the city of joy, Kolkata. It has run continuously for 165 years. This icon is defined as The Jewel of the East. With its luxurious 195 rooms, the hotel has changed fabulously in the past. It is full of a pool, spa, banquet, conference rooms, pub, etc., and this hotel will surely provide world-class services with excellent staff.
So the above was the eight best heritage hotels in India which will surely feel close to the culture by providing appreciated services. You can book hotels and resorts in Kolkata, Chennai, Delhi, etc., online from Surfindia.com. This is a reliable online directory that has listed the best hotels in India. You can also search for various other services from this portal.