In auto export, passenger vehicle exports have grown over five times from the start of the decade and two-wheeler exports have reached more than double.
Current Scenario
Foreign auto makers, including Ford Motor Co. , General Motors Corp., Honda Motor Co. Ltd., Toyota Motor Corp., DaimlerChrysler AG and Hyundai Motor Co. Ltd., are looking to increase their presence in India and use it as an export hub.
Exports of auto components, whose manufacturing costs are 30-40 per cent lower than in the West, have grown at 25% a year between 2000 to 2005.
Overview
Snippets
In 2003-04 the export of the industry was 55.98%.
Two-wheelers are mostly exported from India.
The reason behind the export is cost competitiveness in terms of labor and raw material.
The export of auto components has grown to 19% from the start of the decade.
Facts & Figures
The Indian automotive export industry presently is finding a good recognition globally. The auto industry along with the component industry is contributing to the export effort of the country. In 2002-03, the export of the
automobile industry
had registered a growth rate of 65.35%. In 2003-04, it was 55.98%. The following table briefs about the 2003-04 and 2004-05 (upto April-Dec. 2004) automobile export in numbers.
| | | |
| --- | --- | --- |
| Category | 1998-99 | 2004-05 (Apr-Dec) |
| Passenger Car | 25468 | 121478 |
| Multi Utility Vehicles | 2654 | 3892 |
| Commercial Vehicles | 10108 | 19931 |
| Two Wheelers | 100002 | 256765 |
| Three Wheelers | 21138 | 51535 |
| Percentage Growth | -16.6 | 32.8 |
Export of Auto Components:
Investments in the auto ancillary sector are rising rapidly. In 1997, the size of the auto component industry was US$ 2.4 billion and now in 2004-05 it has become US$ 8.7 billion industry. The export of auto components has grown at a compounded growth rate of 19 per cent over the past six years.
Jai Parabolic Springs (JPSL) is a leading manufacturer of parabolic springs in India and has bagged two major orders from international auto majors, General Motors (GE) and Ford.
Robert Bosch, auto parts maker of Germany has relocated manufacture of certain products to MICO, India. Crosslink International Wheels, Malaysia's leading automobile security provider Wheels Electronic SDN, is setting up its manufacturing unit at Baddi to make India the export hub for the SAARC region.
PSA Peugeot CitroŽn, French automobile group has placed orders for components worth US$ 10 million with Indian companies.
Fiat India exported components worth US$ 8.3 million in 2004-05 to its operations in South Africa. GKN Driveline and Dubai based auto ancilliary major Parts International plans for an investments in India.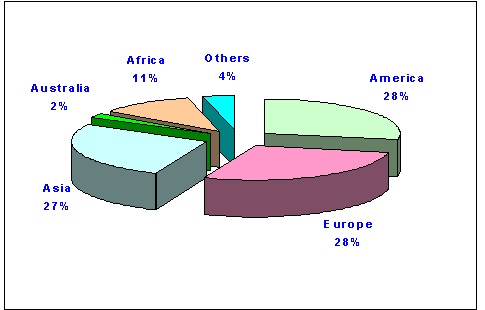 Analysis of Indian Exports:
Strengths
Weakness

Perception about quality.
Infrastructure bottlenecks.

Opportunities

Huge export markets such as Europe, America, Africa, and others for Indian cars.

Threats

China, Malaysia, Thailand, etc.
Many other countries also have strategies for export promotion.
Export Imperatives:
Internal Factors:
Attaining high quality for global standards.
Continuous cost reduction for global competitiveness.
Supply chain management (logistics).
Attaining economies of scale & scope.
External Factors:
Improve infrastructure (ports, roads, etc).
Improve EXIM regulations.