New Car Launch
Hyundai EON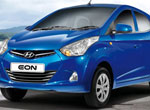 Hyundai Eon is available in petrol and design models, whereas each model is programmed and designed with exceptional features. This worth buying model comes in different 6 dual stone shades with a good mileage of 21.00 kmpl. The vehicle can travel around 500-600 kmpl with full tank.
---
Toyota Etios LIVA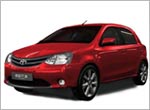 The Toyota India is has launched its all new Etios LIVA is a great hatch back car by Toyota in India . The press release of Toyota for its new Hatch back the Etios LIVA is said to be a happy face . The front end of the car is designed to keep you smiling with its great sporty look .
---
Maruti Kizashi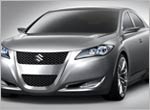 Maruti is all set to launch its latest sports sedan model - Maruti Kizashi in India. The mid-size car will run intyo direct competition with Honda Accord and Toyota Carmy in India. Powered by a J24B 2.4 litre petrol engine, Maruti Kizashi will roll on Indian roads by October 2010 at an expected price of Rs 10-12 lakhs.
---
Volvo S60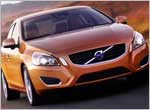 The Swedish automobile giant is all set to launch its new model the S60. The new S60 will compete with established leaders like BMW 3 series and the Audi A4. The car will be powered by a powerful 4 cylinder GTDi engine that roars out 179 Bhp .The car has an amazing grip on the road and according to the company the car is made on a comfort chassis that would suite the Indian roads.
---
Volvo XC60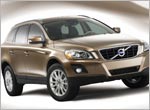 Sweden auto giant Volvo is planning to launch its luxury SUV variant Volvo S-60 in India. The car will be launched in two petrol engines and three diesel variants. Boosting advanced safety features and an compact luxury crossover look makes it an awaited launch. Volvo XC60 will be launched on November 24, 2010 with a price tag of Rs 55,00,000.
---
Hyundai Avante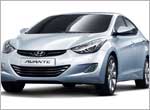 The Hyundai Motor co. will soon introduce its all new fourth generation sedan that will soon be seen on Indian roads . The ultra stylish sedan arrives with an amazing compact and handsome body . The all new Avante is equipped with sophistication and style it features GDI that increases fuel efficiency by 10 percent .
---
Volkswagen Vento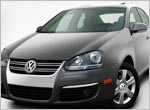 Volkswagen motors is all set to launch its luxury sedan model Volkswagen Vento in India. The car is expected to run into direct competition with leading cars in the segment like Honda City. Vento will be available in both petrol & diesel variants at a price tag between 7-9 lakhs.
---
Honda VTR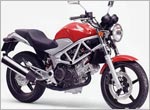 Honda is introducing its world popular bike variant - Honda VTR in India. The 250cc motorcycle is loaded with many advanced features like latest PGM fuel injection system, alloy wheels, disc brakes at both ends, 5 Speed Transmission gearbox etc. The bike will hit the roads by November 2010
---
Bajaj Avenger 220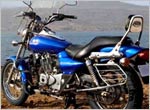 Indian biking giant Bajaj auto is all set to launch 220cc Baja Avenger this year. The cruiser bike will have the same engine as Baja Pulsar 220, producing a power of 19.3 bhp. Increased comfort level and looks of Harley Davidson make it a exuberant package. Available in four sizzling colors, the new Bajaj Avenger can make it to your garage in Rs. 85,000.
---
TVS Apache RTR 220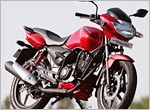 A surprise power package from TVS motors for Indian bike lovers. TVS APache RTR 220 is all set to compete in power bike segment with latest ABS braking and refined engine technology. An expected launch in April 2010 and smart pricing of Rs. 95,000/- makes it a power system in range.
---
Toyota Etios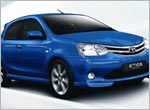 Toyota motors is all set to grab its piece in buzzing Indian car market. The company will roll out Toyota Etios on Indian roads by the end of 2010. The new car will be launched in both hatchback and sedan variants. Loaded with advanced features and high performance engines, Toyota Etios is one of the most awaited car launches in India.
---
Audi A6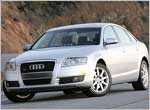 The Audi A6 is an executive car produced by the AUDI AG , the german automobile company. It is available in both saloon and Avant (Audi's term for an estate) body styles. All generations of the A6 have been available as either front-wheel drive or with Audi's trademark Torsen -based quattro permanent four-wheel drive (4WD) system.
---
BMW X1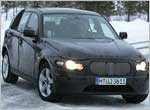 BMW plans to launch the X1 in India. The X1 will be the smallest SUV from the BMW stable and will come with 1.8-litre petrol engine or the 2.0-litre diesel engine. The BMW X1 will be made available in Corporate and Highline trim levels.
---
Mahindra Thar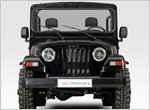 Mahindra Thar - the much awaited 4x4 off-roader is being launched in India and is targeted at the off-roading enthusiasts who are looking for a different lifestyle. This SUV segment car is assist with stylish exteriors and smart interiors that definitely makes it an attractive option. Besides this, efficient engineering and fuel efficiency makes it an affordable option for Indian customers. Mahindra Thar is powered by a 2.5 litre.
---
Jaguar XF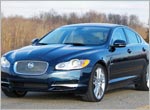 Jaguar has introduces diesel variant of its popular luxury car Jaguar XF in India. The new variant is equipped with 2993cc engine and a cluster of advanced features like soft grain leather seats, cruise control, electric glass sunroof etc. The new Jaguar XF Diesel can make itt o your garage in Rs. 48,37,000
---
Mercedes Benz M Class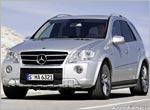 Mercedes has unleashed its luxury SUV in India. The new Mercedes Benz M Class is all set to establish Mercedes in this segment of Indian car industry. The car has been introduced in two variants - Grand Sports and Grand Executive at INR 54.11 lakhs and INR 47.91 lakhs respectively.
---
Bugatti Veyron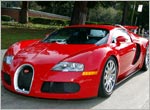 Bugatti has launched its sports car Bugatti Veyron in India. Tagged at a price of rs. 19 crores, the luxury beast comes equipped with trademark exterior design and interior appearance with greater functionality. The 7993cc engine zooms on roads at a maximum speed of 407 kmph.
---
BMW X5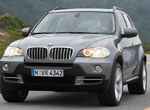 BMW has re-launched its popular SUV BMW X5 in India. The SUV was introduced to Indian roads in 2006 but this time its refreshed version has been unleashed for Indian SUV lovers. Loaded with features like improved power, good MPG, excellent Braking, MP3 CD player etc, the new BMW X5 is available at a price tag of Rs. 52,99,000 to 69,50,000.
---
Mercedes Benz E Class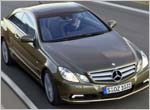 Mercedes has launched its E class segment in India. The Mercedes-Benz E-Class offers classy look, excellent handling, very comfortable quiet ride, luxury interior and high level of safety equipment. The durable construction and variety of engine choices make Mercedes Benz E Class a dream machine.
---
Mercedes-Benz SLS AMG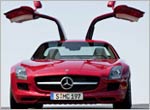 Mercedes Benz has launched its grand luxury car SLS AMG in India. Loadd with high performance transmission system, suspension, brakes and light weight body, the Mercedes Benz SLS AMG is rated as a super sports car. This fascinating beauty can make it to your garage in Rs 2 crore and Rs 2.5 crore.
---
Porsche Cayenne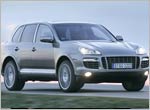 Porsche has launched its luxury SUV - Porsche Cayenne in India. Available with three engine options, Porsche Cayenne has been introduced with five variants. Grand luxury and exceptional performance form the highlights of this new entrant in SUV segment.
---
BMW 5 Series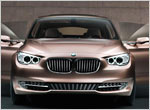 BMW has launched its luxury 5 Series in India. Loaded withmodern features and safety gadgets, this luxury range is al set to redefine style & comfort on road. Out with four variants, BMW 5 Series will cost you between Rs. 38,00,000 to 48,0,000
---
---
Nissan Teana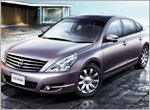 Nissan motors has re-introduced its luxury sedan model Nissan Teana on Indian roads. The masterclass of luxury has got a complete makeover along with a new refined and powerful engine. Loaded with latest gadgets and princly comforts, Teana is available in the price range of Rs.21 - 25 lakhs.
---
Bentley Mulsanne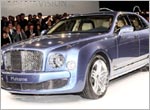 British auto giant Bentley has launched its luxury sedan model Bentley Mulsanne in India. An exceptional blend of awesome design, dynamic riding experience and extreme comforts, Milsanne is priced at Rs 2.9 crores. Improvised inner and outer looks make Mulsanne aonther masterpiece from the garage of Bentley.
---
New Launch Bikes
TVS Max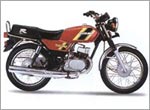 TVS MAX is ready to drive into villages of India with its improved advanced version TVS MAX 4 series. The 110 cc bike has underwent a thorough check after it reported emission problems three years back. The new MAX ensures maximum mileage and a reliable performance at an affordable price of Rs. 35,000.
---
Mahindra Stallio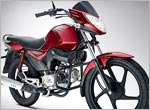 Mahindra has rolled out its most economical Mahindra Stallio bike on Indian roads. Boosting off an engine of 106.7 cc, the all new Stallio redefines the term City-Bikes with itís classy looks and sturdy performance. A cluster of other features like Fully digital display, Convenient gear shift pattern, Convenient multi-utility box etc make it a dream machine.
---
Mahindra Mojo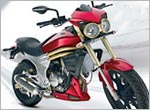 Mahindra has unleashed its 292 cc dazzling beauty on Indian roads.. The all new Mahindra Mojo is setting the streets ablaze with its nimble and responsive power generating engine. As a whole, Mahindra Mojo is very impressive and dynamic and an ideal option if you wish performance with style. All this is available at Rs. 1,75,000.
---
Suzuki Slingshot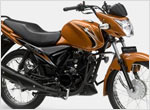 Suzuki is all set to grab its share in India's most selling bike category. The recent launch of 125cc Suzuki Slingshot on INdian roads has stimulated the competition in this popular bike segment. Equipped with light weight alloys and a fuel efficient engine, Slingshot has been launched in two variants i.e. Suzuki Slingshot 125, & Suzuki Slingshot Drum spokes.
---
Yamaha SZ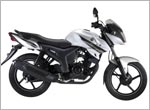 Yamaha SZ is ready to roll on Indian roads with a unique combination of power, style and comfort. Coming with nice and beefy front fairing, racy paint/graphics and sporty rear styling with a bold exhaust, Yamaha SZ is for buyers who look for power with comfort and might sport. This stunning performer can make it to your garage with a price tag of Rs. 49,000 - 55,000.
---
Honda VFR 1200F
Honda motors has unleashed their super bike Honda VFR 1200F on Indian roads. Featured with moto GP features and world class technology, the VFR 1200F ensures an exclusive class on road. Flambuyont looks, good fuel efficiency and striking features take Honda VFR 1200F way ahead of other bikes in the segment. A grand bike in all senses.
---
Yamaha Ss 125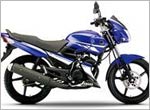 Yamaha has launched its new 125cc segment bike - Yamaha Ss in India. Targetting the broad category of daily commuters, Yamaha Ss has all the features of an ideal bike. Smart looks, exceptional performance, high fuel efficiency and riding comfort make it a tough challenge for leaders like Bajaj Discover in this segment. Explore Yamaha's latest launch.
---
Bajaj Discover 150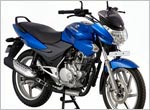 Bajaj has launched Discover 150 in India to assist its most selling model Bajaj Pulsar in 150cc segment. Equipped with 144.8cc engine, the new Discover 150 is the fourth variant in Discover series of Bajaj auto. Loaded with modern features and enhanced comforts, Bajaj Discover 150 can make it to your garage in Rs. 46,000.
---
Harley Davidson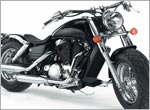 American bike manufacturer harley davidson has unleashed its popular Harley davidson Sportster range in India. The bookings which kicked off from 20 April 2010 wrote a new chapter in the history of Indian automobiles. Available in the price range of 695,000 to 1,195,000, Harley Davidson is simply the king of all bikes in India.
---
Honda CB Unicorn Dazzler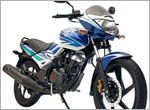 Honda has launched the modified version of its flagship model Honda Unicorn. The new Honda CB Unicorn Dazzler is setting the streets ablaze with an all new double disv break technology. Coming with agressive looks, better performance and an affordable price of Rs. 62,900 makes Honda CB Unicorn Dazzler a atough competition for other bikes in the segment.
---
Surfindia will keep you updated with all the launches in the country, category wise. Keep surfing to see your dream vehicle becoming real sometime in future.