Price
The new Volvo XC60 can make it to your garage in Rs 55,00,000.
(Please Note: The price range is ex-showroom and based on the close approximation. Please check the latest prices and variant specifications with your dealer)
Swedish automobile giant Volvo is all set to launch its luxury compact SUV Volvo XC60 in India. Loaded with advanced technology, style, comfort and performance, the all new Volvo XC60 offers a complete luxury package with a mini look. The SUV will be launched with both petrol and diesel versions carrying sub-variants. The petrol version will have two variants with a displacement of 3192 & 2953cc each, whereas the diesel option will have three variants of 2400cc each.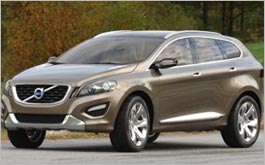 The elegant front design of Volvo XC60 offers a gratified crossover look dressed with grey shade body color on the outside rear view mirrors, LED indicator and door handles. The tail lamps have vertical cluster, LED brake light at spoiler and chrome finished twin exhausts. Interiors are not lagging behind and royal luxurious comforts. Soft touch leather and a large variety in steering wheels, gear knobs and mats make it a facilitating package. Other features like comfort pillow, rear seat cover, sunshade rear window, electric heater, remoter start for heaters, electric compartment heater, protective car cover, mud flaps for front and rear and electric cooler and heater box make it a worth buy.