"Inspiring Confidence"
Chevrolet Captiva which launched by General Motors would flaunt lots of captivating features that may be a tough call for other players in the Sports Utility Vehicle (SUV) segment. World's leading auto player GM has placed Chevy Captiva in the SUV segment with number of sporty and power dressed characteristics that would take care of its riders comfort and safety.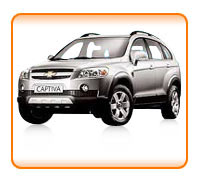 General Motors leading global brand Chevrolet has come up with Captiva under its Sports Utility Vehicle segment. The Chevrolet Captiva, was launched at the Geneva Motor Show. The stunning-sporty Chevy Captiva will be powered by petrol as well as diesel engines that will make it the only SUV vehicle in its segment. Chevrolet Captiva's all-wheel drive and specialized handling characteristics offer a safe and more secure drive in poor road conditions. Chevy Captiva will be equipped with fully integrated audio system including 06 CD changer with MP3 Player.
The Chevrolet Captiva is loaded with eye-catching features like metal black and brushed aluminum look dashboard, external temperature display, electrically adjustable rear view mirror, easy to read semi-circular dials accentuated by aluminum rims, that will add X factor to your ride. This Chevy SUV has been priced between 16-18 Lacs making it true value for money and a family-friendly vehicle that underlines the core values of the Chevrolet brand.
Striking Features:
- An Active all-wheel drive system
- Traction Control System.
- Excellent storage space.
- Outside temperature, Compass Display.
- Self leveling independent suspension.
- Opening rear glass, so you needn't raise the entire tailgate to gain access to the boot.
- Equipped with advanced safety features like Anti-lock Braking System (ABS) & Hydraulic Brake Assist (HBA) .
- Offers seven seats - a package no other manufacturer can offer at this price level.
Model Variants:
- Chevy Captiva SUV has been launched in two variants of: LS and LT.
- LS variant is petrol powered, front-wheel drive with five seats on the other hand LT is diesel powered front- wheel drive or 4WD with five or seven-seats.
Colors:
- Arctic White
- Dark Denim Gray metallic
- Mercury Silver metallic
- Zest Metallic
- Chino metallic
- Silverstone Grey metallic
- Granada Black metallic
- Merlot metalli
- Midnight Blue metallic
Competition For Chevrolet Captiva:
The premium compact SUV (Sports Utility Vehicle) segment is already dominated by cars like Honda CR-V, Ford Endeavour, Hyundai Tucson, Nissan X-Trail and Mitsubishi Pajero.
Price:
The Price tag of Chevrolet Captiva SUV is around Rs 18 lakh.
(Please Note: The prices are ex-showroom and based on the close approximation. Please check the latest prices and variant specifications with your dealer)
Quotes-Unquotes:
"Captiva could become the mainstream vehicle for diesel compact and mid-size SUVs, and we believe the diesel variant will be very popular. It gives plenty of performance and economy along with outstanding value for money."
GM Marketing Manager Large Cars and SUVs, Philip Brook.
Technical Specifications:
Dimensions & Weight
Engine
Length (mm)
4639
Model Designation
Petrol V6, Diesel Common Rail Diesel (CRD)
Width (mm)
1849
No. Of Cylinders
2.4 Litre, 16 Valve - 04 Cylinder Inline.
Height (mm)
1726
Configuration
DOHC
Wheelbase (mm)
2707
Displacement (cc)
2,400cc Petrol and 2,000 cc Diesel
Kerb Weight (kgs)
1585-1710
Transmission
5-Speed Manual, 5-Speed Automatic (Optional)
Seating Capacity
07
Top Speed (kmph)
200
Suspension
Brakes
Front
McPherson strut
Type
ABC
Rear
Multilink
Front / Rear Brakes
Disc
Tyres
Performance
Type
Alloy
Max. Horsepower (ps/rpm)
142 @ 5200 rpm
Wheels
16-18 Inches
Max. Torque (kg m/rpm)
31.6 KGM @ 4000 rpm
Steering
Steering Type
Rack-and-Pinion type, Power assisted
More Sports Utility Vehicles (SUV) in India: