Here comes the grand SUV Maruti Suzuki Grand Vitara for those who live their life grand size. In the Grand Vitara everything is grand- performance, comfort, and safety. 185 bhp grand power; robust, masculine styling for grand presence; extremely luxurious interior features for grand comfort; cutting-edge safety features to provide protection in all terrains. Grand Vitara is the perfect Sports Utility Vehicle to live the grand life.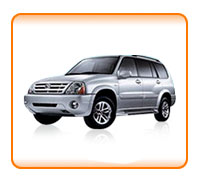 Maruti Suzuki Grand Vitara XL-7, a car for those who want to live life grand size. It is the latest generation of Suzuki SUV. The vehicle is a completely built unit (CBU) import. It is built in Hamamatsu in Japan, small car capital of Japan. The same vehicle is sold in all the markets of world.
Equipped with the latest safety features, the Grand Vitara XL-7 is the biggest, most powerful, most luxurious and most expensive vehicle in Suzuki's line-up. It is a large and powerful 2.7 litre V6 powering a 1.6 tonne vehicle.
This Chevy SUV has been priced between 16-18 Lacs making it true value for money and a family-friendly vehicle that underlines the core values of the Chevrolet brand.