India is the 11th largest Passenger Cars producing countries in the world and 4th largest in Heavy Trucks
Automobile Industry is the largest industry in India with an impressive growth in the last two decades. The reason behind the growth was abolition of licensing in 1991 and permitting automatic approval and successive liberalisation of the sector.
According to estimation the compound annual growth rate (CAGR) of Indian Automobile sales will grow at 9.5% and will touch a mark of 13,008 million by 2010. The figure for FY05 was 8.45 million units. To tap this large opportunity, the Indian Auto Companies along with the global giants have announced huge expansion plans.
Maruti Udyog Ltd. was the largest 4-Wheelers producer in 2005-06 followed by Tata Motors. Hyundai did well but the difference was nearly half of Tata Motors. In 2-Wheelres segment, Hero Honda is leading putting behind Bajaj Auto Ltd. Check the table below to get complete figure.
Current Scenario
The growth rate of Passenger Cars in 2004 was 30% in India where as the average growth rate of top 12 Passenger Cars producing countries were just 5.1%. In Heavy Trucks it was 32% and 14.6% respectively.
Component industry's growth was only 9% between 1997-2000. But between 2000-2005 it has grown to 20%. It is projected 17% between 2005-2014.
Overview
Snippets
Largest industry in India.
By 2010 there will be 13,008 million cars.
Maruti Udyog Ltd. is the leading 4-wheelers manufacturer.
Hero Honda is the leading 2-wheelers manufacturer.
2-wheelers are produced most followed by 4-wheelers and 3-wheelers.
Production of 4-Wheelers
Manufacturers
2005-06
(Apr-Mar)
In Nos.
Manufacturers
2005-06
(Apr-Mar)
In Nos.
Japanese OEM
Korean OEM
Maruti Udyog Ltd.
572,097
Hyundai Motor India Ltd.
260,440
Toyota Kirloskar Motor Pvt. Ltd.
44,975
American OEM
Honda Siel Cars India Ltd.
41,361
General Motors India Pvt. Ltd.
30,687
Swaraj Mazda Ltd.
11,946
Ford India Pvt. Ltd.
26,946
Total
670,379
Total
57,633
European OEM
Indian OEM
Skoda Auto India Pvt. Ltd.
9.767
Tata Motors Ltd.
449,878
Daimler Chrysler India Pvt. Ltd.
1,780
Mahindra & Mahindra Ltd.
128,601
Volvo India Pvt. Ltd.
1,004
Ashok Leyland Ltd.
65,085
Tatra Trucks India Ltd.
125
Force Motors Ltd.
35,728
Fiat India Pvt. Ltd.
671
Eicher Motors Ltd.
24,348
Hindustan Motors Ltd.
15,458
Total
13,347
Total
719,098
Source: Automotive Component Manufacturers Association of India
Production of 2-Wheelers
Manufacturers
2005-06
(Apr-Mar)
In Nos.
Manufacturers
2005-06
(Apr-Mar)
In Nos.
Japanese
Indian
Hero Honda Motors Ltd.
3,006,486
Bajaj Auto Ltd.
2,042,289
Honda Motorcycle & Scooter India (Pvt.) Ltd.
603,436
TVS Motor Company Ltd.
1,366,866
Yamaha Motors India Pvt. Ltd.
248,665
LML Ltd.
107,044
Suzuki Motorcycle India Pvt. Ltd.
2,328
Kinetic Engineering Ltd.
82,392
Majestic Auto Ltd.
56,819
Kinetic Motor Company Ltd.
53,880
Royal Enfield (Unit of Eicher Ltd.)
30,596
Total
3,860,915
Total
3,739,886
Source: Automotive Component Manufacturers Association of India
If we take a quick look of almost a decade, it is seen that two-wheelers are the most produced in automobile industry followed by passenger cars and then three wheelers. The following are the number of units produced in 2003-04 and 2004-05 (April-Sept. 04) of different segment of vehicles:
Name of the Sector
No. of units
Production
2003-04
2004-05
(April-Sept. 04)
Commercial Vehicles
9
275224
156815
Cars
12
842437
465983
Multi-Utility Vehicles
5
146103
114739
2-wheelers
12
5624950
3023805
3-wheelers
4
340729
177554
Total
42
7229443
3938896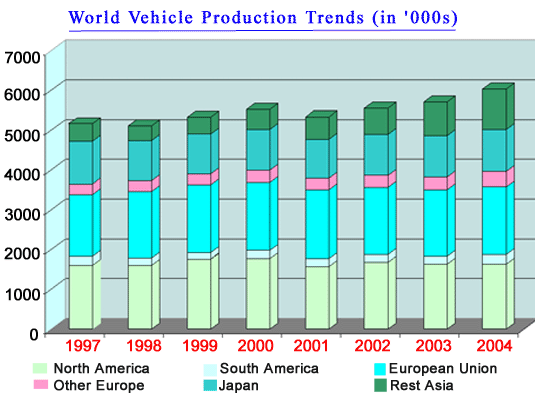 Production Range of Auto Components
Electrical Parts - 9%
Equipments - 10%
Suspension & Braking Parts - 12%
Body & Chassis - 12%
Drive Transmission & Steering Parts - 19%
Engine Parts - 31%
Others - 7%