Owner's Choice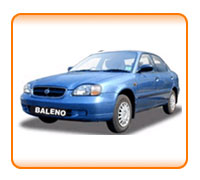 Maruti Baleno is the right pack of style, comfort and performance. This sedan comes loaded with the smarter 16 V i-engine technology that generates 91bhp and turns your riding experience really amazing. Dressed with lots of luxurious features- superior suspension, high-end audio system, noise reduction feature, heavy-duty steel body and the sensuous exteriors- Baleno is the nice place to be in.
Maruti Baleno is a fantastic car to drive. The comfort of the vehicle is more than expected, smoothness and handling is excellent. It delivers 94 horsepower at 6000 rpm with 1.6 litre, 4 cylinder, 16 valve SOHC all aluminum engine. The vehicle has an unique Multi Point Fuel Injection (MPFI) that gives even fuel distribution. As an aftermath there is an increase in fuel efficiency and enhances power performance.
The Baleno has a monocoque body that distributes the impact of collision throughout the vehicle body and the affected portion of the body collapses progressively along the in-built crumple zones. This on the other hand enables the car to absorb the shock and save the passengers from injury.
Model Variants
Baleno Sedan LXi Bharat III
Baleno Sedan VXi Bharat III
Color Options
Pearl Silver
Silky Silver
Superior White
Midnight Black
Wine Red
Price
Baleno Sedan LXi Bharat III: Rs. 576173
Baleno Sedan VXi Bharat III: Rs. 657556
(Please Note: The price range is ex-showroom and based on the close approximation. Please check the latest prices and variant specifications with your dealer)
Quotes-Unquotes
"This is a car that can take on the personality of the person behind the wheel. A tired and old driver will get tonnes of restrained driving from the mill. No complaints, no jerks, no shudders..."
- Business Standard Motoring
Maruti Helpline
1800 1800 180 (Toll-Free)
Alternative Drives
Hyundai Accent
Fiat Siena 1.6
Ford Ikon 1.6
Safety features
Monocoque Body - During Collision, the affected portion of the body collapses progressively along the in-built crumple zones. The car absorbs the shock and saves passengers from injuries.
Breaking Technology - Front wheels have 13 inch ventilated disc brakes and the rear ones 8 inch self-adjusting drum brakes. Both brakes force distribution is well balanced by a dual proportioning valve for stable braking even under high-speed panic conditions.
Collapsible Steering Wheel - It reduces the likelihood of injury to the driver in the event of a frontal collision.
Anti Submarining Effect - Front seats provides anti submarining effect. This ensures that the occupant does not slide forward in the event of an impact.
Rear Window Demister - It improves the visibility for the driver especially during heavy showers & foggy conditions.
Technical Specifications
Dimensions & Weight
Overall height
1390 mm
Overall length
4225 mm
Overall Width
1690 mm
Wheelbase
2480 mm
Minimum turning radius
4.9 m
Ground Clearance
170 mm
Seating Capacity
5 persons
Tread Front
1440 mm
Tread Rear
1435 mm
Kerb weight
985 kg
Gross Vehicle Weight
1510 Kgs.
Fuel Tank Volume
51 Litres
Engine
Type
All Aluminium, 16 Valves SOHC
No. of cylinders
In-Line 4
Swept volume
1590 cc
No. of Valves
16
Bore x Stroke
75.0 x 90.0 mm
Compression Ratio
9.0 + 0.2:1
Max. Power Output PS
91 bhp @ 5500 rpm
Max. Torque
130.5 Nm @ 3000 rpm
Fuel Distribution
Multi point Fuel Injection
Max Speed
175 Kmph
Suspensions
Front
McPherson Strut and coil spring with L shaped lower arm and anti roll bar
Rear
McPherson Strut and coil spring with parallel link arrangement
Tyres
Tyre Size
165/80R13 (Lxi)
185/65R14 tubeless (Vxi)
Transmission
Type
5 Forward, all synchromesh, 1 Reverse
Chassis
Steering
Rack and Pinion with hydraulic Power Assistance
Brakes
Type
Vacuum assisted hydraulic
Front
Ventilated Disc
Rear
Drum, Leading/Trailing
Other Maruti Models
Car Models Comparison
More Sedan Cars in India