A sedan car is often painted in a definition of absolute luxury and will have a trunk . A basic way to define a sedan is a car with large boot space and a totally separate section for passengers . A sedan will have a hard roof and can have seat room to accommodate four passengers or more .
In Indian market the sedans make a loud statement and it is also considered to be the next growing segment in the car market . Today the sedans on road are cars of new age with all the sparkling edge and beautiful body ,the modern sedan is a definite magnet to anybody on the road because admiration is for sure.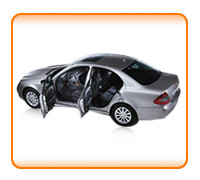 Sedans are curved and edged in such a way that any one can keep looking and admire its beauty and sophistication. Today every sedan compete each other firstly on the basis of looks and so the car makers are launching stylish and flashy sedans that are combined with latest comfort and technology.The sedan or saloon is a segment of car models that has the capacity to carry four or more passengers with two rows of seats .
The car market in India for sedans has seen big car makers battle each other to be ahead with the best of sedans in terms of looks, comfort, luxury, sporting and powerful engines etc. The car makers like Volvo , Volkswagen , Skoda , Honda , Maruti and many more are all the big players competing in the sedan segment.