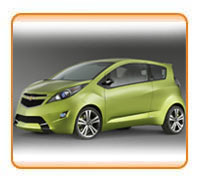 General Motors India will add another small car, the Chevrolet Beat to its already impressive portfolio of Chevrolet Spark and Aveo in India. The new Chevrolet Beat will be launched in India somewhere at the end of 2009 and will cost around Rs. 4.30 lakhs.
Restructured General Motors seems to be making all the right noises lately. The popular and core brand of GM Motors Chevrolet will launch a stylish and feature-rich car called Chevrolet Beat sometime around the end of 2009. The Chevrolet Beat promises to be one notch above the rest of the small cars in its segment as lot of eye for detail has gone into the design which is said to be a winner from Chevrolet.
GM India President and CEO Karl Slym said: ?Based on the Beat concept, which has a funky and futuristic design, the new mini car will be positioned above the Spark. "It will be a high-end small car,"
Striking Features
Elegantly designed high bonnet
Leaf-shaped and attractive headlamps
Spacious interiors
Rear Wiper
Beautiful exteriors adding to the 'style quotient' of the Beat
Appearance
The Chevrolet Beat is a cute little car under production and will in all likeliness be a winner on Indian roads. The Chevy Beat dons superlative design which would put all its competition to envy. The elegantly designed exteriors are sure to be the 'X' factor which sets the Chevrolet Beat ahead of other small cars on Indian roads.
Comfort
Even though much is not out on the Chevrolet Beat yet but we have learnt that lot of work has gone into ensuring that the Chevrolet Beat 'beats' all its competition by providing maximum comfort to its passengers. The interiors are said to be spacious and designed to ensure maximum comfort to the occupants of the car.
Safety
The success of Chevrolet Spark and Aveo in India has proven Chevrolet's commitment towards safe and feature rich car models. The third small car launch Chevrolet Beat is set to be no different from its predecessors as it will leave no gaps when it comes to safety of the passengers. Safety features include front and back airbags along with Electronic Brake-force Distribution (EBD) and Anti-lock Braking System (ABS).
Variants and Their Price
| | |
| --- | --- |
| Available Versions | Price (Rs.) |
| Petrol | Rs. 4.30 Lakhs |
| LPG | Rs 4,42,128 Approx. |
(Please Note: The price range is based on a close approximation. Please check the latest prices and variant specifications with your nearest Chevrolet dealer)
Technical Specifications
Petrol
LPG
Engine
Engine type
1.2 litre petrol engine
LPG
Cylinders
4
4
Displacement [cm3]
1248 cc
1199cc
Max. Power (Ps at rpm)
84 @ 5500
79 Bhp @ 6400 rpm
Max. Torque (Nm at rpm)
110 @ 4400
104 Nm @ 4400 rpm
Transmission
Transmission
5 speed manual
5 speed manual
Braking System
Anti-Lock Breaking System (ABS)
Brake Front
Ventilated discs
Front Disk
Brake Rear
Disc Break
Rear Drum
Steering System
Power Steering
Power Steering
Tyre Size (inches)
N/A
N/A
Body
Body
Hatchback
Hatchback
Drag Coefficient (cd)
0.32
Outside Dimensions
Length [mm]
3495
3640
Width [mm]
1500
1595
Height [mm]
1500
1520
Ground clearance [mm]
145
165.00 mm
Weights
Kerb weight [kg]
1050
965.00 kgs.
Other Chevrolet Models
Car Models Comparison
Hatchback Cars in India