Celebrate Yourself
The Sports Utility Vehicle (SUV) segment of India has got a new entrant Volvo XC 90 which is packed with dynamic and sturdy looks, accompanied by awesome performance. XC90 boasts fine plush upholstery making the interiors eye-catching, hi-end entertainment system for refined driving pleasure, high ground clearance and large wheels for better control on road and number of intelligent safety features that would give this SUV a head start in this segment.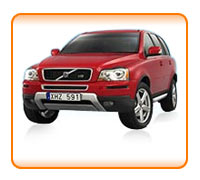 Swedish Auto Giant Volvo has launched it's high end XC90 model under SUV segment that is available on sale in India. The all new Volvo XC 90 SUV delivers more enjoyable and versatile driving pleasure. Making a classic Sports Utility Vehicle, Volvo XC 90 is equipped with accessories like dynamic sport chassis, stiffer anti-roll bars, firmer shock absorbers, sporty steering system, and 19" wide wheels that offers great stability and driving control.
Volvo XC 90 gets power by 315 HP V8 engine that is one of the most environment friendly engines in the world.
2007 Volvo XC90 comes fitted with leather upholstery, decorative piping in different colors, watch faced instrument panel, MP3 enabled multi functioned DVD changer and also a LCD display system taking care of your comfort zone. Volvo XC 90 will be imported in India as Completely Built Units (CBU) from Volvo?s Sweden plants and will be sold through three dealers, in Delhi, Mumbai and Chandigarh.
Striking Features:
Mid-sized SUV.
World's most intelligent All Wheel Drive System (AWD).
Automatic Six speed transmission for smoother drive.
Sporty exterior and decorative upholstery.
Music Player accompanied by a Alpine amplifier & high-quality Dynaudio loudspeakers.
Self-leveling Rear Suspension and rain-sensing wipers.
Certified Ultra Low Emission Vehicle (ULEV) engine.
Can seat up to seven passengers via an optional hideaway third-row seat.
Model Variants:
V8 Petrol 4.4
3.2, petrol 3.2
D5, diesel 2.4
Color Options:
The Volvo XC 90 SUV will be launched with a Passion Red color and will be available in two colors
Price:
The Price of Volvo XC 90 is between Rs. 45-50 Lacs.
(Please Note: The prices are ex-showroom and based on the close approximation. Please check the latest prices and variant specifications with your dealer)
Quotes-Unquotes :
"We dare to promise a truly enjoyable experience behind the wheel of a Volvo XC90 Sport."
Karin Falk, Head of Special Vehicles at Volvo Cars.
Technical Specifications:
Dimensions & Weight
Length (mm)
4807
Width (mm)
1898
Height (mm)
1784
Wheelbase (mm)
2860
Kerb Weight (kgs)
2590
Seating Capacity
07
Ground Clearance (mm)
218
Fuel tank capacity (Litres)
68
Engine
Model Designation
4.4 Litre V8
No. Of Cylinders
05
Configuration
DOHC
Displacement (cc)
2400 CC
Fuel system
Fuel injection
Transmission
06 Speed Automatic Gear Box
Top Speed (kmph)
210
Type
Anti-Lock brakes with Electronic Brake Distribution
Front / Rear Brakes
Disc
Type
Alloy
Performance
Max. Horsepower (ps/rpm)
185 BHP @ 4000
Max. Torque (kg m/rpm)
4000 nm @ 2000
Steering
Steering Type
Tilt
More Super Luxury Cars in India: