Devika Rani is amingst the most eminent stars of bygon era in hindi film industry. She is the founder of Bombay Talkies film studio. Explore some interesting facts related to Devika Sharma.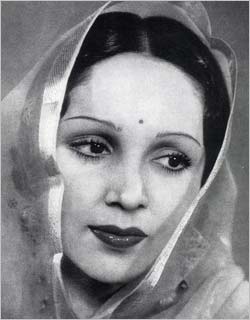 Personal Profile (Personal Biography)
Popular Name:
The Dragon Lady
Date of Birth (Birthday):
March 30, 1908
Zodiac Sign:
Aries
Hair Color:
Black
Birth Place:
Vishakhapatnam, British India
Marital Status:
Married
Family Background
Father's Name:
Col. M. N. Chaudhuri
Husband:
Himanshu Rai (Died in 1940), Svetoslav Roerich
Film Background (Filmography)
Debut Film:
Karma (1933)
Famous Movies:
Karma, Achhut Kanya
Interesting Facts About Devika Rani
Devika Rani was the great-grandniece of Rabindranath Tagore.
Devika Rani founded the 'Bombay Talkies' film studio along with her husnband.
Devika Rani eloped with her lover actor Najam-ul-Hussain in 1936.
Devika Rani is accredited for having acted in the longest kissing scene in the movie world.
Devika Rani built the Tataguni estate on Kanakpura Road, Bangalore with her second husband.
Awards and Accoldaes
Devika Rani recieved Padam Shree award in the year 1958.
Devika Rani recieved Dadasaheb Phalke Award in the year 1970.
Devika Rani was a member of the Central Government Audio Visual Education Board.
Devika Rani was a nominee of the Central Government to the National Academy of Dance, Drama, Music and Films, the Sangeet Natak Akademi, Delhi.
Devika Rani was a member of the Executive Board of the National Academy, Member of the Lalit Kala Akademi and the National Handicrafts Board and Member of the Indian Council for Cultural Relations.
Devika Rani recieved Soviet Land Nehru award in 1989.