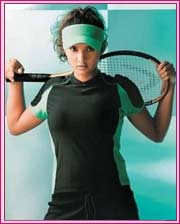 Personal Profile (Personal Biography)
Date of Birth (Birthday):
November 15, 1986
Zodiac Sign:
Scorpio
Height:
5'8"
Hair Color:
Black
Birth Place:
Mumbai, India
Religion:
Muslim
Marital Status:
Married
Languages:
Hindi and English
Hobbies:
Swimming and music
Professional Game:
Tennis
Family Background
Father's Name:
Imran Mirza
Mother's Name:
Naseem Mirza
Sister:
Anam
Husband:
Shoaib Malik
Favorites
Favourite Dish:
Hyderabadi Biryani
Favourite Actor:
Brad Pitt
Tennis Background
Tennis Debut:
Sania started playing tennis when she was just six years old. She turned professional with her debut in the year 2003.
Tennis Achievements:
Sania won the 2009 Australian Open Mixed Doubles title partnering Mahesh Bhupathi
Tennis Heroes:
Steffi Graf
Insight to Sania's Life
Sania Mirza, the highest ranked female Indian tennis star is the biggest hope for the people of India when it comes to the game of Tennis. Sania was born in Mumbai to Imran and Naseema Mirza in the year 1986. She started playing tennis from the age of six. In 2003, Sania won the girls doubles junior Wimbledon championship. The biggest achievement in Sania Mirza's career came quiet late, in the year 2009 when she won the mixed doubles Australian Open partnering Mahesh Bhupathi.
Sania enjoys widespread popularity in India and is a perfect role model for many young and upcoming tennis players in India. She is also a fashion icon for many of her fans and carries a glamorous personality off the tennis courts. Sania can surely achieve a lot going forward if she manages to keep her rising injuries on a check.
Awards
Many awards have been bestowed upon the Indian tennis sensation Sania Mirza including the Padma Shri and the Arjuna Award.