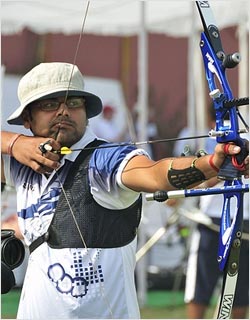 Personal Profile (Personal Biography)
Full Name:
Rahul Banerjee
Date of Birth (Birthday):
15 December 1986
Zodiac Sign:
Sagittarius
Hair Color:
Black
Birth Place:
Baranagar near Kolkata.
Religion:
Hindu
Marital Status:
Single
Languages:
Hindi, Bengali and English
Professional Game:
Archery
Family Background
Father's Name:
Ashok Banerjee
Mother's Name:
Kalpana Banerjee
Brother's Name:
Dola Banerjee
Archery Background
Famous Victories
2010
- Commonwealth Games 2010 - Gold medal ( Men's Recurve individual), Bronze medal (Men's Recurve team)
2008-09
- Several gold medals at the World Cup archery
Insight to Rahul's Life
Born on 15 December 1986, Rahul Banerjee us an ace Indian archer who has bought laurels to the country on many occasions. He started archery at a minor age of thirteen. Inspired by her elder sister and India's top archer Dola Banerjee, he made his first international appearance in Youth World Championship in 2004. The 2008-09 season proved to be very successful for Rahul as he won several gold medals at World Cup archery in this period. Recently, he bagged a gold medal and a bronze medal at 19th Commonwealth Games – Delhi 2010.