Personal Profile (Personal Biography)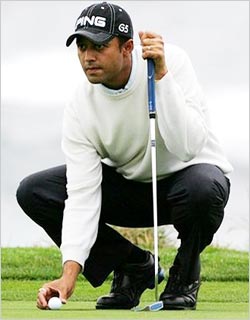 Full Name:
Arjun Atwal
Date of Birth (Birthday):
20 March 1973
Zodiac Sign:
Pisces
Height:
6 ft 1 in"
Hair Color:
Black
Birth Place:
Asansol, India
Religion:
Hindu
Marital Status:
Married
Languages:
Hindi, Kannada and English
Hobbies:
Golf, Adventure Sports, Watching Bollywood movies
Family Background
Father's Name:
Harminder Singh Atwal
Brother's Name:
Govind Singh Atwal
Wimbledon
Golf Background
Turned professional:
1995
Famous Victories
2010-
PGA Tour.
2002, 2003, 2008 -
European Tour
1999, 2000, 2002, 2003, 2008 -
Asian Tour
2008 -
Nationwide Tour
1995 -
DCM Open
1997 -
Classic Southern India Open
Insight to Arjun Atwal's Life
Arjun Atwal is an ace Indian golfer who has recorded a total of 11 professional wins in his career. Arjun was born in a Sikh family of Kolkata in India, with his father being a well known industrilist. Arjun started to play golf at a minor age of fourteen, wby taking the field at Royal Calcutta Golf Club and Tollygunge Club. He attended two years schooling in the United States, at W. Tresper Clarke High School, in Westbury, New York. He holds the honor to be only the first Indian golfer to to win on a European Tour and only the second Indian golfer to earn membership of the European Tour after Jeev Milkha Singh.
Awards & Honours
2003 -
Asian Tour Order of Merit
2006 -
Represented Asia in Royal Trophy.