Personal Profile (Personal Biography)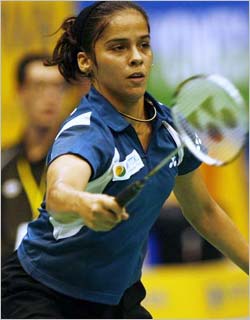 Full Name:
Saina Nehwal
Date of Birth (Birthday):
March 17, 1990
Zodiac Sign:
Pisces
Height:
5'5"
Hair Color:
Black
Birth Place:
Hisar, Haryana
Religion:
Hindu
Marital Status:
Single
Languages:
Hindi, Haryanvi and English
Professional Game:
Badminton
Family Background
Father's Name:
Dr. Harvir Singh
Mother's Name:
Usha Nehwal
Badminton Background
Famous Victories
2010-
Indian Open Grand Prix Gold 2010.
2010-
Singapore Open Super Series
2010-
Indonesia Open Super Series
2010-
Ranked No. 2 in world badmiton rankings.
2010-
Badminton Asia Championships -Bronze Medal
2009-
Indian Open Grand Prix
2009-
Indonesia Super Series
2008-
BWF World Junior Championships
2008-
Commonwealth Youth Games - Gold Medal
2008-
Chinese Taipei Open Grand Prix Gold
2007-
National Games of India
2007-
Indian National Badminton Championships
2006-
Asian Satellite Badminton Tournament
2006-
Philippines Open (badminton)
2006-
Commonwealth Games - Bronze Medal
2005-
Asian Satellite Badminton Tournament
2004-
Commonwealth Youth Games - Silver Medal
2003-
Czechoslovakia Junior Open
Insight to Saina's Life
Saina Nehwal is an iconic personality in Indian Sports. Currently ranked No. 2 in world badminton rankings, Saina has brought India laurles on many occassions. She started her badminton training at a minor age of 8 years. She was born in Haryana but brought up in Hyederabad. Both her parents were former badminton champions in Haryana. Saina's father took her to meet Coach Nani Prasad at the Lal Bahadur Shastri Stadium in Hyderabad, where she was enrolled as a summer trainee. In 2002, sports brand Yonex offered to sponsor Saina's kit and later in 2004 BPCL signed her onto their payroll. At present she is also supported by Olympic Gold Quest. In 2006, Saina became the first Indian woman to win a 4-star tournament - the Philippines Open. She is the brand ambassador of Commonwealth Games 2010.
Award and Achievements
Saina Nehwal is a proud recipient of the Rajiv Gandhi Khel Ratna Award (2010).
Top ranked player (both Men & Women) in Indian Badminton history.