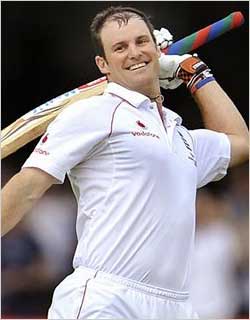 Personal Profile (Personal Biography)
Full Name:
Andrew John Strauss
Nick Name:
Lord Brocket, The General, Levi, Mareman, Straussy, Jazzer, Johann, The Strauss Mouse
Date of Birth (Birthday):
2 March 1977
Birth Place:
Johannesburg, Transvaal Province, South Africa
Height:
5 ft 11 in
Batting style:
Left-handed
Bowling style:
Left-arm medium, left arm orthodox, left arm unorthodox
Role:
Opening batsman, England captain
Marital Status:
Married
National Team :
England
Sports Played :
Cricket
Strauss made his first-class debut in 1998, and his One Day International (ODI) debut in Sri Lanka in 2003. He quickly rose to fame on his Test match debut replacing the injured Michael Vaughan at Lords against New Zealand in 2004. With scores of 112 and 83 (run out) in an England victory, and the man of the match award, Strauss became only the fourth batsman to score a century at Lord's on his debut and was close to becoming the first Englishman to score centuries in both innings of his debut Having deputised for Michael Vaughan as England captain in 2006, Strauss was appointed on a permanent basis for the 2008/09 tour of the West Indies following Kevin Pietersen's resignation. He enjoyed success with three centuries, and retained the captaincy into 2009. Strauss captained the England team to a 2–1 victory in the 2009 Ashes, scoring a series total of 474 runs, more than any other player on either side, including 161 in England's first victory in an Ashes Test at Lord's in 75 years.
Cricket
Indian Cricket Stars

International Cricket Stars