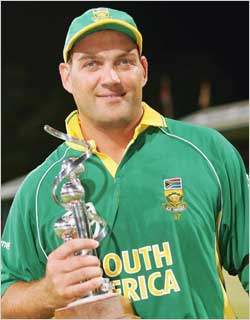 Personal Profile (Personal Biography)
Full Name:
Jacques Henry Kallis
Date of Birth (Birthday):
October 16, 1975
Birth Place:
Pinelands, Cape Town, Cape Province
Batting style:
Right-hand bat
Bowling style:
Right-arm fast-medium
Role:
All Rounder
Major teams:
South Africa, Africa XI, Cape Cobras, Glamorgan, ICC World XI, Middlesex, Royal Challengers Bangalore, Warriors, Western Province
National Team :
South Africa
Sports Played :
Cricket
Jacques Kallis is one of the most reliable all-rounders that the South African side possesses. A dependable batsman and a bowler in testing times, he has put up crucial yet less spectacular performances for his team. He is a fine slip fielder and has the knack of playing a variety of strokes. The right hander has been a lucky charm throughout his stint with the South African team; he debuted against England on 14 December 1995.
Cricket Career
Kallis ICC rank 1 batsman and 26 th bowler.
2003-04 series against the West Indies, Kallis got a hundred in each of the four Tests.
Kallis scored the highest number of runs for South Africa during the 2007 World Cup with 435 runs to his credit.
Kallis founded the Jacques Kallis Scholarship Foundation which promotes a combination of academic and life skills programmes in schools.
His achievements are many and he has been awarded the ICC Test Player of the Year 2005, ICC Player of the Year 2005 and Wisden Leading cricketer of the Year 2007.
Cricket
Indian Cricket Stars

International Cricket Stars