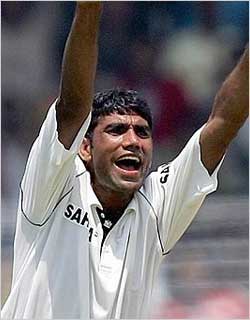 Personal Profile (Personal Biography)
Full Name:
Munaf Musa Patel
Date of Birth (Birthday):
12 July 1983
Birth Place:
Ikhar, Gujarat, India
Height:
6 ft 3 in
Batting style:
Right-handed
Bowling style:
Right arm medium-fast
Role:
Bowler
Marital Status:
Single
National Team :
India
Sports Played :
Cricket
Munaf's fathera farmer, emotional but reserved man has confessed that they have seen worse days and occasionally breaks down not believing that the barefoot, lanky son of a humble farmer was actually playing with the cricket greats. The fastest bowler in India today, Munaf Patels sudden rise makes for an inspiring story. Former Indian wicket keeper Kiran More saw Patel bowl at the nets, was duly impressed by what he saw and sent him for training at the MRF Pace Foundation in Chennai. At this stage Munaf was erratic in line and length but his pace caught the eye and he was strongly built. His natural gifts and obvious bowling skills came through in the big break against England early in 2006 where Munaf with match figures of ten for 91 while playing for the Board Presidents XI. His restricted skills with the bat and in the field did not prevent the selectors from including him in the ODI squad and within a short time Patel by adding more variety to his fast bowling - reverse swing and a deceptive slower delivery has made himself a regular in both forms of the game. He was purchased by Rajasthan Royals in the IPL and under the leadership of Shane Warne went on to win the tournament. He has subsequently been an integral part of the one day side and has come up with consistent performances.
As of December 2010, Munaf's 7/97 in his first Test against England are the best figures for an Indian fast bowler on debut.
Cricket
Indian Cricket Stars

International Cricket Stars