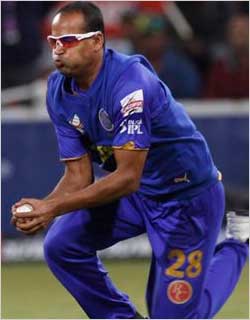 Personal Profile (Personal Biography)
Full Name:
Yusuf Khan Pathan
Nick Name:
Lethal Weapon
Date of Birth (Birthday):
17 November 1982
Birth Place:
Baroda (now Vadodara), Gujarat, India
Height:
6 ft 1 inch
Batting style:
Right-handed
Bowling style:
Right arm off break
Role:
All-rounder
Marital Status:
Single
National Team :
India
Sports Played :
Cricket
Yusuf Pathan first made his mark as a hard-hitting batsman and offspinner for the Baroda Under-16 team in the Vijay Merchant Trophy in 1999-2000. His impressive showings saw him quickly climb the rungs to the Baroda U-19 and the West Zone U-19 sides. He made his Ranji debut against Saurashtra in 2001-02, but it wasn't until the 2004-05 season, by when younger brother Irfan Pathan was donning the national colours, that he established himself as a regular in the Baroda squad. He ended the 2004-05 season as Baroda's fourth-highest scorer and third-highest wicket-taker. Following his impressive performances in the 2007 Deodhar Trophy and the Inter-state domestic Twenty20 competition held in April 2007, Pathan was made a part of the Indian squad for the inaugural Twenty20 World Championship, held in South Africa in September 2007. He made his Twenty20 international debut in the final against Pakistan. He opened the batting for India in the match, and scored 15 runs in the process.
Records and Achievments
Castrol Impact Cricketer of The Year 2010
Cricket
Indian Cricket Stars

International Cricket Stars