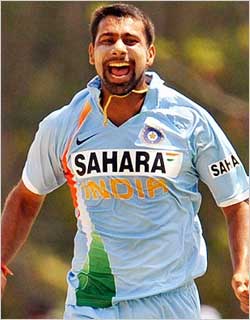 Personal Profile (Personal Biography)
Full Name:
Praveen Kumar
Date of Birth (Birthday):
2 October 1986
Birth Place:
Meerut, Uttar Pradesh, India
Height:
5 ft 11 inches
Batting style:
Right-hand batsman
Bowling style:
Right-arm medium-fast
Role:
Bowler
Marital Status:
Single
National Team :
India
Sports Played :
Cricket
Praveen Kumar is an Indian cricketer. In first class cricket, he plays for Uttar Pradesh. He is a right-arm medium pace bowler who relies on his ability to swing the ball both ways along with line and length over speed. Because of his ability to swing the ball, he is most effective when given the new ball. Kumar is also considered as a pinch hitter with the bat. In domestic cricket, he has also opened the batting for his side. Kumar plays his domestic cricket for Uttar Pradesh. He made his first-class debut in 2004 and enjoyed success at this level by taking 126 wickets in 25 matches at an average of just 21.50. He has also excelled at the shorter version of the game at the list A level, taking 67 wickets in 39 matches at an average of 22.05.
Cricket
Indian Cricket Stars

International Cricket Stars