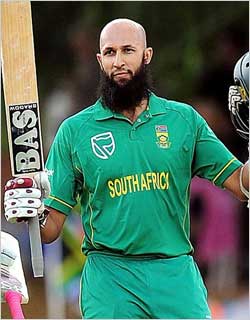 Personal Profile (Personal Biography)
Full Name:
Hashim Mahomed Amla
Nick Name:
Hash
Date of Birth (Birthday):
31 March 1983
Birth Place:
Durban, Natal, South Africa
Height:
6 ft
Batting style:
Right-handed
Bowling style:
Right–arm medium
Role:
Batsman
Relations:
Ahmed Amla (brother)
Marital Status:
Single
National Team :
South Africa
Sports Played :
Cricket
A right-handed upper order batsman and occasional medium-pace bowler, Amla bats at number 3 for South Africa in Test matches and has opened in limited overs contests (one day matches). On 27 March 2008, he scored an unbeaten 159 against India in Chennai amidst searing conditions success throughout the 2008 year, in which he scored 1012 runs, consisted of numerous centuries and solid performances against India, England and Australia. During South Africa's 2009 tour of Australia, Amla helped South Africa win a historic Test and one day series victory over Australia, scoring 259 runs at an average of 51.80 during the Tests and contributing crucial scores in the one day series, including a match-winning 80 in the series clincher.
Recent Test series performances:
Australia (Away): 6 innings, 259 runs at an average of 51.8
Australia (Home): 5 innings, 147 runs at an average of 29.4
England (Home): 7 innings, 311 runs at an average of 44.4
India (Away): 3 innings, 490 runs at an average of 490.0
Career highlights
Highest score 253 (not out) against India
Test century at Lords, 2008, 114 (not out)
16 half centuries
10 centuries
Cricket
Indian Cricket Stars

International Cricket Stars