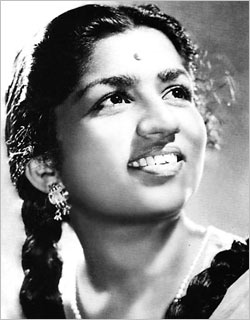 Personal Profile (Personal Biography)
Date of Birth:
28 September, 1929
Birth Place:
Indore, Madhya Pradesh
Nick Name:
Didi
Zodiac Sign:
Libra
Religion:
Hindu
Marital Status:
Single
Family Background
Father's Name:
Pt. Dinanath Mangeshkar
Mother's Name:
Shudhhamati
Sister (s):
Asha Bhosle, Usha Mangeshkar and Meena Mangeshkar
Brother :
Hridayanath Mangeshkar
Lata's Choice
Hobbies:
Photography and Cooking
Favorite Jewellery:
Diamonds
Favorite Accessories:
Her Golden Payals
Favorite Food:
Kolhapuri Mutton and Fried Fish with Tartar Sauce
Favorite Colour:
White
Favorite Sports:
Cricket, Football and Tennis
Favorite Playback Singers:
K.L.Saigal and Noorjehan
Favorite Movies:
Padosan, Gone with the wind, Limelight and Titanic
Favorite Film Makers
Guru Dutt, Bimal Royand Satyajit Ray
Favorite Music Directors:
Madan Mohan, Salil Chowdhary and Jaidev
Favorite Lyricist:
Shailendra,Sahir Ludhianavi, Majrooh, Neeraj and Naksh Lyallpuri
Interesting Facts About Lata Mangeshkar
Lata Mangeshkar always sings barefoot.
Renowned film director S. Mukherji did not like Lata's voice and said no for giving her a chance to sing for his film in 1945.
Lata Mangeshkar has sung in more than 20 languages
When Lata Mangeshkar was born her parents named her Hema.
Lata Mangeshkar lent her voice for the first time in a Marathi movie "Kiti Hasaal" in 1942, but the song was not released.
Lata also used to compose songs under the pen name of Anandaghan.
Lata Mangeshkar has also acted in 10 films, including "Pahili Mangalagaur", "Badi Maa" (1945), "Jeevan Yatra" (1946), "Mandir" (1948), along with cameos in "Chhatrapati Shivaji" and "Pukar" (2000).
Chosen Best Playback Singer of the Millennium (female) by Hero Honda and magazine "Stardust"
Lata's name is recorded in the Guinness Book of World Records for having sung the maximum number of songs in the world.
Facilitated with Lifetime Achievement Award by IIFA in London
Won civilian awards like Padma Bhushan, Padma Vibhushan, Bharat ratna, Dada Saheb Phalke award, Mahrashtra State award and Mahrashtra Ratna
Most Famous Songs
Aayega Aanewaala (Mahal:1945)
Pyar Kiya To Darna Kya (Mughal-E-Azam:1960)
Bindiya Chamkegi (Do Raaste:1969)
Aa Jaane Ja (Intequam:1969)
Bahon Mein Chale Aa (Anamika:1973)
Satyam Shivam Sundaram (Satyam Shivam Sundaram:1978)
Glimpse of Lata Mangeshkar's Life
Lata Mangeshkar was born in Indore, in the State of Madhya Pradesh. Her father, Pandit Deenanath Mangeshkar was a classical singer and theater actor. Her mother Shudhhamati was Deenanath's second wife. The family's last name used to be Hardikar but Deenanath changed it to Mangeshkar in order to identify his family with his native town, Mangeshi in Goa. Lata was named "Hridaya" at her birth. Her parents later renamed her Lata after a female character, Latika, in one of her father's plays, BhaawBandhan.
Lata took her first music lessons from her father. At the age of five, she started to work as an actress in her father's musical plays. Her formal education was limited to one day in the school. On the first day in the school, she started teaching songs to other children. When the teacher stopped her, she was so angry that she stopped going to the school. Other sources cite that she left school because they would not allow her to bring Asha with her, as she would often bring her younger sister with her. Lata Mangeshkar was very young when her father passed away, thus making the family dependant on Lata. To take care of her family's economic situation, Lata acted in as many as 8 films from 1942 to 1948. After this began a new era of singing in Inidan cinema.
Bollywood Career
Lata Mangeshkar is one of the best singers of the Hindi film industry. Lata rose to fame rapidly and made her indelible mark in the industry. She has sung with famous singers like Mohammed Rafi, Kishore Kumar, Mukesh, etc. She has perfected almost every genre of music. She understood the requirement of each song and sang flawlessly.
She debuted as playback singer in a Marathi film named Kiti Hasaal (1942). Unfortunately the song was edited out. Her first Hindi playback was for the film Aap ke Sewa Main (1947) but she did not get noticed. The song Dil Mera Toda finally got her noticed and it was touted as her breakthrough song. In 1949, she had four major hits from the films Barsaat, Andaaz, Dulari and Mahal. The song "Aayega Aanewala" from Mahal was a huge hit and Lata secured a firm position in the industry.
The period of 1960s made her the queen of Bollywood playback singing. She sang for almost all the prominent composers of the industry and set her foothold in Bollywood. Her songs got an overwhelming response from people all over the country. In late 1970s and early 1980s, Lata Mangeshkar worked with the children of the music composers, with whom she had worked in the past.
In the year 1990, Lata established her own production house. Their first and last film "Lekin" was a total flop. Mangeshkar has also sung some non film songs including ghazals with Jagjit Singh. She sang quite a number of Bengali songs with renowned music directors like Salil Chowdhury and Hemant Kumar. On her 80th birthday, she said "I want to sing in rest of my life."
Awards and Honors
Filmfare Awards (1958, 1962, 1965, 1969, 1993 and 1994)
National Awards (1972, 1975 and 1990)
Maharashtra State Award (1966 and 1967)
1969 - Padma Bhushan
1974 - Recorded in the Guinness Book of World Records for having sung the maximum number of songs in the world
1989 - Dada Saheb Phalke Award
1993 - Filmfare Lifetime Achievement Award
1996 - Star Screen Lifetime Achievement Award
1997 - Rajiv Gandhi Award
1999 - NTR Award
1999 - Padma Vibhushan
1999 - Zee Cine Award for Lifetime Achievement
2000 - Lifetime Achievement Award by IIFA in London
2001 - Best Playback Singer of the Millennium (female) by Hero Honda and magazine "Stardust"
2001 - Bharat Ratna, India's highest civilian award
2001 - Noorjehan Award
2001 - Maharashtra Ratna