DO YOU KNOW: Spears' kiss with Madonna at the 2003 MTV Video Music Awards received much media attention, as have her marriages and romantic relationships.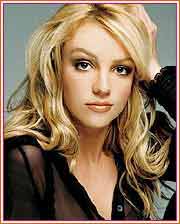 Britney Jean Spears (or just Brit, Pinkey) first came to fame as a member of the Mickey Mouse Club in the early 1990s. She subsequently emerged at the forefront of the pop music scene in early 1998. Her debut album was Baby One More Time.
At the age of 18, she released her second album in 2000, the No.1 smash "Oops! I did it again." The single of the same topped the singles chart for 5 weeks. Two other smash singles followed, "Stronger" and "Lucky." This was the time for Britney to rise more than few eyebrows.
Personal Profile (Personal Biography)
Date of Birth:
December 2, 1981
Place of Birth:
Kentwood, Louisiana
Nick Name
Brit, Pinkey
Alternate Names:
Britney Jean Spears
Genre(s):
Pop, Dance, Urban Pop
Height:
5' 4" (1.63 m)
Filmography
Chaotic (TV) (2005)
Trading Paint (2004)
Britney Spears - In The Zone (2004)
Crossroads (2002)
Austin Powers in Goldmember ( 2002)
Britney Spears - Live From Las Vegas ( 2001)
On the Line (2001)
Longshot (2000)
Longshot: The Movie (1999)
Robbie the Reindeer in Hooves of Fire (1999)
Discography
Circus (2008)
Blackout (2007)
In the Zone (2003)
Britney (2001)
Oops...I Did it Again (2000)
Baby One More Time (1999)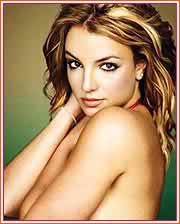 Hit Singles
"Radar"
"If U Seek Amy"
"Break the Ice"
"Someday (I Will Understand)"
"Do Somethin"
"...Baby One More Time "
"(You Drive Me) Crazy"
"Born to Make You Happy"
"Oops!...I Did It Again"
"Lucky"
"Stronger"
"I'm a Slave 4 U"
"Me Against the Music"
"Toxic"
"Everytime"
Tours
1999–2000: ...Baby One More Time Tour
2000–2001: Oops!... I Did It Again World Tour
2001–2002: Dream Within a Dream Tour
2004: The Onyx Hotel Tour
2009: The Circus Starring Britney Spears
Top Britney News
She has been ranked most powerful celebrity in the world by Forbes in 2002
She has been ranked #20 out of the 200 top pop culture icons of all time by VH1 and People in 2002
She topped FHM magazine's "100 Sexiest Women" in the year 2004
She topped Yahoo!'s annual list of the most-searched names in the world.
She ranked 12th in Forbes "The Twenty Richest Women In Entertainment" ($100 million) in the year 2007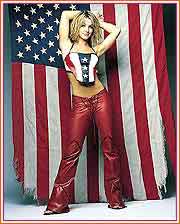 Britney Trade Mark
She shows her midriff during performances.
Lip-synchs and synthesized vocals in her albums and during live performances.
Britney Loves
Shopping, Reading Romance Novels, Seeing Movies, Swimming, Days at the beach.
Ice Cream, Pasta, Hot Dogs.
Baby Blue color (leaning more towards pink now).
Basketball
Britney Admires
Mariah Carey
Whitney Houston
Madonna
Official Britney Website
www.britneyspears.com
Britney Spears Fan Clubs
www.britneyfans.com
www.britneyzone.com
www.britney.com
www.britneyspearsonline.net
www.britneyspearsfan.info