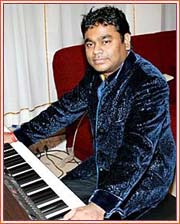 Personal Profile (Personal Biography)
Date of Birth:
January 6, 1966
Birth Place:
Chennai, India
Nick Name:
Mozart of Madras
Zodiac Sign:
Capricorn
Religion:
Islam
Marital Status:
Married
Languages:
Tamil, English, Hindi, Malayalam, Telugu
Family Background
Father's Name:
R.K. Shekhar (A successful musician)
Mother's Name:
Kasturi ( Now Kareema Begum)
Sister (s):
Kanchana, Bala (Now Talat) and Israth
Film Background (Filmography)
Debut Film:
Roja
Famous Movies:
Thiruda Thiruda, Kadalan, Rangeela, Dil se, Lagaan, Slumdog Millionaire and Gajini
Latest Movies:
Delhi-6, Slumdog Millionaire, Gajini
Upcoming Movies:
Blue, Sultan The Warrior
Other Facts:
The soft-spoken Rahman is involved extensively with charitable causes & he has composed the theme song of Commonwealth Games - Delhi 2010.
In 2004, he undertook a project under the World Health Organisation (WHO) by becoming their global ambassador for the Stop TB campaign.
Actively helped in elevating the condition of the Tsunami victims by doing a charity-driven concert in 2004.
Rahman is also behind the launch of the A R Rahman Foundation through which he intends to tackle social issues like poverty and education.
Awards
A R Rahman has won two Grammy Awards for Best Soundtrack and Best Song in motion pitcure for the year 2009.
He has also got Oscar nominations for the year 2010.
The music maestro won two Oscars in 2009, one for Best Original Song and the other for Best Original Score in the movie Slumdog Millionaire.
Favourite Food:
Palak Paneer and anything cooked by wife.
Favourite Music Director:
Illayraja
Favourite Flim Director:
Mani Ratnam