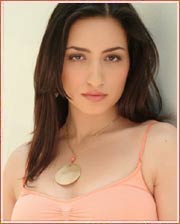 They say all great things come on tiny packages, this 5'2" of tremendous talent is an established trained actor. Christine started pretty young, at the tender age of eight she took up Gymnastics, at the age of twelve she developed a passion for theatre and started modeling at the age of thirteen after winning several competitions; including The International Modeling and Talent Association (IMTA) and Model Search America.
Christine Solomon's big break came in at The Cairo International Film Festival 2006 where she met several directors and agreed to act in two films Basra and voice over for the film Balad Al Banat. Chrisitne has also shown tremendous support to various foundations like the Breast Cancer Foundation and Make Poverty History. She has also performed at several benefit concerts helping raise money for Cancer Research.
Some Facts about Christine Solomon
Weight:
105 lbs.
Height:
5' 2" (1.63 m)
Hips:
Hips
Bust:
32
Waist:
24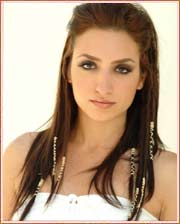 Filmography
Fakers
Heliopolis
Basra
Obsession
A Chance Meeting
Television
Yasmine
Abdallah Al Rowaished
Nour
Cameron Carito
Hysteria
Theatre
The Comedy of Errors
Holiday Dingles
The Gambler
Murder at San Gennaro
Our Country's Good
The Laramie Project
Official Christine Solomon Website
www.christinesolomon.com/